How easy it is, amidst the turkey, stuffing, and huge family gatherings, to lose sight of the "thanks" in Thanksgiving. How blatant, during the upcoming holiday season, is the consumerism of our contemporary culture. How common, in our privileged lives where material needs are often more-than-satisfied, for our children to grow up feeling entitled rather than grateful.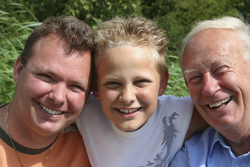 In the newly released Me to We: Finding Meaning in a Material World (Fireside Hardcover/Simon & Schuster, $23), authors and brothers Craig and Marc Keilburger set out to inspire readers to improve their lives, communities and the world by thinking "we" rather than "me". Geared to both adults and children, the book presents the authors' personal stories, along with those of Oprah Winfrey, Richard Gere, Dr. Jane Goodall, Archbishop Desmond Tutu, and more, with the aim of encouraging others to find the fulfillment that comes from reaching out and helping those around them.

"The purpose of our book is to get people involved in the greater world," says Marc, 29, who is chief executive director and co-founder with Craig of Free the Children, the largest network of children helping children through education in the world, involving more than one million youth in 45 countries. "It wasn't our goal to imbue people with empathy, but empathy is a by-product of our cause."

Marc is a Harvard graduate and a Rhodes Scholar; he went on to earn his law degree from Oxford University, with a specialty in human rights law. He is also the co-founder and chief executive director of the youth leadership training organization, Leaders Today. Craig is a child rights advocate whose work has been featured on Oprah, CNN and 60 Minutes, and profiled in TIME, The Economist, People and other publications.

When asked about what parents can do to instill thankfulness in their children, Marc recalls his own upbringing in Canada. "I think the most important thing our parents did for us was that we volunteered together as a family," he says. "Starting from a very young age, we brought food to homeless shelters, we participated in Cans for Cancer and similar drives. So volunteerism and caring for others became part of who we are."

He also cited his travels as a child: "We traveled internationally — and not to Europe. We visited places where people lived in poverty, so we learned early about our place in the world outside of our nice, comfortable neighborhood."

At home, the family engaged in discussions about current events. "My father never read the newspaper up in front of his face," says Marc. "He placed it flat on the table, and on a regular basis, we would choose an article, read it together, and discuss the situation and what we could do to help. When we were young, we'd do this every day, and as we got older and life got more complicated, we tried to do it once a week."

Marc and Craig's parents were schoolteachers. "They were not big activists," Marc says. "They were normal people who cared about the world. But they made sure we had quality time as a family, and they scheduled time for volunteering together." As adults, the brothers have visited more than 50 countries doing human rights work. They have shared speaking podiums with many leading social activists, including Bill Clinton and the Dalai Lama.

In addition to personal anecdotes, each chapter of Me to We includes Start Now!, Take Another Look!, and Living Me to We sections, which offer suggestions for concrete action. Online (www.metowe.org) there are Me to We Everyday Actions, opportunities to start Me to We online groups, the downloadable Creating 'We' Schools: A Resource Guide for Educators, and more.

"I think the best advice for parents," says Marc, "is not to shelter their children from the suffering in the world, and to engage them in doing something to get involved."
10 Tips For Parents On Raising Compassionate, Happy Children

—Keep a gratitude journal. Ask your child to think of 10 things in his daily routine he is grateful for—people, things (especially the simple ones many of us do not always remember—clean water, public education, relative wealth when so many live in poverty), memorable moments, etc. It doesn't matter how simple they seem. How would he feel if they were taken away? Would he miss them? Have your child write down at least three to five things from this list in his gratitude journal. Make sure to put the journal somewhere your child will always see it, such as beside his bed or at the breakfast table. Ask your child to write down his thoughts before he begins his morning routine or when he has a quiet moment in the evening.

—Discuss feelings. Every day, ask your kids how they feel and tell them how you feel. By doing so, you'll help your children to see that others experience similar emotions: happiness, satisfaction, pain, frustration, anger, elation, surprise, empowerment, etc.

–Discipline appropriately. Describing the emotional costs of bad behaviour affects others and motivates them to be "good" because of the empathy they feel for others. Furthermore, using discipline that is grounded in reasoning and explanation, rather than power, sends the message that the more powerful must treat the less powerful with justice and respect.

—Describe the emotional costs of bad behavior. This helps children appreciate that their behavior affects others and motivates them to be "good" because of the empathy they feel for others. Furthermore, using discipline that is grounded in reasoning and explanation, rather than power, sends the message that the more powerful must treat the less powerful with justice and respect. For example, if your child does something to make a younger sibling cry, scolding her will only reinforce the "power" dynamics. On the other hand, gently explaining to your child that her actions made her sibling sad, the way she felt sad when she hurt her knee last week (or another example of when she felt sad), will help nurture empathy.

— Provide a moral compass. It's important to teach children the principles of good decision making as well as the differences between right and wrong. Such discussions are vital in providing children with a sense of ethics and morality, internalizing rules that will later guide behaviour.

—Praise and label positive actions. Notice when a child does something good and praise him for it. You might say, "I saw you helping your sister. You are a really kind person!" By labeling positive actions, children are encouraged to think of themselves as kind (or generous, thoughtful, etc.), allowing these traits to become central to their sense of identity.

—Set a good example. Children often model themselves after their parents and are profoundly influenced by the example they set. This means that if parents are themselves kind, generous, selfless, empathetic, compassionate, etc., then their children stand to adopt the same values and behaviors.

—Use role models. Children naturally identify with heroes. It is important to reinforce this tendency by praising "good" heroes, both fictional and real, who will act as role models. Children seek to emulate the good deeds of others, leading them to internalize positive values and morals.

—Spend quality time together. Set aside a day each week for a family activity. This works best when activities rotate around each family member's interests, with each person having the chance to choose an activity that all will enjoy. To cement family bonds, make this a TV-free day.

—Volunteer. Volunteer as a family at a local food bank or soup kitchen, a conservation area, or a museum. By reaching out to your community, you'll help others and, as a family, you'll get to know one another better and have a greater appreciation for one another's strengths.

—Enjoy a different kind of vacation. For your next vacation, consider taking a family volunteer trip. Whether you travel locally or go abroad, such adventures offer everyone a chance to experience new things, build life skills, and make a meaningful difference in the world.

—Build intergenerational connections. Encourage your child to ask her grandparents or other community elders about what life was like when they were growing up generations ago, and support her efforts to learn about the history of the area in which you live.

—Clean house for a cause. With your children, go through your home and collect toys and clothing your family no longer uses. Donate them to a local women's shelter or another service organization. If there isn't one in your community, organize a yard sale and donate the profits to charity of your child's choice, perhaps after he's had time to do some research on the Internet or by calling a few charitable organizations to learn more about their work.

Excerpted with permission from 'Me to We: Finding Meaning in a Material World' and www.metowe.org.