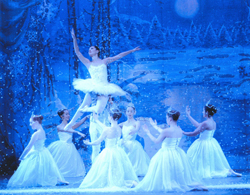 New York City Ballet
New York State Theater at Lincoln Center, NYC
212-870-5570; www.nycballet.com  
November 23-December 30. Tickets $30 -$100.
New York Theatre Ballet
Florence Gould Hall, 55 East 59th St. (Madison-Park Aves.), NYC
212-355-6160; www.nytb.org
A one-hour Nutcracker performed in a an intimate theatre that seats fewer than 400, allowing children to feel like they are part of the show, from Uncle Drosslemeyer's opening greeting to the final moments when Clara awakens from her amazing dream. Show dates are:  Dec. 14 at 10am;  December 15 & 16 at 11am, 1 & 3:30pm; Dec. 22 & 23 at 11am, 1 & 3:30pm; Dec. 29 & 30 at 11am, 1 & 3:30pm. Best for ages 2-10. Tickets: $30-$25.
Peter Norton Symphony Space
2537 Broadway, NYC
212-864-5400
www.symphonyspace.org
Valentina Kozlova's Dance Conservatory Company performs its annual production of 'Nutcracker', featuring 15-year-old Whitney Jensen (Gold Medalist at numerous young dancers' Competitions) as the Sugar Plum Fairy, joining the company of dancers from Kozlova's studio. $30, $20 for seniors, students & children 12 and under.  December 15 at 4 & 8pm.

Skirball Center for the Performing Arts at NYU
566 LaGuardia Place, at Washington Square South
Students from the Joffrey Ballet School perform 'Nutcracker 2007'.  Friday, December 14-Sunday, December 16; Friday and Sunday at 7pm, Saturday at 2pm and 7pm. Tickets: $25-$45. www.ticketcentral.com
 
Brooklyn Center for the Performing Arts at Brooklyn College (pictured) 2900 Campus Road; 718-951-4500
www.BrooklynCenterOnline.org
Tchaikovsky's music comes to life in wintry colonial Yorktown, complete with a red-coated mouse army. December 9 at 2pm. Ages 4-12. Tickets: $12.
Leonard M. Goldstein Performing Arts Center at Kingsborough Community College
2001 Oriental Boulevard, Brooklyn
718-368-6680; www.kbcc.cuny.edu  
Created especially for children, dancers from the Brighton Ballet Theater's professional and junior companies recreate that magical night when a young girl sees the Nutcracker and other toys come to life in her living room. December 8 & 9 at 2pm. For ages 3 and up. Tickets: $10.
Brooklyn Music School Playhouse
126 Saint Felix Street, between Hanson Place & Lafayette Ave.
(718) 638-5660/5661; www.brooklynmusicschool.org
Tchaikovsky is transported to Brooklyn for the ninth consecutive year as "A Brooklyn Nutcracker" returns to the Brooklyn Music School Playhouse.  Students, faculty and guest artists perform against the background of familiar Brooklyn landmarks like Coney Island and Brighton Beach. Friday, December 7 at 7:30pm; Saturday, December 8 at 5pm; Sunday, December 9 at 3pm (with special gala/preview performance on Thursday, December 6 at 7pm).  Tickets: $25 adults; $15, ages 18 and under (December 6 gala reception and show, $50; show only $20/$10).

Flushing Town Hall
137-35 Northern Blvd.
718-463-7700; www.flushingtownhall.org
Join Ballet for Young Audiences on an enchanted visit to the Land of Sweets, filled with the glorious music of Tchaikovsky. December 16 & 23 at 2pm. All ages. Tickets range from $10-$15.
Colden Auditorium at Queens College
65-30 Kissena Boulevard, Flushing, at corner of LIE.
Moscow Ballet's full-length "The Great Russian Nutcracker" is performed by an all-Russian cast, with spectacular scenic design and sumptuous costumes. Sunday, December, 9 at 3 pm. Tickets: $24; $12, children 12 and under. Box Office: 718-793-8080; www.kupferbergcenter.org
Hostos Center for the Arts and Culture 450 Grand Concourse, Bronx
718-518-4455; www.hostos.cuny.edu
The Bronx Symphony Orchestra and Contemporary Ballet Theatre present 'The Nutcracker' conducted by Jose Alejandro Guzman on Sunday, December 9 at 3pm. Tickets are $12 (adults) and $7 (children).

Yorktown Stage
1974 Commerce Street, Yorktown Heights
914-271-6833; www.yorktownstage.org
Saturday, December 15 at noon and 4pm; Sunday, December 16 at 1pm. Tickets: $25 adults; $19 children under 12.
Tarrytown Music Hall
13 Main Street, Tarrytown
877-840-0457; www.tarrytownmusichall.org
Ballet Atlantic: Friday, November 30 at 8pm; Saturday, December 1 at 2 and 8pm; Sunday, December 2 at 2pm. Tickets: $28.
Albany Berkshire Ballet: Wednesday, December 19 at 4:30 & 7:30 pm. Tickets: $23.50-$33.50.
Purchase College Performing Arts Center
735 Anderson Hill Road, Purchase
914-251-6200; www.artscenter.org
New York City Ballet Principal Dancers Ashley Bouder and Jared Angle join the Purchase Dance Corps, and over 150 local children in Nutcracker '07. Friday, November 30 at 7:15pm; Saturday, December 1 at 2 and 7pm; Sunday, December 2 at 1 and 5pm. Tickets: $25-$45.
United Methodist Church
300 Main Street, Mt. Kisco
917-520-5755; www.edtheater.bravehost.com
Local students of all ages from the community perform alongside the professional Maria Colaco Dance Company; set to jazz. Sunday, December 9 at 4pm. Tickets: $20.
Westchester County Center
198 Central Avenue, White Plains
845-454-3388; www.countycenter.biz
Westchester Ballet Company's production. Friday, December 14 at 10am; Saturday, December 15 at 12:30 and 4:30pm; Sunday, December 16 at 2pm. Advance sales: $18 adults, $12 children; day of performance, $22 all tickets.
Stamford Center for the Arts-Palace Theater
61 Atlantic Street, Stamford
203-325-4466; www.stamfordcenterforthearts.org
With the Stamford Symphony Orchestra. Saturday, December 8 at 5pm; Sunday, December 9 at 12pm; Saturday, December 15 at 12pm; Sunday, December 16 at 12pm. Tickets: $49-$59.
Lycian Centre for the Performing Arts
Country Route 13/Kings Highway, Sugar Loaf
845-469-2287; www.kingstheatrecompany.org
The St. Petersburg State Ballet on ice boasts. November 25 at 2 &6pm.  Adults $38; $28.50 ages 18 and under.

Rockland Community College Cultural Arts Theatre
145 College Avenue, Suffern
845-357-2251; www.sunyrockland.edu
The Rockland Youth Dance Ensemble presents a performance of the classic holiday show on December 7-9; Friday, 7pm; Saturday, 3 &7pm; Sunday, 1 &4pm. 

Bergen PAC
30 North Van Brunt Street, Englewood, NJ
201-227-1030; www.bergenPAC.org
Saturday, December 1 at 7pm; Sunday, December 2 at 1pm and 4:30pm. Tickets: $20-$50.
Paper Mill Playhouse
Brookside Drive, Millburn, NJ
973-376-4343; www.papermill.org
With a cast of 90. December 21-30. Tickets: $19-$54. Ages 4 and up.