Today, students in 10 New York City public middle schools from all five boroughs unveiled a unique art exhibit in Union Square Park: "A View from the Lunchroom: Students Bringing Issues to the Table." Developed by LeAp, an NYC arts-in-education program, this public art exhibition features a student-made collection of school lunchroom tables transformed into beautiful and meaningful works of art that address important social issues in the students' communities and the world (including domestic violence, homelessness, bullying, health, and environment).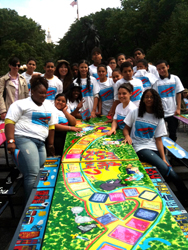 This fourth-annual citywide exhibition seeks to empower young people to have a voice in their communities - to speak out on issues such as gangs, violence, homelessness, drug abuse, healthcare, and cultural diversity, among others - and become catalysts for social change through their art. Lunchroom tables are used as a canvas for this project as a symbol of student ideas and conversations.
The student-artists/activists presented their work among a host of speakers and special guests that included internationally-renowned artist Christo; NYC School Chancellor Dennis M. Walcott; NYC Parks Commissioner Adrian Benepe; and NYC Cultural Affairs Commissioner Kate Levin.
The collection will be dispersed into a citywide exhibition that spans across 10 parks (two in each borough), which will be on display through August. For more information, visit www.leapnyc.org.