The famous Cirque du Soleil launches its newest show,
Zarkana
, at Radio City Music Hall in NYC with all the troupe's signature razzle dazzle -- and then some.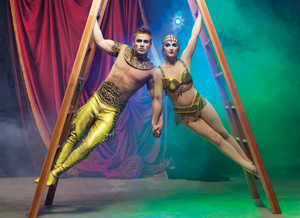 In the Broadway musical Chicago, fast-talking bon vivant lawyer Billy Flynn sings his heart out about "razzle dazzling 'em" -- and I have to admit this show-stopping number (officially titled "Razzle Dazzle") never fails to run through my head every time Cirque du Soleil comes to town with a new show. Cirque does, after all, break all barriers when it comes to delivering colossal phantasmagorical razzmatazz.
This year, however, the endlessly inventive Cirque masterminds are taking their "new acrobatic spectacle" of a show, Zarkana, to even more staggering heights - which is saying a lot considering the company's reputation for jaw-dropping aerial maneuvers.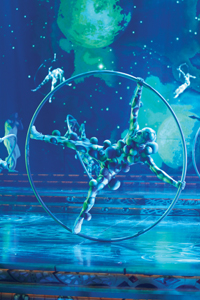 Nevertheless, the Canadian-based troupe's one-upmanship DNA has them premiering Zarkana not in their customary blue and white tent on Randall's Island, but rather in one of the world's most legendary landmark theaters: Radio City Music Hall in midtown Manhattan.
The unprecedented move comes courtesy of the size and sizzle of Zarkana. Only the massive Music Hall, where you've probably spent at least one holiday outing watching the Rockettes "turn-turn-kick-turn" in full Santa regalia, was able to accommodate what is being heralded as Cirque du Soleil's most mammoth (and extravagant) production to date.
But the "yowza" factor doesn't stop there. Zarkana, written and directed by acclaimed film and theater director François Girard (The Red Violin, Silk), was explicitly designed for the state-of-the-art theater at Radio City Music Hall. This, of course, means you can expect the most magical of Cirque illusions to be everywhere, including above your head and in the aisles (clowns on the loose alert!).
A pop-up book of awesomeness, Zarkana (a combination of the words "bizarre" and "arcana," the latter meaning "mystery" or "secret"), fuses a stunning collection of 71 circus artists from across the globe with a captivating storyline set in a visually bizarre, highly suspenseful otherworld. (The visionary design team for this show has transformed the Radio City stage into an abandoned theater from another era. They've even created a huge crack in the back wall that reveals the city in the rain.)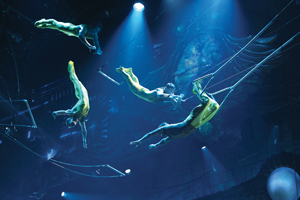 The central character in the show is a magician named Zark, who has lost his love and, with her, his powers. His desperate pleas for her return magically plunge the lovelorn hero into a shape-shifting odyssey where enchanted creatures fearlessly perform spellbinding feats against a series of breathtaking backdrops, including a floral fantasy of perfect roses, a silvery realm of shimmering orbs, and a spider-web of surreal proportions.
The acts presented (gorgeously, despite the daredevil aspect that often results in hand-squeezing and breath-holding from members of the audience) range from the familiar (Trapeze), to the unique (Sand Painting), to the unfathomable (Russian Bar, Wheel of Death, Human Pyramids), to the whimsical (in a vignette called "Outer Space," a clown ends up light years from Earth on the "Jovian Planet"). There's even an act referred to as Ladders, in which a number of ladders are placed one atop the other, looming high into the rafters.
And, like all Cirque du Soleil productions, Zarkana shines as a vivid, festive, somewhat mystical but always enthralling theatrical experience - one children won't stop talking about and adults will never forget.

Cirque du Soleil's Zarkana plays at Radio City Music Hall (1260 Avenue of the Americas at 50th Street) from June 9 through Labor Day weekend. For tickets call 866-858-0008 or visit www.cirquedusoleil.com.
Cirque du Soleil: A Mini History
From a group of 20 street performers at its beginnings in 1984, Cirque du Soleil (Circus of the Sun) has evolved into a major Quebec-based organization providing high-quality artistic entertainment. The company has 5,000 employees, including more than 1,200 performing artists from close to 50 different countries. In its 27 years of existence, Cirque du Soleil has entertained 100 million people in nearly 300 cities on five continents-including countless children who grew up mesmerized by such shows as Alegria, Kooza, Corteo, Quidam, Mystere, Ovo, ZED, and Wintuk, to name but a few.
Cool Trivia
Zarkana's sets, props, and costumes were delivered to New York in 40 53-foot-long 16-wheelers from Orlando's old Amway Arena (where the Orlando Magic played until the new Amway Center opened in 2010). The site was chosen because it was the only space large enough in which to construct the sets and serve as a rehearsal backdrop for the cast. The entire set was disassembled and remounted on the Radio City Music Hall stage.
Zarkana cast member, juggler Maria Choodu, began performing with Cirque du Soleil at the age of 14.
Alan Hranitelj, who designed the costumes for Zarkana, is also a haute couture collection designer in Italy.
Cirque founder and entrepreneur Guy Laliberté, a fan of P.T. Barnum and an inveterate poker player, recently returned from an 11-day space tourist orbit aboard Russia's Soyuz craft. His talents include the accordion, stilt walking, and fire eating.
Also see: Our Online Calendar, for more family-friendly shows and summer events in the NYC area