Yee-haw! Aerial theatrics and a dose of slapstick humor in a gold-rush setting make "Boom Town" a crowd-pleasing spectacle. Seeing is believing!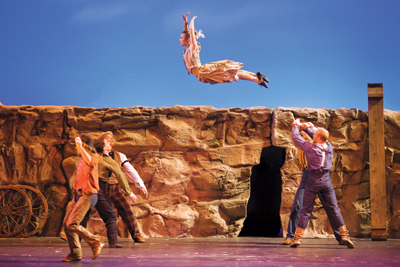 For every kid who can't resist peeking behind the curtain, above the proscenium arch, or under the trap door to get the official "seeing is believing" skinny on "just how do they do that?," Cirque Mechanics' shows are heaven on earth. They're also a fun ride for those who just like to be spellbound by physical theatrics - particularly ones propelled by mind-bending contraptions.
"Gears and chains and cogs and pulleys are very much a part of what we do," says Chris Lashua, artistic director of the Las Vegas-based troupe whose latest show, Boom Town, delivers both circus and gizmo satisfaction - impressively juxtaposed onto a vintage Old West backdrop, I might add.
"A wagon wheel is repurposed as a chandelier, which becomes an aerial hoop when someone starts swinging on it," says Lashua. "That's the magic: You don't know it's an apparatus until you see us use it."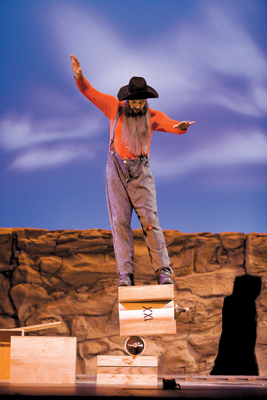 And Cirque Mechanics' imagination-boggling approach to the commonplace knows no bounds. In Boom Town the object of the game is surprise - and their surprises are delivered in an offbeat, realism-based way (versus the lush surrealistic approach of Cirque du Soliel, where Lashua cut his performing teeth in shows like Fascination and Quidam). "Where those shows were fantasies, ours is in a real-world setting," notes Lashua, whose modus operandi is to show how things are done in a way that's unique to the circus genre, and catnip to curious kids (and their equally inquisitive parents).
As a result, his current show (the second created by his young company, the first being Birdhouse Factory, which debuted at the New Victory in 2008), is a multi-layered collection of surprises - a bit gritty (this is a gold rush backdrop, after all) but wonderfully device-driven, from acrobatic moves on swaying "telegraph" poles to a bearded eccentric doing a balancing act on top of whiskey jugs. There's even a brilliant trampoline escapade involving ore carts. Oh yes, there are also revolving cranes that allow aerialist to soar through the air at jaw-
dropping speeds.
But there's another aspect that sets Cirque Mechanics apart from other circus productions: The performers not only get to be part of the overall creative process (which is pretty revolutionary in and of itself), they also get to act. "We give artists a way to be involved...to enrich their characters...to be creative on another level, which is very cool stuff for them." Not to mention: They get to show off their well-honed physical prowess and circus skills in vignettes involving juggling, tumbling, pantomime, and good old-fashioned slapstick.
The characters that populate Boom Town, a.k.a. Rosebud, are right out of central casting. Almost. "Basically, what you have is a small group of people trying to strike it rich on their own spirit and energy in a mining town during the 1860s," says Lashua. Thus, in Rosebud, theatergoers are introduced to a couple of feuding saloon owners, a can-can girl who executes handstands on top of a piano, miners (of course), an old prospector (think Gabby Hayes-meets-Yosemite Sam), a romantic twosome, and even a resident kleptomaniac.
And, while there's plenty of humor woven into the show - Wile E. Coyote and the Roadrunner were part of the inspirational mix along with Charlie Chaplin's The Gold Rush and 1969's Paint Your Wagon starring Clint Eastwood and Lee Marvin - according to Lashua, conflict is what moves the show along. The love story is a direct descendent of the Romeo and Juliet/Hatfield and McCoy school of romance, with star-crossed lovers being the offspring of embattled saloonkeepers.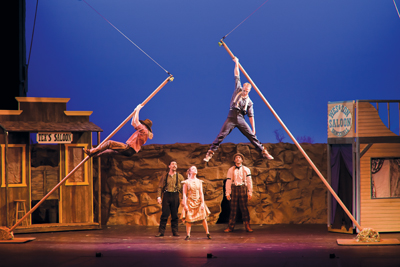 In Lashua's world of kinetic razzle-dazzle, the storyline serves as an inspirational means to a crowd-pleasing, scientifically-conceived end. Take, for example, the telegraph poles. "Traditionally these are called Chinese Poles and they're used for climbing up and doing leverages," says Lashua. "We've taken the poles and connected them, at 20 feet apart on either side of the stage, to a pulley, so they fall over to the floor, so when one person climbs up and goes flying the other is down, for a teeter-totter effect."
"In-your-face connectivity" is the phrase Lashua uses to describe this team-driven, cause-and-effect technique that empowers all the mechanics and ensures a Cirque Mechanics production will come off as both fun and interactive. Yet despite his infatuation with the tech aspects of the show, in the end he's quick to acknowledge that it all comes down to people.
"For me, the main point will always be the ensemble - the level of coordination and commitment from everybody. I love that these artists are excited about doing cool, fun work - and I sense people in the audience feel that, too. It really makes me happy about the work I'm doing and the people I'm doing it with."
Fun Facts
Cirque Mechanics' original name was Cirque Works, inspired by artist Diego Rivera's famous mural; the name was changed due to trademark issues.

Boom Town has been a work in progress for about a year and a half.
Cirque Mechanics' first show, Birdhouse Factory, continues to tour throughout the world.
All the Boom Town ensemble members have performed with a Cirque du Soleil show, and some have worked with the Pickle Family Circus and Moscow Circus.
Chris Lashua is a former BMX cyclist who originated the German Wheel Act in Cirque du Soleil's Quidam in 1996.
Boom Town is presented without dialogue, except for the occasional "yee-haw" or grunt. There is, however,recorded music to set the mood: very Wild West-ish, with tinkling piano keys and lots of down-homey harmonica riffs!
All the Details
Boom Town is currently playing at The New Victory Theater, 209 West 42nd Street (between 7th and 8th Avenues) from April 8-24.
Recommended age range: 5 and up.
Playing schedule: Fridays, 7pm; Saturdays, 2pm and 7pm; Sundays, 12pm and 5pm. (Note: Friday, April 15 will be a sign-interpreted performance followed by a talk-back. There will be an added matinee performance on Wednesday, April 20 at 2pm.)
Show Length: 80 minutes, no intermission
Tickets: $38 (orchestra and front mezzanine); $28 (rear mezzanine); $14 (balcony). (Note: Theatergoers who buy tickets for three or more New Vic shows qualify for free membership benefits, including a 35 percent savings.)
Creative Team & Cast:

Director: Chris Lashua
Assistant director/choreographer: Aloysia Gavre
Writer/performer: Steven Ragatz
Cast: Timber Brown, Elena Day, Hannah French, Charlotte Greenblatt, Wes Hatfield, Kerren McKeeman, Andre Nurse, Steven Ragatz, Michael "Tex" Redinger, Clint Bobzien


Also see: Our Online Calendar, for more upcoming family shows in Manhattan and the New York metro area