Related: great american backyard campout, camping, June, family events, summer activity, family summer activities, national camping day, kids, nature,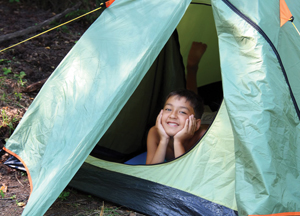 To encourage a closer connection between children and nature, the National Wildlife Federation is sponsoring The Great American Backyard Campout as part of their Be Out There movement. Pitch your tent on June 22 and break out the marshmallows. Register your campout at www.backyardcampout.org and receive helpful information including recipes, nocturnal wildlife guides, campfire songs and games, nature activities, and more. For those looking to camp beyond their own backyard, the Campout website helps locate organized campouts across the country.
---
Get Your FREE Indoor Activity eGuide!
---
More NYMP News (not region specific) Articles
Tips to Help Improve Your Child's Reading Skills
Helping Your Tween Transition to and Navigate Middle School
Meet the 2014 Cover Contest Winner and Finalists
Ebates Teen Style Survey Reveals Top Trends for Back to School
Meet the New, Older Dora the Explorer

Be a good fellow parent and share this with a friend who would be interested
Local NYMP News (not region specific) Sponsors
See Our NYMP News (not region specific) Directory