Related: poetry by kids, poems about new york city written by kids, kid poets in nyc, a poem as big as new york city,



A new book, "A Poem as Big as New York City," captures a kid's-eye view of what it's like to live, learn, and play in NYC.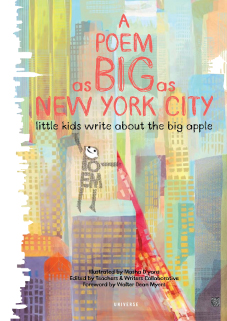 "A Poem as Big as New York City" is available in hardcover for $19.95 at amazon.com and in select bookstores. ©Universe Publishing, 2012
A new book out this month features the sights, sounds, and soul of the Big Apple as experienced by some of its smallest residents. Hundreds of lines of poetry written by NYC public school students were collected, edited, and combined to form "A Poem as Big as New York City." The project was organized by the Teachers and Writers Collaborative, a nonprofit organization that offers creative writing programs for students and teachers throughout the five boroughs.

"These are young people learning to celebrate the ordinary and to transform that ordinary into the rich stuff of life," says award-winning novelist Walter Dean Myers in his foreword. "They boldly discard the stale as they bring their own rich and unique inner visions to the page. I am sometimes surprised at the talent represented here, but not the creativity. It is what young people are capable of when given the chance." Myers, who is the National Ambassador for Young People's Literature and a recent recipient of a NYC Literary Honors award, tells his own story in the foreword of growing up in Harlem and having his imagination "permanently stretched" by his efforts to capture the essence of NYC with pen and paper.
The book includes 74 color illustrations by New York artist Masha D'yans that reflect the playfulness and whimsy of the children's poetry. Together, images and words dance, jump, and stroll down crowded sidewalks, taking readers from the South Street Seaport to The Apollo Theater and everywhere in between.
More Local News - Queens Articles
Soccer Friends USA to Begin Weekend Futsal Program
Mommy, Music, & Me, Inc. Adds Two Class Locations in Queens
Forest Hills Music School Offers Lessons, Music Therapy
Little Apple Preschool to Expand Facility for 2015 Semester
Bayside Music School Offers Young Kids' Class, Private Lessons

Be a good fellow parent and share this with a friend who would be interested
Local Local News - Queens Sponsors
See Our Local News - Queens Directory