THE BRITISH ARE COMING
 
The British International School of New York, which opened in September, 2006, is already growing.  It just added a nursery school, and now serves kids 3-11 years, offering a blend of The International Baccalaureate Primary Years Program and the British National Curriculum. The bright and airy school overlooks the East River at 20 Waterside Plaza, off East 23rd Street.  The school has two outdoor playgrounds and a pool. Get more info at open houses to be held October 11 and 18, 6-7:30 pm, or contact Sarah Bottoms, director of admissions at [email protected] or (212) 481-2700, ext. 204.   You can also check out the school at www.bis-ny.org.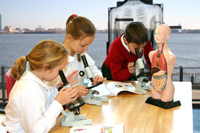 LANGUAGE DIVERSIFICATION

    Italian for Toddlers has grown into The Carousel of Languages, offering Italian, Mandarin, French and Spanish to kids 6 months to 12 years.  Teachers emphasize learning through verbal-visual-tactile association and include art, history, theater and architecture of the different cultures.  Classes are at 385 West End Avenue, between 78th and 79th Streets. For more information, call  (212) 501-8524 or visit www.italianfortoddlers.com.


CLOSER SHAVE

   After years of providing high-end shaving products by Internet, eShave has its first bricks and mortar location at 993-B First Avenue, between 54th and 55th Streets.  The bright, pocket-sized shop has everything needed for men (and women) to enjoy a good shave, including old-fashioned shaving brushes, made of badger hair, that lather up tiny bits of shave cream to a light yet rich foam.  he start-up kit includes the brush, pre-shave oil, shave cream, and aftershave, all in a toiletry bag, for $55.  Drop by the shop to find your favorite scent; choose from white tea, floral, citrus, almond and cucumber.  You can also get tips on how to shave properly.  For more information, call (212) 838-0807 or go to www.eshave.com.

LITTLE GYM GETS BIGGER
   The Little Gym is bringing its fun, non-competitive movement programs, with sports, gymnastics, cheerleading and music, to the Upper West Side. The new gym, with programs for kids ages 4 months-12 years, is at 2121 Broadway, between 74th and 75th Streets, 2nd floor. The gym hosts birthday parties and has regularly scheduled Parents Survival Nights. For a free trial class, call (212) 799-1225 or go to www.thelittlegym.com.
 
PARTEAZ, PLEASE!
  Last month, we mentioned a new company, Parteaz, which specializes in birthday tea parties.  
The correct website is:http://nyc.parteaz.com. They can also be reached at (212) 769-7679.