PARTY EVERY DAY
   If your child can't go to enough birthday parties, check out the new
Mommy & Me Moey's Music Party
classes at Gymtime Rhythm & Glues.  Local mom Melissa Levis, head of the music department at The York Avenue Preschool, creates a party each week, with singing, dancing, bubbles, original music and party favor.   Levis just released her first CD, Moey's Music Party, so you can sing along to "New York City Kid" (and count doormen and Starbucks) or 'Sushi Symphony' at home. Moey's Music Party Classes are at 1520 York Avenue at 80th Street.   To register for a class, go to
www.gymtime.net
or call (212) 861-7732.  For more on Moey's Music, go to
www.moeysmusicparty.com
.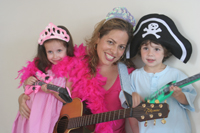 BABY PINK
Pink Olive Boutique
may be small, but it's packed with baby items, including cool onesies and booties. The shop, billed as "baby, gifts and getaways", also has gifts for moms, with vintage jewelry and accessories.  And the bikinis (getaways) can inspire new moms to start exercising.  Soon to come, custom invitations and baby announcements.  The store, 439 East 9th Street, between First and Avenue A, is worth a visit just to check out the garden. (212) 780-0036;
www.pinkoliveboutique.com
.

20 FOR TEA
   Throw a dream tea party for your daughter with
Parteaz
, a new company offering custom birthday tea parties for girls 4-12.  Parteaz comes to your home (or party space) and provides everything, from invites to thank-yous, with different themes.  You can have a princess party, a 'glam' party or a spa party, all with elegant tea service (or lemonade), cupcakes and crafts.  Girls can dress up in tutus and tiaras; there are even special crowns and capes for boys.  To find out more, call (212) 769-7679 or go to
www.nyc.parteaz.com
.