POTTERY BARN GROWS SMALLER
   Pottery Barn Kids has been the place to outfit your nursery.  Now you can outfit your child at
Threads
, a clothing store owned by Pottery Barn, which just opened its first Manhattan location.  The store focuses on clothing and accessories for babies 0-36 months, with classic clothes in gingham, cotton, cashmere and houndstooth. Threads does on-site monogramming of its clothing and gifts, including diaper bags and covers for wipes boxes.  In a nod to the environment, there is an organic cotton collection of onesies and outfits, and energy-efficient lighting has been employed.
   Threads plans to offer classes for parents as well. The store is located at 1451 Second Avenue, at 76th Street; (212) 737-0104.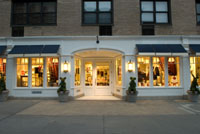 NOT PENNY CANDY

   Forget the old-fashioned candy stores, with their quaint prices.
Papabubble
is a thoroughly modern take on the candy shoppe, featuring what the Brits would call boiled sweets, with au courant prices to match – lollipops, $4-$15, are works of art.  Colorful hard candies in jars and bags round out the selection.  380 Broome Street, between Mott and Mulberry Streets; (212) 966-2599 or
www.papabubble.com
.
BABY BUMP
Realbirth,
a pregnancy and parent education center, has added a second location that includes a Bump-to-Baby store.  Stressing 'green' choices, the store, which has pregnancy and infant items, carries a variety of cloth and environmentally-conscious diapers, and ecologically-correct cleaning products. There is a large variety of organic baby clothing, natural baby lotions, and a well-edited selection of the best strollers for NYC parents.  
   Like its first center, Realbirth offers a full array of classes, with three large classrooms for pregnancy, childbirth and postpartum support.  There are drop-in classes, including breastfeeding clinics, Baby & Me yoga, and open play for babies; drop-ins are $10-$20.  There are also more intensive workshops on infant massage, baby wearing, and returning to work; these are $20-$45.  You can also just drop by the store to change your baby, or sit in a comfy armchair and nurse.  
  The Chelsea location is at 54 West 22nd Street, 2nd floor. The new location is at 715 Ninth Avenue, between 48th and 49th Streets.  For a class schedule, call (212) 245-0796 or go to
www.realbirth.com
.