BE SEEN


The
Walk Safe Kids
umbrella, in bright yellow, is a two-way safety device. Cars can more easily see kids holding the umbrellas, which have reflective binding; and the clear see-through panels allow kids to see where they're going. The umbrellas, for ages 3 and up, also open and close easily, so kids don't hurt their fingers; rounded edges ensure no one gets poked. From ShedRain, $12 at
www.rainshop.com.
PERSONAL POWER
Charge your iPod or cellphone on the go with the solar powered backpack by
Hynotics
. The backpacks, in black, blue and red, have integrated solar panels, and a mesh back so the wearer doesn't overheat. Only at Office Depot, or www.officedepot.com, ($69.99).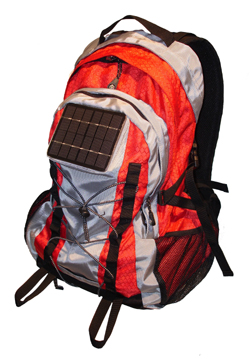 For an original lunch box that won't get mistaken for someone else's, check out the totes at Craftsbury Kids. The drawstring closure is great for children who can't yet work zippers; the waterproof lining keeps moisture away from the homework folder if you tuck the tote into a backpack. $24 at www.craftsburykids.com.


GET UP!

—Waking up on time for school is easier with the iH4 Alarm Clock. The clock, which fits iPods, wakes kids up with their favorite music. $49.99 at www.ihomeaudio.com.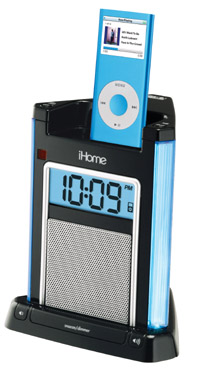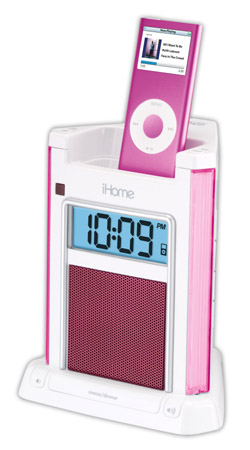 —Younger girls can wake up to Barbie's voice or music; the Barbie Hour Garden talking alarm clock radio also has a flower petal nightlight. From Mattel, $29.99.
SCHOOL OF ROCK
Mead
has a new line of school products that incorporates lightweight speakers into pencil cases ($14.99), binders (24.99) and backpacks ($59.99). Kids can plug their iPods, MP3 players or cell phones into the battery-operated speakers and enjoy music while they study. At Office Max; get more details at
www.meadfivestar.com
.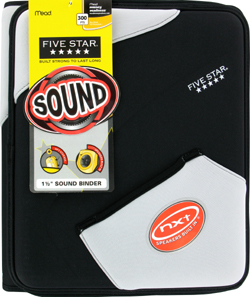 KEEPING TRACK

If parents are still the planners, BusyBodyBook has a new Personal & Family Organizer in four patterns. The academic year calendar has a weekly grid format, where up to five family members can track their activities. $16.95 at Barnes & Noble or Borders, or at www.busybodybook.com.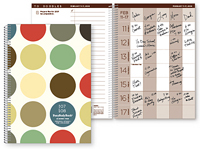 SPRAY AWAY GERMS

Make sure your kids' hands are clean at lunch with CVS/pharmacy Instant Hand Sanitizing Spray for Kids. The alcohol-free formula comes in a pen, which can fit easily in a lunchbox, backpack or pocket; the $1.99 pen should last through at least 70 hand sprays. At CVS or at www.cvs.com.


WALK TO SCHOOL IN COMFORT

—Spenco has new line of insoles designed just for children. Spenco Kids' insoles have Memory Foam Technology that automatically adjusts to the shape of the foot. The insoles provide cushioning and support, and the antimicrobial layer helps eliminate odor. The $19.99 premium insole is available in sizes 3-8; you can find retailers at www.spenco.com.