SNACK REMAKE
   Healthier snacks for kids on the go:
—Clif Bar, which already has an organic energy bar, Clif Kid Z bar, has a new product, Twisted Fruit.  The organic fruit leather comes in four flavors, with no added sugars, preservatives, or artificial flavors or colors. 
—Kid Splashers, also by Clif, encourages water consumption, with fruit flavor, electrolytes and vitamins you add to water.  Splashers contain sugar, but the packets, which are designed to be mixed with eight ounces of water, have only 13 or 14 grams of sugar. 
—For kids 3-5, Lunchables Jr. has a new snack, Ritz sticks, raisins and peanut butter.  Each snack has a half-serving of fruit, and provides good fiber and protein.  $2.19 for a two-pack.
GOOD CRUNCH
   Two new healthy trail mixes are great for hiking — or just bringing to a soccer game (for players and spectators):
—Navitas Naturals' Trail Power (Goji Berries, Inca Golden Berries, Mulberries, Cashews and Cacao Nibs) provides antioxidants, protein, fiber, vitamins and minerals. These are 70 percent organic, kosher certified, raw and vegan.  At Whole Foods, $5.95 for a 4 oz. bag. 
—Bear Naked, of granola fame, has four new trail mixes: Appalachian Trail Mix, with granola clusters, raw nuts and banana chips, Continental Divide Blend, with chocolate granola clusters and nuts; organic Pacific Crest, with pistachios, mango and raisins; and organic High Sierra Blend, with nuts, seeds and chocolate.  $2.99-$3.99 for 5-oz. bags, at A & P and Gristede's.
EASY TOTE
   If you don't want to lug a heavy diaper bag, you can take just the essentials in the clever new Tushygear.  This soft diaper changing pad has a zippered pouch at one end to hold diapers and wipes.  Tushygear pads, made in the U.S., come in 30 patterns, including baseballs, flowers and sock monkeys. There is even a pad made with organic cotton.  The pads are machine washable, and there's even one of organic cotton.  $38; $55 for organic at www.tushygear.com.
BETTER GRIP
   NUK from Gerber has new learning cups and bottles with nipples that are shaped like mom's, so babies who switch from breast to bottle to pacifier don't get 'nipple confusion'. The bottles, for birth and up, are $4.99; cups, for ages 6 months and up, are $6.49.  To find a store, go to www.gerber.com.  The company also has a 24/7 parent resource hotline, staffed by professionals, including certified lactation educators: (800) 4-GERBER


FORMULA PLUS
   Similac has expanded its line with new formulas that include Go & Grow for babies 9 months and up, and Sensitive and Sensitive R.S. to help babies with lactose intolerance and gas.  All the new formulas have DHA and ARA, which assist in brain development.  Sensitive R.S. has added rice starch to reduce spit-up.  Similac Go & Grow, for toddlers up to 2 years, has added calcium, iron and vitamin C, and is formulated in both soy and milk versions.  At grocery stores; for more information, go to www.similac.com.
NO THROWAWAY
   Don't lose another bottle or sippy cup.  NoThrow attaches bottles or cups to strollers, car seat or high chairs, the Velcro straps securing whatever drink your baby tries to toss.  The inventors are identical twin sisters, from a family of 11 children. But even if you just have one kid, you'll appreciate the convenience.  $6 at Walgreens and buybuyBABY or at www.nothrow.com.
CLEAN CLASS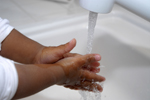 Soon, kids will be heading back to school, and Clorox is promoting hygiene ed.  They're offering free Clean Up the Classroom kits for pre-school to grade 2, and daycare.  The kits include info on how to teach cleanliness to young children, stickers so teachers can reward good behavior, and a 'clean up the classroom' DVD for kids to watch.  Teachers also get a coupon for free Clorox disinfecting wipes. There is a limited supply; you can also download the kit online, along with parent tips for keeping kids healthy. For more information, go to www.cloroxclassrooms.com.