Check out some new products for parents and kids this month...


What's in Store?
   Keep track of toys, books, or even laundry with
Dwell Studio'
s new storage bins. The laminated canvas bins (really oversized totes) have handles so you can quickly de-clutter a room.  And the kid-friendly patterns, including chocolate dots and animal print, match Dwell's home collection for children and might just encourage kids to put their toys away. $80 at
www.giggle.com
.

Don't Bug Me
   Keep the bugs away with
DEET-free BugBands
. These colorful, bracelet-style wristbands with a natural geranium-derived insect repellent keep mosquitoes, gnats and fleas at bay.  In seven stylish colors, including glow-in-the dark, wristbands last 120 hours. You can attach one to a stroller to keep insects away from baby. BugBand also makes a spray lotion and towelette for applying repellent directly to exposed skin; these products also protect against ticks. $4.95 at
www.bugband.net
.

Keeping It Tidy
   The new three-in-one
Combination Diaper Bag-N-Changing Belt
keeps everything for changing a baby organized. There are little pockets for wallet, keys and cell phone, as well as a zippered pouch on the strap, plus bottle pockets and a separate area for soiled clothes. And the bag easily converts from a messenger or stroller bag to a waist belt so you can change your baby in less than ideal circumstances; you can keep the bag around your waist rather than putting it on a dirty floor. The most ingenious touch is the way the changing pad snaps under the flap, keeping it at the ready.  In black, bright green, or black lined with green. $149 at
www.Baggino.com
.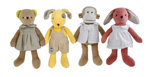 Naturally Lovable
   When your daughter buries her face in her stuffed animal, choose one that is safe.
My Natural
has 100 percent all-natural cotton plush toys that use environmentally friendly, non-toxic materials and processes. Without the bleach or chemical dyes, the
Tiny Love
bunny, monkey, dog and bear are particularly good for kids with allergies or chemical sensitivities. By Hosung, NY. $4.99-$14.99, exclusively at Target and
www.target.com
.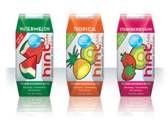 Psst – Have a Sip
   Keep your kids away from sugary drinks or artificially sweetened beverages with
HINT Essence
water.  These subtly flavored waters are now in kid-appealing flavors, including Tropical, Watermelon and Strawberry Kiwi, and the water used contains fluoride. A case is $44 at
www.drinkhint.com
. 
   For kids over a year, check out
honeydrop
drinks.  The honey-sweetened beverages, great for sore throats and coughs, or just to quench thirst, include Bee Good (apple), Bee Alive (blood orange), Bee Calm (chamomile) and Bee Strong (blueberry).  $1.79 at Whole Foods or
www.honeydrop.com
.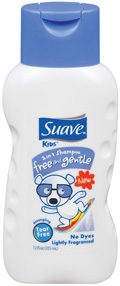 Showered with Love
   When your baby becomes a "big" boy and takes showers, he still deserves a gentle cleanser. 
Suave Kids Free and Gentle Body Wash
has no dyes and leaves kids squeaky clean. $1.99 at Target; get more info at
www.suave.com
.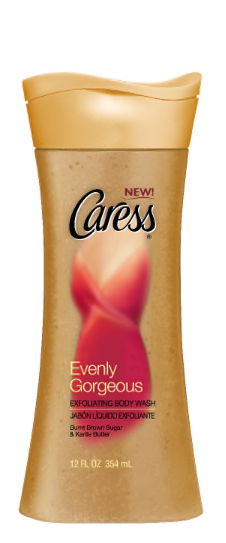 For mom, try the new Caress Skinwear Collection: an "Evenly Gorgeous" exfoliating wash with burnt brown sugar, and "Glowing Touch" body wash with Shea cream.  Both moisturize as they clean. $4.49 at Pathmark. www.caressskin.com.


Saving Face
   Rejuvenate tired skin for spring. 
Weleda
has new
Wild Rose Facial Care
products. Organic, fair trade, rosehip seed oil moisturizes and helps prevent premature aging. Facial Gift kits have small sizes of cleansing lotion, facial toner, day moisturizer and night cream. $14.99 at
usa.weleda.com
.