Got cake, will travel
   If you made the cupcakes for the bake sale or your child's birthday party, you now face the problem — how do you get transport the goodies? 
The Cupcake Courier i
s the solution.  Invented by a mom (duh!), the plastic carrier safely totes up to 36 cupcakes on three removable trays.  Take the trays out, and you can carry an angel food cake or three layer cake with towering decorations.  In four colors; $25 at Target and
target.com
.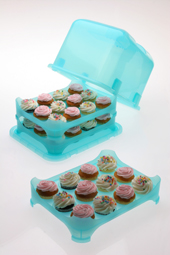 The safest for baby
   VMV Hypoallergenics, makers of luxurious cosmetics, has a new
Grandma Minnie Mom & Baby
line for the most sensitive of skins.  The gentle line is rated VH-65, meaning it's been tested for all 65 allergens identified by the North American Contact Dermatitis Group.  Of course, the fragrance-free products have no phthalates.  The Coo & Clean Baby Wash can be used on hair or body, and is also antibacterial; the Mommy Coddling Lotion is great for pregnant women (no more itchy bellies) and babies.  Both $30 at
www.vmvhypoallergenics.com
.

Spit it Out
   Get a cleaner mouth — but a dirtier sink — with
Listerine Smart Rinse
anti-cavity fluoride rinse.  The mouth wash, for kids 6 and up, adds a fun factor to get kids to rinse.  When you spit, any food you left behind after brushing is tinted by the rinse, giving you a colorful display in the sink.  In mint and berry, $3.99 for 8.5 ounces or $4.89 for 16.9 ounces, at drugstores; get more info at
www.listerinesmartrinse.com
.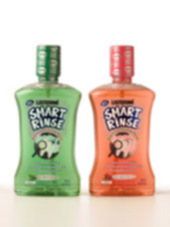 Bar none
   Kids can get their fruit in
Organic Bear Fruit Bars.
  Made from organic dried apples and organic concentrates of other fruit, the chewy bars come in Apple, Apple Cherry, Apple Raspberry and Apple Blueberry.    Box of 20, $29 at www.morfoods.com.  You can load up on Omega-3 fatty acids with Aristo Wellness Bars.  These bars are sweetened with organic brown rice syrup and organic evaporated cane juice, and come in Acai-Blueberry & Lime; Pomegranate & Cranberry; and Goji Berry & Orange; $1.89 at The Vitamin Shoppe.  Get more info at
www.aristohealth.com
.

Eating right
   Not only do parents obsess about giving their kids the best food, they also want to serve it nicely. 
PLAYSKOOL
has new easy-grip bowls that can go from fridge to microwave to high chair.  The bowl comes with a heat-sensitive spoon that changes color if the food is too hot.  And the bowl has a thumb rest, making it easy for mom or dad to hold.  Only at CVS or
cvs.com
, $4.49.  For older, more design conscious kids,
Trebimbi
has a party set, with a kidney-shaped bowl, cup and utensils.  Most clever of all, the cup fits on the plate, and the fork, knife and spoon attach to either the cup or plate.  In five bright colors, $45 at
www.barebabies.com
.
Soft shoe
   Toddlers who like to run barefoot can now wear pediped shoes. The new line,
Flex
, extends the original soft-soled infant shoe.  The rubber-soled Flex offers arch support, shock absorbers, and a customized insole, all in a fashion-forward shoe.  In sizes 6-12, $38-48 at
www.pediped.com
.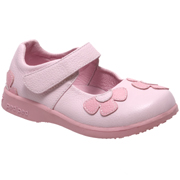 Let the fur fly
   Get a cleaner couch — and reduce your clothing dry cleaning bill — with the
Scotch Fur Fighter Hair Remover.
  The handheld fur trapper has drippers that pull embedded fur and dander from fabric, with no electricity or batteries.  When the device gets hairy, use a new sheet.  So easy, even a kid can do it.  $9.99 for the handle and five sheets; refill pack of eight sheets is $4.99 at Target.