NASSAU COUNTY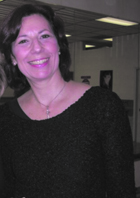 Fancy Footwork
   "If you start out with good ideals and practices early in life, you'll follow through later in life," says Carol Riley, director of the Hannah Kroner School of Dance. With that in mind, Riley will offer two new summer programs focused on refining dance skills and enhancing self-image.
   Beginning June 29, a four-day summer intensive program will be offered for those with basic training in dance. With five hours of instruction daily, students will study footwork, choreography, tap technique and musical theater.
   Also this summer, a girls "Slimrobics" is in the works. Riley hopes to encourage kids, especially those with sedentary lifestyles, to get physical, have some fun, and learn a bit about proper nutrition.
  The Hannah Kroner School of Dance is located at 1180 Willis Avenue in Albertson. To learn more about these upcoming summer classes, call 516-484-5430.

Picture Perfect!
www.10centsaprint.com
. This Internet-based service transforms your favorite digital images, "the old fashioned way," says Founder, Zahir Dastagir ( Zee ), explaining that photos are developed using quality Kodak paper and materials, rather than ink jet processing. "This process extends the life of the prints," Zee notes. And, before your prints are processed, each file is analyzed and adjusted to create optimum light and color correction for each image. Plus, your finished order is shipped to you the same day.
   Other services available at
www.10centsaprint.com
include VHS to DVD conversion, photo greeting cards, custom photo albums and cookbooks, calendars and photo gift ideas. When it comes to preserving baby's first smile or a cherished family moment, consider the services of
www.10centsaprint.com
. To learn more, call 516 569-9184 or email,
[email protected]
SUFFOLK COUNTY
Jump for Joy at BounceU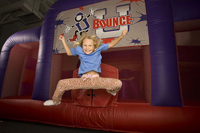 They say the family that plays together stays together. With that in mind, Frank DiScala and his business partner, Michael Martinek, opened BounceU in Farmingdale. Here, kids and their parents can bounce, climb, slide and get silly on giant inflatable structures, including a 38-foot long obstacle course, a 17-foot high slide and a bounce boxing ring, housed in a colorful, giant bounce stadium.
   Offering parents a clean, secure, environment for birthday parties or to drop in for "open bounce play" was a top priority for DiScala and Martinek.   "Kids are so bottled up with energy," says DiScala. "At BounceU they can come in and play, bounce around and by the time they leave, they're exhausted!"
   A word of advice for parents: "Just bring your camera and have fun," says DiScala.
   BounceU is located at 101 Carolyn Boulevard in Farmingdale. For details about parties, Preschool Play dates and Family Bounce times, call 631-777-JUMP or go to
www.bounceu.com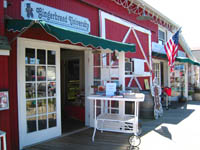 And at Gingerbread U, Baking Fun
   Ah, the scent of gingerbread. That sugar and spice, crispy confection artfully molded into little men and decorative houses, always conjures up thoughts of the holidays. But, it doesn't have to be just a seasonal treat-at least not at Gingerbread University this summer, where kids can give their culinary creativity a go!
   Gingerbread Fred (Founder, Fred Terry) welcomes summer camp groups and families to a fun decorating session where participants can embellish pre-baked gingerbread with gumdrops, chocolates and Gingerbread University's exclusive, multi-colored royal icing. Themed-figures include ginger beach balls, whales, dolphins, sharks and assorted beach-inspired ginger creatures.  Aside from the fun of decorating each masterpiece? Eating every last crumb!
   Gingerbread University is located at 3225 Sound Avenue Riverhead. For workshops and party packages, call 631-727-7309 or go to
www.gingerbreaduniversity.com