After much media attention and the longest preview period in Broadway history, the epic new musical "Spider-Man, Turn Off The Dark" brings action and rock n' roll to the stage. With a cast of characters that literally soar through the theater, 'Spider-Man' will keep both kids and adults on the edge of their seats.
Let's begin at the end: The soaring OMG! climax battle of good vs. evil between Peter Parker/Spider-Man (Reeve Carney) and Dr. Norman Osborn/The Green Goblin (Patrick Page) is a bona fide audience gasp-a-thon unlike anything ever beheld on Broadway before.
Inevitable? Oh my, yes. Archenemies going at it full-tilt above the heads of dumb-struck kids and adults who have been glued to their colliding storylines for roughly two-and-a-half hours.
Officially, according to the comic-strip inspired set onstage, the clash of superhero and fanatical mutant takes place atop the Chrysler Building -- a subtle reminder that e
ven at its epic moment, this is a show set in New York, the City that Never Sleeps. And I guarantee, the excitement level is so intense, catching your breath as you leave the theater (only steps away from Times Square), will be a challenge, no matter what your age.
Still, sensational aerial maneuvers are only one aspect of the $70 million musical that was media fodder during early previews last November, mostly due to creative and technical problems as well as cast injuries, resulted in the longest preview period (182 previews) in Broadway history.
A three-week hiatus in which the show received major revamping has, I am happy to report, led to redemption for what insiders are calling Spider-Man 2.0. Not only are safety worries a thing of the past (ghoulish theatergoers in search of stage carnage need not apply), but the production has emerged as a crowd-pleasing winner.
A key reason for the show's overall appeal, however, has not changed: It's the cast. Topping the list are the main players: Reeve Carney in the title role is wonderful and totally believable as a high school science geek-turned-superhero. Equally impressive is Jennifer Damiano as his love interest, Mary Jane Watson, an aspiring actress whose unhappy home life is tempered by her budding relationship with Peter. Meanwhile, T.V. Carpio is stunning as the mythical girl-turned-spider Arachne, whose legend is fleshed out in the show's overlapping opening numbers, "The Myth of Arachne" and "Behold and Wonder."
But it's the dual role of Osborn/Green Goblin, rapturously embodied by Patrick Page that kids in the audience gravitate to almost as much as they do to Parker/Spiderman.


Green Goblin's Kid Appeal
"I'm having a great time," says Page, whose resume is filled with shows with family allure, like Disney's Beauty and the Beast, in which he played Lumiere, and The Lion King, where he portrayed Scar, Mustafa's duplicitous uncle. And if you reach back into your holiday grab bag of iconic musical memories, it was Page who starred as another green villain, Dr. Seuss' The Grinch, on Broadway.
According to the veteran actor, it's no accident his resumé boasts a significant number of kid-friendly productions since "I have sought out opportunities to do shows that one can bring one's children to."
He also appreciates kid feedback. "Adults are often swayed by what others say or by reviews, and they will lie -- but you get an honest reaction from children and I like that a lot."

As for Page's other stage credits, they veer toward the classical with a serious emphasis on Shakespeare, whom he says he fell in love with when he was only three years old. "It's the bedrock of what I do," he notes, adding that Shakespearean characters he's played can influence his role in large-scale family-oriented musicals.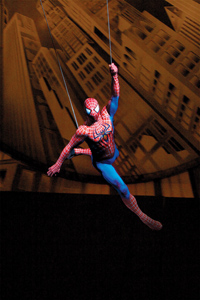 "In musicals, the dialogue tends to be somewhat underwritten to allow for the musical numbers. So it's the actor's responsibility to fill in the gaps and the back story," he says, citing the Bard as a frequent go-to source. And, in the case of Osborn, he found Macbeth to be a helpful parallel. "Both Osborn and Macbeth are essentially good men who are blind to the depth of their narcissism and hunger for power and, as a result, go on to become psychotic," he says.
Prior to his "transformation," Osborn's genius is lashed to his business, Oscorp Laboratory, where a field trip brings an adoring Peter Parker into his world. As soon as the two meet, it becomes clear they share a bond -- one that will be forever distorted after a genetically enhanced spider bites Peter (unleashing a string of Spidey superpowers) and Osborn opts to become a human guinea pig and "Join the proud and few/Who know best for their country," Viper Worldwide.
The final metamorphosis -- at least in the case of the Green Goblin -- doesn't reach the height of gleeful villainy until the top of Act II where Page emerges in full cartoon monster-liciousness and, aided by an ensemble of demon students, belts out the showstopper "A Freak Like Me Needs Company."
"The show is designed to work with an ebb and flow that matches up with kids' attention spans," says Page, noting that the next scene features the gorgeous "If the World Should End," a love ballad between Peter and Mary Jane that skews more to adults. "More than any other show I've been in," he says, "Spider-Man has appeal that spans the generation barrier."
All the Details
Spider-Man, Turn Off the Dark is playing at Foxwoods Theatre, 213 West 42nd Street.

Recommended age range: Seven and up, but younger hardcore Spidey fans may insist-parental call (check out the website first)

Performance Schedule: Tuesday-Thursday, 7:30pm; Friday & Saturday, 8pm; Wednesday, 1:30pm; Saturday, 2pm; Sunday, 3pm.

Tickets: $67.50 - $140 for all performances. Call (877) 250-2929 or visit www.spidermanonbroadway.com for tickets and a full array of cool info and merchandise.
Insider Info: From Film to the Stage

While the original Marvel graphic novels and the 2002 film starring Tobey Maguire and Willem Dafoe included Norman's son/Peter's schoolmate, Harry, the stage show does not.
Turning Dr. Osborn into the Green Goblin during the show's 15-minute intermission requires
six people and utilizes six pieces of light foam that move with the actor's facial muscles, as well as two mics that run through the costume.
Several of the company members have a professional connection to the original director/co-book author, Julie Taymor, including Reeve Carney, who stars in her film adaptation of The Tempest, and Patrick Page, who worked with her on The Lion King.
Broadway's opening night (6/14/11) audience included President Bill Clinton, who said "New York has never seen anything like Spider-Man, Turn Off the Dark. And I am very proud of them for not giving up-it was fabulous."
In addition to being an action-packed theatrical event, Spider-Man, Turn Off the Dark addresses a number of issues relevant to young kids and teens including bullying (the song "Bullying by Numbers"), loss of a loved one (the death of Peter's beloved Uncle Ben), alcoholism (Mary Jane's father), and dealing with changes in yourself and your surroundings.