Ah, the lazy days of summer. Kids eagerly await these two months of leisure, when they can finally be "free" from books, homework and classrooms. But a study at the University of Missouri shows that those lazy days will take their toll when school starts up again in the fall, and that teachers initially spend up to six weeks going over the same lessons their students were taught the previous school year. Harris Cooper, professor of psychological sciences at the University of Missouri and head of the study, estimates that students lose about one month on a general grade-level equivalent scale, and 2.6 months of grade level equivalency in math skills over the summer. But short of shipping the kids off to math camp, how can parents make summer learning fun and motivating while giving kids serious opportunities to learn the skills they need?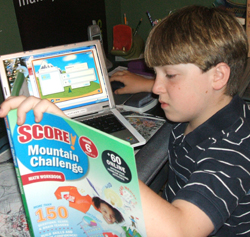 By combining an interactive, dynamic computer curriculum with a motivational system, one company hopes to help kids set and achieve goals, and connect their successes with confidence and motivation. "I've been working in SCORE! centers for eight years," says Annette Doskow, Rye-based regional manager of NY/CT SCORE!, "and have heard time and time again, 'What you're doing is fabulous! But we want to take it home.'"  SCORE! Centers, designed to provide kids ages 4-15 with fun ways to achieve goals in math, reading, spelling and writing, help students to catch up, keep up and get ahead in school. This kind of request prompted SCORE! Educational Centers, a subsidiary of Kaplan, and Kaplan Publishing to team up and create an answer.
   The SCORE! Mountain Challenge Workbook Series, which was unveiled in May and designed for grades K-6, combines Score's motivational approach to learning with Kaplan's established teaching techniques. Written by teachers and reviewed by educational experts, the books take workbook learning one step further than most: the Mountain Challenge Series comes with a companion website that promotes active achievement with a mountain climbing theme. But they're not just for those who have fallen behind. "We hear it all," says Doskow. "From parents whose children are struggling, to those who say, 'I know my child can do better and I want him to work up to his potential,' or 'My child can do so much more — how can I enrich and expose her to what's coming?'" The workbook series, the company claims, works for every type of student.
   No parent wants to nag their child to study during vacation. But tech toys, television, pool parties and playdates are tough to compete with, so any learning opportunities have to be engaging and fun.  My second grader, who battles with me over homework every day of the school year, has been nagging me to let him do another chapter in the Grade 3 SCORE! Language Arts workbook each day since I gave it to him. Starting at a Base Camp, the book begins by discussing the tools each mountain climber needs to reach the summit. With activities to help with organization, time management, creating a great workspace, drawing up a homework chart and setting goals, the book's intro helped to give my son a feeling of "readiness" before jumping in.  Each of the six chapters has 19 questions, with answer hints. At the end of the chapter there is a challenge activity, and each answer comes with an explanation. Finally, kids are tested to see what they've learned in the chapter, followed by a Celebration Activity or game before moving on to the next base camp. My son is easily frustrated. But even when he got a wrong answer, both in the book and online, he kept going — a rare occurrence for him.
   The text is encouraging and helpful. The corresponding website builds on the book's activities, and kids have the opportunity to dress their mountain climber in various-colored climbing gear before they set out on their trip. An additional 60 questions beyond those in the workbook let kids climb past five base camps to reach the mountain's summit, after which they receive a printable certificate of achievement. The books are available for Language Arts and Math, and kids can also go back to the website and re-climb (by answering the same questions again).
   "We've really tried to hit the sweet spot between fun learning and serious academic support" with the series, says Maureen McMahon, vice president and publisher of Kaplan Publishing. Some kids will do best reviewing the grade level they've just completed; for others, the series serves as a good preview of what's coming next year.  "The books are a great start; they're engaging and will compete with other enticements of kids' lives," believes Doskow. "And the Internet piece keeps kids compelled in light of everything else going on in their lives."
   SCORE! Mountain Challenge books are available at Barnes & Noble, Amazon.com, Borders and at Scoremountain.com, and for preview in the SCORE! Centers in Westchester: 25 Purchase Street, Rye and 450 Central Park Avenue, Scarsdale.
Keeping Young Minds Summer-Smart
   Ron Fairchild, executive director of the Center for Summer Learning at Johns Hopkins University, offers the following tips for helping prevent summer slide:
   Visit the library: Participate in library summer programs to make sure kids are reading every day. Use opportunities like the new Harry Potter release to get kids reading.
   Take educational trips: Low-cost visits to parks and museums, or vacations with educational themes, can combat learning loss during summer months.
   Encourage informal learning: If kids are interested in comics or technology, expose them to as much as possible to let them become a student of their hobbies.
   Practice math skills every day: Kids can learn fractions by cooking, or practice addition and subtraction on trips to the grocery store. Track the temperature. Play educational games. Fun and motivating activities give kids opportunities to learn the skills they need.
   Limit TV and video games: Technology use should follow a similar schedule during summer as it does throughout the school year. Provide structure and limits to encourage a balance and keep kids engaged.
 On-line Workbooks
    For kids who prefer web pages to paper, Sylvan Learning Systems offers several online supplemental materials, which provide fun and enhancing activities for kids, as well as exciting summertime ideas for families.
   Available free of charge, the resources are available on a series of topics. "They are there to help all kids," says Steve Huff, executive director of the Sylvan Learning Center in Bronxville, "whether they want to supplement what they're doing during the school year, or prevent 'brain drain' during the summer break." 
    Broken out by subject, these online resources include:
—Math Activity Booklet containing 30 days of math writing topics, trivia, questions and puzzles.
 —Writing Journal with thought starters to get creative juices flowing, and allowing young writers to choose their cover design.
 —Summer Fun and Learning Guide, Creative, detailed and grade-specific tips to help parents plan fun, summer activities for kids that nurture reading, writing and math skills and promote summer learning.
 —Seven Days of Activities for Family Learning Fun. Creative family projects to spark imagination, inspire creativity and stimulate discovery while reinforcing reading, writing and research skills and promoting family "together" time.
   Sylvan also sponsors www.bookadventure.com. "For parents who say, 'How can I get my child to read?', this is the site for them," says Huff.  The site allows kids to generate a book list based on their grade level and interests. Once they locate the books at their school, home, library, or bookstore and start reading, they can take quizzes at Book Adventure's Quiz-O-Matic. They earn points by taking the quizzes, and can then trade points for prizes. Parents and teachers can also use the site to check on a child's reading progress.