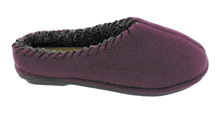 Bark Up This Tree
Moms can relax their tired feet - and help the environment. Smartdogs' Pure slipper is lined with fleece made from recycled plastic bottles, and the cushioned sole is from recycled plastic rubber. The indoor/outdoor shoe can be worn to take out the recyclables, and they are washable, so you'll get more wear out of them. $48 each in five colors, including eggplant, at www.smartdogscomfort.com or www.zappos.com.
Spit Happens
Babies are known for tugging their bibs off, but Hug-A-Bib, with its Velcro strap, stays in place. These plush woven cotton bibs have an inner waterproof lining to protect baby's clothes. $9.99.
And adults can keep their clothes clean with the burp cloth that stays in place. The oversized Clippy Cloth, made with the same plush woven cotton and waterproof lining, attaches with a mitten-type clip. $14.99 at www.hugabib.com.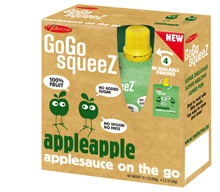 Healthy Eating
Looking to squeeze more fruit into your kid's diet? GoGo squeeZ has five flavors of applesauce, from the plain apple to strawberry, cinnamon, banana, and peach. Store in the pantry, or keep cold; kids can serve themselves with no mess. Four-packs are $2.99 at Stop & Shop or Whole Foods Market.
All natural Chobani Greek yogurt in non-fat pomegranate or low-fat pineapple is low in sugar but high in flavor. Go to out www.chobani.com to choose which charities 10 percent of the proceeds should benefit. $1.59 at Stop & Shop or Whole Foods Market.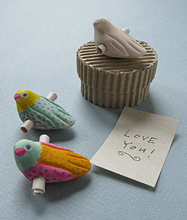 Love Notes
Give you child a love note, or have him decorate one to send to Grandma. Tiny ceramic Bird Notes, handcrafted in Peru, come either already painted, or blank for your small artist to color with markers or paint. Best of all is the rolled-up piece of paper inside, where you can write a short message. Fair trade and packaged in recycled materials. $18 for three at www.harrietandleo.com.