At Your Fingertips
Kids may study better with new Post-it 2 in 1 products. You can get a pen or a highlighter that holds Post-it flags. And the container is refillable, so there's less waste. The pen and highlighter, available in different colors, come in two-packs for $4.99-$5.99 at Staples.
Crunch at Lunch

You can pack the most nutritious lunch, but kids still want something fun mid-day. Salba Smart has 100-calorie Bite Size Organic Tortilla Chips that sneak omega-3 fatty acids and fiber into snack food. $.75 for an individual bag at Whole Foods or www.efoodpantry.com.
Popchips are the popcorn of potato chips, with no trans or sat fat, but great potato chip flavor. $1.29 for a single serving bag, at Duane Reade or www.popchips.com.
And FoodShouldTasteGood natural chips added four new flavors: Yellow Corn, Cinnamon, Potato & Chive, and Lime, for kids with discerning palates. $4.99 for 11 oz. bag, $3.20 for 5.5 oz., at Whole Foods or www.foodshouldtastegood.com.
Applause for Applesauce
Give applesauce lovers a new flavor profile. Santa Cruz Organic Fruit Sauces offer a twist, with apple blackberry, apple blueberry, apple cherry, and apple strawberry, in lunch or snack cups that provide 100 percent of the USDA recommended daily value of vitamin C. And, of course, no sugar added. About $3.59 for a six-pack at Super Natural in Spring Valley.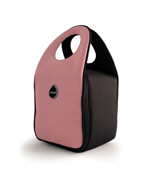 Stylish Tote
Lunch might taste better coming out of a hip new bag. Stöh, by Milkdot, is a PVC-free soft bag in blue/chocolate or pink/chocolate, with an ID tag that you can customize with a photo. The interior has mesh pockets so food stays fresh, and the foam insulation keeps food cold. The easy magnetic closure means kids don't have to bother with zippers or clasps. Get one for your child and one to bring lunch to the office. $25 at www.Milkdot.com.