From fact to film to Broadway, Disney's "Newsies!" on stage in New York City is a mega-musical with energy to spare.
No singing mermaids, no dancing cutlery, no flying nannies, and definitely no anthropomorphized jungle animals. Disney Theatrical Group's newest Broadway eye-popper has benched its traditional fairy tale structure to serve up a red-blooded, heartfelt musical based on an actual turn-of-the-19th-century event: the 1899 strike by New York City newsboys, a.k.a. Newsies.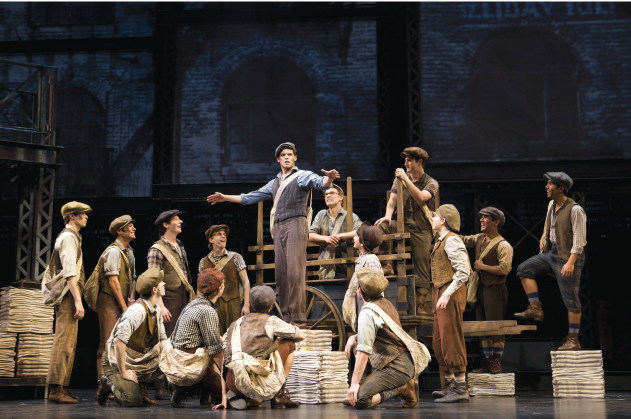 And, whoa baby, this big-budget open-ended run (despite mixed reviews) is nothing short of a high-octane bundle of crowd-pleasing charisma that has kids as young as 7 and 8 mesmerized—not only to the show-stopping singing and dancing, but to the deftly presented storyline pitting corporate greed mongers against spunky adolescent underdogs.
Because they were poor street kids—many of them orphans—to survive, the children hopped on the lowest rung of the urban working-class ladder and hawked newspapers—a medium controlled by rich, corporate forcefields like Joseph Pulitzer, who plays a pivotal role in the show.
From Film to Stage
Plot-wise, the musical serves up the rousing tale of Jack Kelly (brilliantly played by triple-threat actor/singer/dancer Jeremy Jordan), who persuades his circle of ragtag cohorts to stand up to Pulitzer and his colleagues after they up the rate for papers newsies must buy to sell to the public from 50 cents to 60 cents for 100 copies. Unionization and a better future are the goals; going on strike is the means.
Looking around the Nederlander Theatre during pretty much any performance of Newsies, one might assume the most enamored demographic to be tween and teen girls—the bulk of the characters are, after all, portrayed as an irresistible bunch of cute boys aged 11 to 18—but one would be wrong. While not nearly as vocally demonstrative (or giggly), the grownups in the audience, particularly those who grew up loving the 1992 Disney movie of the same name, are among Newsies' biggest fans.
As for the film, going into the Broadway show I didn't have a clue as to the cult clout it had until I scrolled through the more than 530 reviews on the show's website. A typical post would cite how much the fan du jour adored the film as a kid, how patient they had to be during the 20 years it took for it to be translated into a stage musical, and either how much they loved—or had problems with—the handful of changes introduced into the script by book writer Harvey Fierstein (Hairspray, La Cage aux Folles, HBO's The Sissy Duckling) and Alan Menken (Beauty and the Best, The Little Mermaid, Aladdin), who collaborated on the score with Jack Feldman (animated sequels of The Lion King, 101 Dalmatians, as well as a number of other Disney projects). On the whole, they forgave changes because they were so blown away by the show overall.
The adult contingent also shared how much they got out of sharing the show with their kids and grandkids, one of the most poignant postings being: "…my 10 year old son with special needs, my 8 year old typical son and I all adored it equally."
Who's That Girl?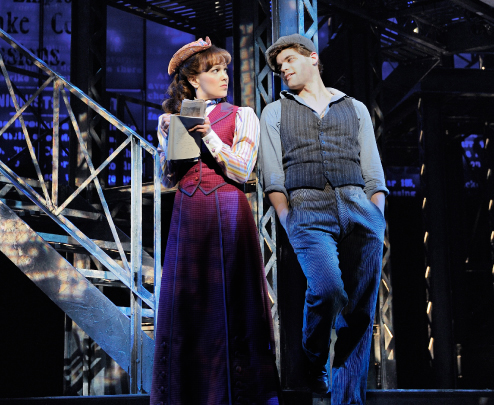 That said, theatergoers with a purist passion for the movie seemed most torn when it came to Katherine, a role unique to the stage production that basically replaced the aggressive reporter (Bryan Denton) played by Bill Pullman on celluloid while at the same time becoming Jack Kelly's love interest.
In the "controversial" Katherine part (not so controversial if you just sit back nonjudgmentally and enjoy the ride), is the lovely young actress Kara Lindsay in her Broadway debut. Having starred as Laura Ingalls in the Paper Mill Playhouse's production of the musical Little House on the Prairie, the Carnegie Mellon graduate was encouraged to audition for the female lead in the theater's upcoming mounting of Newsies.
"I immediately contacted my agent to submit me even though I didn't know what they were expecting," she recalls. "I just worked my butt off beforehand and went in and did my best. Fortunately, I was the right fit."
Since the move to Broadway, Lindsay has been pretty much walking on air. With a naturally bubbly personality, the Rochester, NY native cannot hold back how thrilled she is to be sharing her big break with her fellow cast members, many of whom are also making their Broadway debuts. And, she adds, her joy peaks during her favorite moment in the show.
"It's when Elizabeth is taking a flash photograph of the newsies as they stand posed in front of the camera, because it's at that moment I get to see [the] boys' faces, dripping with sweat from dancing," she says. "[I see] how happy and rewarding it is for their characters, and how equally wonderful it is for them...as performers. So I guess what I'm trying to say is how much I love that I get to see so many dreams come true in their faces at that moment."
At the Stage Door
Kara Lindsay dishes about this post-show tradition.
On Jeremy Jordan: "If you were at a Justin Bieber concert, Jeremy is absolutely Justin—the screams he gets when he comes out! [His fans] just eat it up… He's so magnetic and charming—and so good about talking to everyone and signing their programs. It's amazing watching him—and, of course, working with him!"
On reactions to her performance: "Every so often I'll find myself being approached by a high school kid who's aspiring to have a career in the theater. They'll say, 'I want to be up on the stage like you' and I realize that not all that long ago, that was me. I tell them: 'If I can, you can, you absolutely can—follow your heart and take the risk. And remember that when you don't get chosen for a role, it's not about your talent, but rather being who [the casting people] envisioned.' "
On who lines up to greet the cast: "Lots and lots of kids—teens and younger—because this is such a family-friendly show. And they are just so happy! It's all very overwhelming in the best possible way."
The Details
What: Newsies
Where: Broadway's Nederlander Theatre, 208 W. 41st St. (between Seventh and Eighth avenues), Midtown Manhattan
When: Mondays at 7pm; Wednesdays at 2pm and 7:30pm; Fridays at 8pm; Saturdays at 2pm and 8pm; Sundays at 1pm and 6:30pm. (Call or visit website for variations in playing schedule.) Open-ended run.
Who: Family friendly overall, but not for very young children; 8 and older seems a pretty safe age range.
Running Time: 2½ hours with one intermission
Tickets: $93-$137. Lottery: 2½ hours before every performance, patrons are invited to take place in a lottery drawn two hours prior to curtain. Winners may purchase up to two tickets for that day's performance for $30 each (cash only). Winners must be present with valid identification at the time of the drawing.
Website: newsiesthemusical.com