There's nothing like celebrating the Christmas season with a performance of The Nutcracker. Below, some famous New Yorkers fondly recall their best memories of this beautiful ballet.
Legendary American dancer/choreographer Jacque d'Amboise has performed in literally thousands of Nutcrackers over his long career.  He tells the story of how the New York premiere of the performance changed his life forever.   
   "In 1953, I was supposed to dance lead in George Balanchine's new production for New York City Ballet.  But there was a conflict — I was stuck in L.A. shooting the film Seven Brides for Seven Brothers, which ran into overtime.  However, I was able to make it back to New York for the premiere. 
   I rushed straight to City Center and sat in the front mezzanine with Balanchine.  I couldn't take my eyes off a girl named Carolyn George, who was dancing 'Waltz of the Flowers.'  Well, I fell in love with her ... and I married her!  I had just turned 19.  To this day I can remember the exact seat I was sitting in for the New York premiere of The Nutcracker."
For Carmen Borders, a 20-year-old company member of Dance Theater of Harlem, The Nutcracker not only inspired her as a child, but helped her through some rough times as an adult.  
   "When I was around 6 years old, my big sister and I were enrolled in our local dance studio in Burlington, NC. She had been cast in that season's Nutcracker, and I remember being totally awed by the magic and the beauty of dance. I knew that dance had completely captured my mind, body and spirit. When the show was over, I could not wait to get back to dance class the following Monday. 
   Even today this memory continues to follow me. About a year ago, I had surgery on my Achilles tendon. Now, every day that I step back into class and start at the barre, I remind myself of why I started dancing in the first place. It was because I wanted to be part of the magic and the beauty that dance exhibits in a unique way. I still love it and still feel that same magic today."
Georgette Gouveia has served as arts reporter and critic for Westchester/Rockland's Journal News for more than 20 years and is author of The Essential Mary Cassatt.  For her, The Nutcracker brings warm and funny memories. 
   "When I was a child, my Aunt Mary used to take me and my sisters to see The Nutcracker at the New York City Ballet every Christmastide. My sisters, who had an unfortunate relationship with culture (Jana once threw a gum wrapper into a Frank Stella sculpture at the Whitney, thinking it was a wastepaper basket), would bring their big binoculars, the ones they took to Yankee Stadium, to ogle the male dancers. After we'd had our fill of male beauty, we'd repair to Rumpelmeyer's at the Hotel St. Moritz for hot fudge sundaes. It was all a delectable experience.
   Time passed, and I lost my connection with this ballet, thinking it sentimental. As a critic, however, I've covered various Nutcracker productions and found the memories flooding back. Now I take my aunt to the ballet and marvel that as we come full circle — changing places, as it were — some things, like art and love, remain the same."
Olympic champion figure skater Kristi Yamaguchi recalls the first time she saw this magical holiday tradition. 
   "My mother took me when I was 5 or 6 to The Nutcracker at San Francisco Ballet, and now I can't wait to take my two daughters. All that magic and sparkle, the unforgettable music, the handsome prince — and those costumes! That might have been when I fell in love with performing.  Of course, the shoes I started lacing up were ice skates, not ballet slippers. But now that I'm exploring the world of dance, I can see how much ice skating and dancing have in common. The joy of entertaining an audience, the hard work, the innovation — all are vital ingredients of an inspiring performance."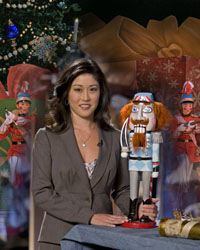 Olympic champion figure Skater Kristi Yamaguchi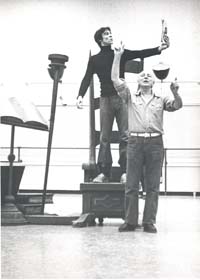 Renowned dancer Jacque d'Amboise (Photo credit:Carolyn George)