College Week Live, the largest online college fair, will host a New York Day featuring dozens of colleges across the state.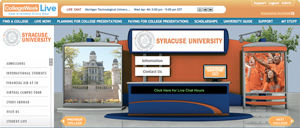 For most parents of college-bound teens, the application process has changed dramatically in the years since they applied. One change for the better is CollegeWeekLive, the world's largest online college fair. Here, parents and teens can get college application tips and advice; watch college application and admissions experts speak on topics such as how to prepare for the SAT, how to write a winning application essay, and how to pay for college; video chat with college students to learn what campus life is really like; and apply for special scholarships and promotions.
May 8 is CollegeWeekLive New York Day, which will feature more than 30 colleges across New York state. You can check out "virtual booths," participate in group or one-on-one chats with admissions reps, watch live-streaming video presentations on admissions topics, and ask questions. The virtual event is completely FREE. For more information, visit collegeweeklive.com.