ORANGE & PUMPKIN SMOOTHIES FOR ALL!
Related:
baby food
,
squeezable
,
organic
,
orange
,
pumpkin
,
gluten-free
,
family
,
food
,
kids
,
school
,
snack
,
lunch
,
Halloween
,
Happy Baby
,
Happy Family
,
Happy Squeeze
,
food
,
convenient
,
The Happy Family® brand, popular for their organic squeezable baby foods, has introduced the new Happy Squeeze line of fruit smoothies, perfect for every member of the family, not just the tots.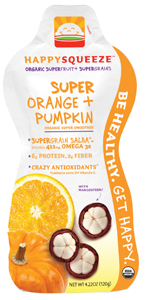 We know you've tasted your baby's food at least once--either out of pure curiosity or the convenience of cleaning your fingers when you didn't have a wipe around. Some are as bland as can be, though many of the newer organic squeezables are tasty enough for even mom or dad to snack on once in a while. Now HAPPYFAMILY ®, the makers of the popular HappyBaby brand, have launched a new snack aimed at every member of the family:
One pouch of a HAPPYSQUEEZE fruit smoothie packs half a serving of fruit, six grams of protein, two grams of fiber, and is a good source of omega-3 fatty acids, with 90-100 calories. The product is also certified organic, certified non-GMO, gluten-free, and soy-free.
Available in Target stores and online at www.target.com, www.amazon.com, www.alice.com, www.happysqueezefood.com and www.facebook.com/HAPPYSQUEEZE with a suggested retail price of $1.89 per 4.2 oz. pouch.
Get into the Halloween spirit by packing the Orange & Pumpkin flavor in your kids' school lunches, or sneak them into your own bag for a sweet treat during the day. (Other flavors include Pom, Apple & Peach, and Yumberry & Apple.)
More PRODUCTS Articles
Holiday Fashions for Boys and Girls
Photographer Behind Humans of New York Releases Children's Book
New Book Encourages Kids to Give Up Halloween Candy
Runnin' Wild Kids Shoes Owner Opens Toy Store
Top 10 Audiobooks for Halloween Season