The need for organ donors is great, especially in New York state. But many people have reservations about registering or simply don't want to think about it. Here, read real local stories and get the facts on donation so you can make an informed decision.

Lauren Shields of Stony Point has two birthdays. On April 13, Lauren turned 12 years old. But a month before that, Lauren's family decorated their house with colorful heart-shaped decorations and threw a party to celebrate her "re-birthday," because three years earlier, on March 13, 2009, Lauren was given a second chance at life.
Growing up, Lauren and her older brother were rarely sick. "We hardly had Tylenol in the house," recalls Jeanne Shields, Lauren's mom. But one spring day just before her eighth birthday, Lauren came home from school feeling tired. Soon after, Shields noticed that her stomach looked a little bloated. As a precaution, Shields took her little girl to the pediatrician, "truly as a go-and-see kind of thing," she says. Though the doctor wasn't alarmed by Lauren's symptoms, he recommended an ultrasound, which seemed to reveal the culprit: Lauren's abdomen was backed up with stool. After a few stool softeners and reassuring words, Lauren headed back to school and celebrated her birthday, but something still wasn't right—Lauren wasn't eating, and the bloating had spread to her face. A trip to the emergency room and another ultrasound revealed fluid in Lauren's abdomen, rib cage, and around her heart. At barely 8 years old, Lauren was diagnosed with viral myocarditis—inflammation of the heart muscles—and her body was shutting down.
After almost a year of drug therapy and hospital visits, Lauren was readmitted to Westchester Medical Center with end-stage heart failure and on Feb. 3, 2009, she was placed on the waiting list for a new heart. "We were on borrowed time then," Jeanne says, recalling how her daughter was placed in an induced coma and kept alive by machines for more than a month. "Every night I would go to sleep and I would look over at her and think, 'Please let tonight be the night they come in and wake me up and tell me [her new heart is] here.'" Because her condition was so serious, Lauren was placed at the top of the transplant waiting list and was lucky enough to receive a compatible donor heart on March 13.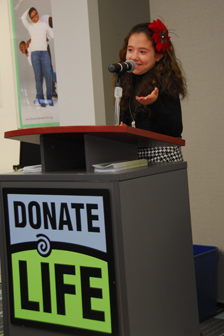 Three years after a heart transplant, Lauren Shields is an active, happy child who loves to ride her bike and hopes to one day become a cardiologist. She's also an ambassador for the New York Organ Donor Network who speaks at local naturalization ceremonies to encourage new New York state citizens to register with the network. "To be able to go out and play outside and volunteer is such an amazing experience," says Lauren, who says she doesn't get nervous speaking at the ceremonies (which can include thousands of people) because "everything I say is from my heart. Hopefully my story inspires other people to sign up and save other people's lives."
The Big Picture
At press time, according to the New York Organ Donor Network, four children in New York state were waiting for a heart transplant, while 15 were waiting for a liver and 24 for a kidney, the most commonly transplanted organ. Across the country, more than 110,000 children and adults are on the waiting list for a donor organ, and about 90,000 of them need a kidney. In February, The New York Times ran an article on Chain 124, a domino-like series of 30 kidney transplants that started with one Good Samaritan in California and stretched across the country. While heartwarming, this type of story is not common. The kidneys involved in Chain 124 were all given by living donors (in exchange for matching kidneys for the donors' loved ones), which is ideal, because these organs typically last longer than those from deceased donors. But on average, only a third of transplanted kidneys come from living donors, and the demand for kidneys is much higher than the number of donors (living or deceased). According to the United Network for Organ Sharing, a nonprofit government organization that manages the nation's organ transplant system, fewer than 17,000 of the 90,000 patients waiting for a kidney each year actually receive one, and almost 5,000 die waiting.
Closer to home, about 500 New Yorkers die each year while waiting for a donor organ. "There will always be someone near us that's in need," says Michael Goldstein, M.D., FACS, director of kidney and pancreas transplantation at Mount Sinai Medical Center's Recanati/Miller Transplantation Institute in Manhattan and medical director at the New York Organ Donor Network. But compared to the rest of the country, New York state is woefully deficient in registered donors—just 19 percent of eligible adults have added their names to the New York Organ Donor Network. Compare that to a national average of 42 percent, and it's hard to believe that 19 is a welcome figure. Just two years ago, though, that number was closer to 10 percent.
Registering as an organ donor means that, at the time of your death, you give doctors permission to remove some of your tissue and vital organs—heart, liver, kidneys, lungs, etc.—and transplant them into patients with compatible blood types who may die without them. A deceased individual can potentially donate up to eight organs to those in need, though the average donation per person is closer to four, due to the health of the person's organs and the circumstances of his/her death. Elvis Alvarez, a 19-year-old from the Bronx who died suddenly in a car crash in May 2008, donated seven of his organs. This is extraordinary not only because Alvarez saved seven lives, but also because he was not a registered donor when he died. According to protocol, the Donor Network approached Alvarez's family at the time of his death to ask permission to take his organs. His mother, Tomasa Alvarez, says she was ready to agree but the rest of her family was opposed, mostly due to a lack of information about the process. "My husband said 'You're not going to donate my son's organs,'" Mrs. Alvarez recalls. "He said, '[I've been] living with you for 29 years, but if you do this, we're going to separate." Still, she says, she knew it was the right thing to do, and she eventually convinced her loved ones. "I said 'We can't be selfish. This is something good,'" she explains. "'Elvis used to give. I know he's going to be happy with our decision.'" Four years later, Alvarez says she has no regrets. "It was Elvis's time to go because God said so. I decided [to donate his organs], and now seven people are living by him. I know he's happy—my heart told me I made a good decision for my son."
Registration, and Having the Conversation
Like the majority of New Yorkers, though, Tomasa is not a registered organ donor. While she wants to sign up and has the paperwork, it's something that's fallen through the cracks over time. Jeanne admits she wasn't a registered donor before her daughter's transplant. "It wasn't that I didn't want to be, I just never took that moment to make the commitment. I think that's true for a lot of other people," she says. "But I think the biggest thing I've learned since Lauren's transplant is that the time of someone's death is the wrong time to have that conversation."
Shari Kurzrok Schnall, a Brooklyn mom of one who received a liver transplant in 2005 after battling Wilson's Disease, agrees with Shields. "A lot of people think 'It's not a decision I need to make now' or 'It's not going to happen to me.' Then, unfortunately, they get into a situation when they have to make that decision and they don't have enough information," Schnall says. "I wish people weren't afraid to have a conversation about it."
To help explain why New York's registration numbers are so much lower than other states, Dr. Goldstein points to a few flaws in the system, including a lack of information available to the public and a complicated registration process. Plus, there's the fact that most urban New Yorkers don't drive, which is a drawback because many people register to be a donor through the DMV when getting or renewing a driver's license. In the past two years, the New York Organ Donor Network has made it a priority to make donor information more available to families of all cultures, which has helped increase the number of registered donors from 11 to 19 percent. And just recently, Governor Cuomo signed a policy that allows donors to sign up online (instead of printing the paperwork and mailing it in), which Dr. Goldstein expects will increase sign-ups exponentially ("How many people even know the cost of a stamp anymore?" he quips). Finally, the network expects a rise in registration as we near this year's presidential election, because New York allows its residents to register for the donor network when they register to vote.
"The most important thing is to make sure your wishes are known," Dr. Goldstein says. "Sign up for the registry and make sure your loved ones know that these are your wishes, so it doesn't come down to an argument later in life." For those on the fence about registering, Dr. Goldstein offers some perspective: "If you were sick or your loved one were sick and you were willing to accept an organ to save your life, why shouldn't you be willing to donate when you no longer need that organ yourself?"
Schnall, who admits she didn't register earlier in life because she mistakenly thought donation was against her religion, is now an ambassador for the New York Organ Donor Network and encourages individuals to take the time to make an educated decision before it's too late. "The families I speak with who donate loved ones' organs—it's a difficult decision, but what they always come out and say is that it makes them feel like there was another purpose, and they feel like their loved ones live on."
Signing up to be an organ donor is easy, free, and legally empowers you to save lives. To register, visit donatelife.net/register-now. You can also sign up in person at your local DMV or when you register to vote.
Debunking the Myths About Organ Donation
1. Registering as an organ donor does not affect the quality of medical care you receive in a hospital or emergency room. Doctors are dedicated to saving your life. Period.
2. Organ donation is accepted and encouraged by all major religions.
3. While you must be an adult to register, there is no age limit for deceased donation—everyone from infants to seniors can donate. The health of your organs is more important than your age.
4. Organ donation does not change the appearance of the body, so loved ones are still able to hold a funeral with a viewing.
5. There is no cost to the donor's family for organ/tissue donation.
For more facts on organ donation, visit the United Network for Organ Sharing online.