Related: kids, schedules, calendar, app, iphone app, android app, a child grows in brooklyn, free app, nyc schools, brooklyn mom, mom blogger,



A Child Grows in Brooklyn tells us how to keep track of your child's school schedule with the handy NYC School Calendar app.
I just got my "Welcome Packet" for school this year and spent an hour or more wading through the calendar of Parents' Nights, festivals, and No School Days. How did our kids' school calendars get so darn complex? They need their own filofax (er..I mean iPhone app!).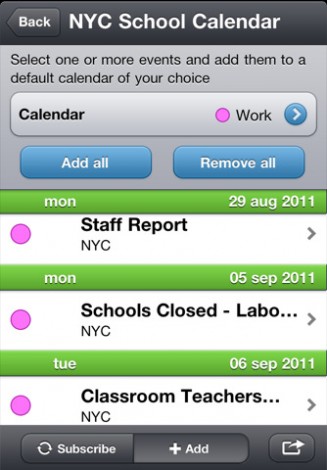 One way to stay sane through it all is with this cool new NYC School Calendar app, which is designed to help parents and kids keep track of the important school dates. Designed by John Tran, a New York City public school teacher, the app works by integrating and syncing with an existing calendar so you don't have to input the school calendar your iPhone. John hopes that the app will also help teachers to plan their lessons, parents to plan their vacation, and work schedules easier, and students to be more organized and plan ahead so they can do well in school. Such noble goals -- a real teacher through and through!
So, no more -- "whoops! It's a half day?!" You won't have any more excuses when you forget to pick up your kid.
The FREE NYC School Calendar app is now available at the app store and it is compatible with the iPhone, iPad or iPod Touch, and will soon work for the Blackberry and Android smart phones.
Serena Norr, a writer for A Child Grows, is from Bay Ridge, Brooklyn and now loves living in Ditmas Park. She is the managing editor of Relocation.com, which has perfected her juggling skills as she tackles a full-time job, freelancing and the best part of her day spending time with her energetic toddler. When free time strikes, she loves exploring Brooklyn with her daughter, checking out restaurants, writing plays, taking pictures, creating collages, and making soups -- which she chronicles in her recipe blog -- http://seriouslysoupy.com.
---
Get Your FREE Indoor Activity eGuide!
---
More BLOGS Articles
Meet the Intern: Emma Rausch
The Best of the Rest of the Web: Paternity Leave, Sleepless Nights, and Escape to Amish Country
The Best of the Rest of the Web: Kids Are Weird, Multitasking, and Work-Flex Benefits
The Best of the Rest of the Web: Max Gamer, an Accessible Icon, and Celebrating Small Milestones
The Best of the Rest of the Web: Sunny Days, Family Vacations, and The Good Mother Myth

Be a good fellow parent and share this with a friend who would be interested
Local BLOGS Sponsors
See Our BLOGS Directory