Museum visits are a great way to have fun with your child, as long as you don't think of them as Introduction to Art 101. Don't plan to spend the entire day or even more than a couple of hours, because no kid can handle that. Go when your child is rested, and leave before he's bored. If he gets tired, have a treat in the restaurant, visit the gift shop, or leave.
To avoid crowds, go during the week, especially when a museum first opens or an hour before closing. Avoid weekend afternoons, particularly rainy ones, and the first and last weeks of blockbuster exhibits. You're more likely to visit a museum when you have a membership, and memberships allow you to make frequent, short visits.
You'll be bored before your child if you:
• Follow your child's lead. Ask where you can find things that interest him.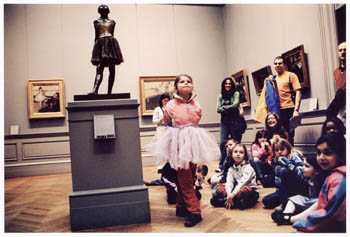 • Don't lecture. Ask him to describe what he sees. Ask "What animal is that?", "What shapes or patterns do you see?", or "Does that man look happy?" Ask your child to imagine what would happen if a piece of art came to life. Guess which picture is each other's favorite. Tell stories about the paintings.
• Do detective work. Play "I Spy". Go on a scavenger hunt to look for pictures with specific items like flowers, hats or horses. Buy postcards or magnets with art your child likes, and look for the originals.
• View it differently. Look at the art from different angles, including close up, upside down and from the floor. Let your child imitate a work of art by posing like it.
• Nurture his inner artist. If he likes to draw, bring his sketch pad. Encourage him to do art projects at home inspired by art he likes.
Many museums offer programs and classes for children between the ages of 5 and 10, and these are sometimes free with museum admission. The programs offer kid-appropriate insights into art — through gallery talks, tours, art workshops and projects, story times or discussions of works. Check our Calendar of Events or museums' websites for specifics.
Following is a subjective sampling of museums with exhibits parents and kids will enjoy and information that will make visits enjoyable for the whole family. Before you bring a child to an art museum, you may want to talk about never touching the art, using an inside voice, and not running.
Forbes Galleries
62 Fifth Avenue, at 12th Street www.forbesgalleries.com Admission: Free
Children love:
Toy boats and soldiers Antique board games, including early versions of Monopoly A diorama of a sick child's bedroom with toys arranged around his bed
Watch out for/avoid:
Nothing — it's a fun little place to visit, especially if you're in the neighborhood.
Museum-going mom tips:
The display cases are sometimes too high for a child to peer into, but stools are available in the galleries. Look around for them — they could be in another room.
Stroller policy:
Enter at the 62 Fifth Avenue entrance where there's a ramp. Strollers aren't permitted in the galleries and must be left at the security desk.
Eating options:
None at the galleries.
The Intrepid Museum
Pier 86, 12th Avenue & 46th Street www.intrepidmuseum.org Admission: Adults, $16.50; children ages 6-17, $11.50; children ages 2-5, $4.50; under 2 are free.
Children love:
Pretending to pilot aircraft and captain ships Interactive audio visual displays and videos throughout the museum
Planes on the Flight Deck The Captain's Bridge
Climbing on staircases to get to the Flight Deck
Watch out for/avoid:
Nothing — the museum is very easy to manage with a child. Children who are too young to understand the ship's history will still have fun — they'll consider it to be an enormous play space.
Museum-going mom tips:
You can't bring a stroller up the stairs to the Flight Deck, so either put a rambunctious toddler in a back carrier or take an elevator.
Stroller policy:
The Intrepid Aircraft Carrier is very easy to get around with a stroller, but strollers aren't permitted on the Concorde. The Aircraft Carrier's stairs can be avoided with elevators.
Eating options:
A McDonald's is within the museum.
The Metropolitan Museum of Art Fifth Avenue at 82nd Street
www.metmuseum.org Admission: Children under 12 with an adult are free. Adults: $15 suggested
Children love:
Temple of Dendur (the guards get nervous when children run around, so try to keep yours under control) Watching carp in the Astor Court Chinese Garden Roof Garden Egyptian Art (one word: mummies!) Arms and Armor
Watch out for/avoid:
You may want to harness toddlers or keep them in strollers in some areas, i.e., Modern Art and the American Wing antique furniture rooms, because they may touch furniture or low-hanging art or try to climb on sculptures. Beware: toddlers can slip under ropes intended to keep people out of rooms.
Museum-going mom tips:
Don't carry your stroller up the main entrance stairs at 82nd Street. Use the street-level entrance at Fifth Ave. and 81st Street, or enter at the Museum Parking Garage. There are rarely lines for admissions or the coat check at the 81st Street entrance.
Ask guards for detours or locations of elevators to avoid stairs. The best galleries to visit with children are those where the art is behind glass, for example the Japanese art in the Sackler Wing Galleries.
Stroller policy:
Strollers are permitted during regular museum hours, but may be banned from some exhibits. Check at the Information Desk for exhibits prohibiting strollers. Back carriers are available in coat-check areas located at the 81st and 82nd Street entrances. You may want to use your own front or back carrier if visiting an exhibit where strollers aren't permitted.
Don't abandon your stroller in pursuit of your toddler. A guard may confiscate it.
Eating options: Great child-friendly selections at the Cafeteria.
The Museum of Modern Art (MoMA)
11 West 53rd Street www.moma.org Admission: Children 16 and under are free. Adults: $20
Children love:
Sculpture Garden (although you may feel the guards are hovering over your child) Funky furniture and household items in the architecture and design galleries Peering down on people from the many windows and balconies
Watch out for/avoid:
Don't bring a child on Friday evening when the museum admission is free; MoMA is packed then. The line into the museum is extremely long and you'll probably also face lines at the coat check and café. Avoid weekends for the same reason.
Museum-going mom tips:
All entrances are stroller accessible. However, it's difficult to get them through the revolving doors at the 53rd and 54th Street entrances. Ignore the "Please use the revolving door" sign, and push your stroller through the middle door.
MoMA requires that visitors check backpacks of any size, shopping bags, and bags 11x14 inches or larger. Don't bring a backpack or diaper bag because you'll have to check it. Not only will you have to carry around your things in a plastic bag MoMA provides, but the coat-check line to check your backpack or diaper bag may be long.
Avoid the painting and sculpture galleries on the 4th floor because a child may want to climb and walk on sculptures.
Stroller policy:
Strollers are permitted everywhere in the museum except on escalators, and there are plenty of elevators.
Eating options:
Café 2 has a kids' menu including PB&J. Other café menus are a bit sophisticated for children, even pint-sized Manhattan sophisticates.
South Street Seaport Museum www.southstreetseaportmuseum.org Admission:
$8 adults; $4 children 5-12; children under 5 free
Children love:
Child's Play exhibit of toys with Tinker Toy and Lincoln Log activity table
Exploring the Peking and Ambrose ships
Watch out for/avoid:
The Seaport can be crowded on weekends and a little hairy navigating a stroller.
The Peking is not stroller-friendly, with stairs and a bumpy gangplank. Bring an umbrella stroller or a back carrier.
Museum-going mom tips:
The Schermerhorn Row Galleries are stroller-friendly and are an oasis from the bustling Seaport.
Stroller policy:
Permitted everywhere, but you don't want to bring strollers on the ships.
Eating options:
Great selection of family-friendly restaurants at the South Street Seaport. Also a Food Court.
Whichever museums you visit with a child, keep this in mind: No matter how daunting it may seem at first, do not miss the joys and rewards of exploring the city's museums. They'll enrich your child's life as well as yours.