Summer "brain drain" is a well-documented occurrence. In addition to causing stress for parents and educators, "brain drain" also fuels the fire in the debate of summer fun versus summer learning. But that doesn't have to be the case, as both goals can be accomplished with a little bit of planning and imagination. Students with significant gaps may benefit from summer school or tutoring. Summer learning programs can enrich and accelerate learning in areas where a child shows interest, so start up your imagination and create a family-based learning project.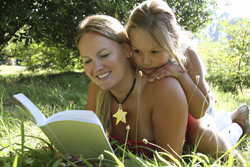 Grab a calendar and plan a summer learning module for your child. Select a theme that incorporates your child's interests.  It is easiest to start backwards by choosing a "final destination" that is based on activities or curiosities that your child already fosters. If your child likes animals you may consider the zoo as a final destination; sports buffs could take a trip to a sports stadium; or you can plan a real or imaginary trip to a foreign land.
   Once your theme and final destination are settled, you can turn your attention to planning the stations of the module.  This could entail, for example, a library/bookstore visit, a selection of non-fiction and fiction books, a research query, a creative writing assignment, a trip to the destination, and a multi-sensory final project. Create an itinerary for the various aspects of the project and discuss the schedule with your child. Keeping a flexible schedule teaches students time-management skills and maintains their level of focus.
   The following is a sample summer program with a selection of activities and suggestions about skills that should be incorporated into the activities.
1. Visit the local library or bookstore:  Discuss the difference between fiction and non-fiction books. Introduce various genres and chat about the types of literature you and your child enjoy reading.
2. Book selection: Choose two non-fiction and one fiction book that are relevant to the theme. For example, if your child is interested in art then have her select biographies on two artists whose work is on display at a nearby museum. When searching for a fictional work, consider the main characters and setting. If you've planned a trip (real or imaginary), then the book could take place in the land where you will be traveling.
   To ensure that you are selecting level-appropriate books, you may want to consult your child's teacher for literature suggestions or visit the New York Public Library website, www.nypl.org for recommended book lists.
3. Research project: Hunting for information and learning from reading are important skills for students. Engage your child in a research query based on the non-fiction books you selected. Instruct him to read the books and note or highlight interesting or new information. Once he has finished the reading, supply a stack of blank index cards and have him make a trivia game based on the new information. Take the game on your next road trip. 
4. Reading skills: Once your child has acquainted herself with the topic, head toward the world of fiction. Have her read the book that was selected earlier in the summer. Foster a curiosity for reading by discussing the book. If you have a hesitant reader, then pick up two copies of the book and read along with your child. Seeing you involved in the reading process will motivate young readers.
5. Creative writing: Create a writing project for your child as an extension of the fictional book that she has read. Rather than writing a boring book report have her write a final chapter to the book or a series of letters between two characters. If your child is interested in acting, have him create a play based on the book. Once the work is completed, spend some time reviewing writing mechanics and editing skills.
6. Destination activity: Now that your child has fully immersed himself in the topic, it is time to take a trip to the destination. Museum, zoo, sports stadium, foreign film or ethnic restaurants are all great extensions of the interests you've been exploring together. Encourage your child to bring a sketchpad or camera or have her save a couple of mementos from the trip.
7. Multi-sensory activity: The final activity should incorporate all learned aspects of the summer project. Instruct your child to take everything he has learned and create a final memory. If your summer theme was animals and included reading and researching an animal, a trip to the zoo, and souvenirs, then he can create a collage and write a blurb about the new friend. Or if your project entailed sports, reading about a favorite athlete, and a collection of photos from a stadium visit, have her construct a diorama. Whatever the final project is, encourage your child to reflect on the new information learned.  
ALEXANDRA MAYZLER is the president and founder of Thinking Caps Tutoring, which offers one-to-one tutoring, test preparation, skills coaching, and summer enrichment programs. For more information, visit www.thinkingcapstutoring.com.