PAPER BAG PRANKS: GREAT COSTUME IDEAS FROM THE PAPER BAG PLAYERS
Related:
Halloween, with its license to be silly, scary, ugly, glamorous or simply outrageous, is a great opportunity for children to pretend to the limit. Judith Martin, artistic director of The Paper Bag Players, offers some unique and easy-to-make costume ideas for children.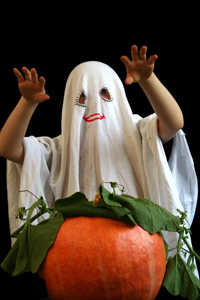 While there are all kinds of cheap and expensive costumes sold in stores, to my mind there is a special thrill to making one's very own statement for this holiday that is so accepting of individuality. Here are some suggestions for costumes made of paper, cardboard, and objects found around the house:
Big and Little Ghosts
This is for a big girl and her little friend. Start with two old, large, white bath towels. Cut corners of towels. Sew up sides and corners. Put holes for eyes in a place where the child can see through them. Eyes can be painted bigger than the holes needed for the child inside the costume.
Then add a hat and purse (any silly store-bought plastic bag will do) for the Mother Ghost and a baseball cap or colorful bow for the Little Ghost.
Ghost House
Find a box that is a bit taller than the person who will wear it and just wide enough to be comfortable. One side of the box is not attached and becomes a door. There should be a small slit at eye level so the person inside can see where he's going. A hand hole at the door and the side connected to the door keeps the door closed. A second hole for a hand at the opposite corner will help the person inside lift the box to walk or turn. For the roof, cut a piece of cardboard a bit longer to go from side to side at top of house. The roof is scored to create a peak, and then taped to each side.
Washing Machine
The best place to find a box for this costume is an appliance or furniture store, or drugstore. The box should cover the child from head to below the knee. Cut a large hole to look like a typical washing machine door. Then cover the hole with clear plastic (e.g. Saran Wrap). Glue a detergent box on top, and you're set.
Letter with a Stamp
This costume, for two friends to do together, looks like a large envelope with sides and top closed. Use a large sheet of ordinary wrapping paper found in a package-wrapping store, fold in half, tape sides. Cut a hole for the head where a stamp would be. It is essential to reinforce sides of hole with Scotch or masking tape. Address the envelope. (Printing the address and cutting the hole on the front of the envelope should be repeated on the back so both people in the envelope can see and be seen).
The Sun and the Cloud
These two characters can constantly interact even when they are just walking down the street. CLOUD tries to cover SUN; SUN constantly eludes CLOUD by going higher or lower or moving to his left then to his right. Costumes can be made from flat cardboard or extra large paper bags or large flat sheets of plain brown wrapping paper. If paper is used, it should be doubled to form an envelope.
Judith Martin, an original Paper Bag Player in 1958 and artistic director of the company since 1963, has devoted herself to developing a contemporary theater for children. She has written, designed, choreographed, directed and performed 34 Paper Bag Players' shows. She has co-authored three children's books, 'The Tree Angel', 'Jumping Beans', and 'Out Of The Bag'. She has received two American Theater Wing Awards for her "sustained contribution to theatrical design" and "consistent commitment to excellence in the professional theater," and last year, the Children's Theater Foundation's Medallion for excellence.
More Halloween Articles Articles
7 Tips for Trick-or-Treating with Your Toddler
New Book Encourages Kids to Give Up Halloween Candy
Halloween Activities in Bucks County, PA
DIY Alien Monster Egg Halloween Decoration
Toddler-Friendly Halloween Events in Fairfield County, CT