Like micro-climates, many families have micro-generations. The 3-year-old has very different needs from the 6-year-old, and the 10-year-old and 14-year-old are equally distant. One place can satisfy all those needs, and those of extended family members traveling together. That place is Atlantis.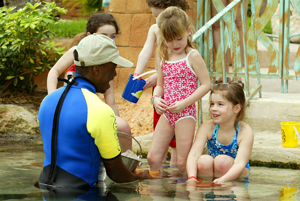 Fish feeding during the Discovery Kids Adventure program. Photo: Tim Aylen

The mega Atlantis Resort on Paradise Island, Bahamas, satisfies so many needs (except those of the budget traveler) that it seems niggling to criticize anything. Yes, it's crowded (so maybe solitude-seekers should choose another vacation spot), but with huge water slides, a new water playground, a white sand beach, a lagoon for boating, its own dolphin encounter, a huge aquarium with a recreation of the lost city itself — and have I mentioned the new water park, with slides, wave pool and luxury suites — how can you hold popularity against the place?

Then there's the excellent kids' program, Discovery Kids Adventure, which includes team building activities, scavenger hunts, fish feeding and star gazing, for 6- to 12-year-olds. There are programs for 3- to 5-year-olds; and evening escapes for 3- to 12-year-olds, when parents can enjoy a night out.

If you get breathless just thinking about Atlantis, you are not alone. As jaded as you may be, your first sight of the distinctive pink peaks of its towers may cause you to gasp. The first time we went to Atlantis, when my now 13-year-old was 6, she stage-whispered, "Are we rich?" as we pulled up.

Now, the draw for her is the water slide, down the six-story "Mayan Temple" that shoots you through a shark tank (encased in an acrylic tube). Another water slide through the sharks has a near vertical plunge; called the Leap of Faith, it has nervous mothers, like me, praying as their 8-year-olds defy gravity to catapult 60 feet down. There is also the teen-only Club Rush, with a DJ, karaoke and gaming. Opening in March, the expanded fitness center will have classes for teens. And Climber's Rush will have 12 different rock climbing surfaces; kids as young as 5 can climb, but there are more challenging routes for teens.

There is easy, but rewarding snorkeling, in a lagoon teeming with tropical fish. You can also see over 50,000 marine animals in the free aquarium that is integrated into the resort. There is also a restaurant set right next to a huge wall of glass with tons of fish.

Atlantis has a long lazy river ride, but the new water park, Aquadventure, opening next month, features a wild river ride, The Current, with rapids. Since plunging through shark-infested waters is old hat by now, here you can take a 200-foot body slide, the Abyss, through alligators. The three tube slides are like water coasters — you are propelled up and down. The Aquadventure and Mayan Temple slide are for those 48 inches and over; smaller adventurers have their own water thrills.

This past summer, Atlantis opened Splashers, a water play area for kids 54 inches and under. There are small slides, nets, rope bridges and water cannons; toddlers and 8-year-olds were all playing happily here. A huge draw is the giant bucket that periodically dumps tons of water.

Babies even have special amenities here. The new "Gentle Travel" program includes Johnson's soothing natural bedtime cream, a lullaby CD, and a nightlight. If you need a baby bathtub, a stroller or bottle sterilizer, the Prompt Response line pledges to get it to you quickly.

If you are looking to get out of the water, there's a pottery studio where you can paint your own keepsake. You should also explore The Dig, an underwater recreation of the ancient Atlantis. You can wander through here on your own, or take a (free) guided tour. There are hieroglyphics, sharks, a submarine, and a touch tank.

If touching animals is your thing, Atlantis has a new dolphin interaction at Dolphin Cay; the dolphins here were rescued after Hurricane Katrina. You get to hug, kiss and feed these gentle creatures, and to learn some of the trainers' hand signals. There is a shallow interaction, and a deep water one where you can actually swim with the dolphins.

Relaxing? That happens at the new Mandara Spa, which has special services for teens and tweens, including parent/child massages.

Like to eat well? Atlantis offers restaurants by Jean-Georges Vongerichten, Nobu Matsuhisa and Bobby Flay. There is also the family-friendly Carmine's. There is genius at work here; Atlantis is the perfect place for extended family vacations, and Carmine's is the perfect restaurant for large gatherings. Other choices include Johnny Rockets, Bimini Road with Bahamian cuisine, Starbucks, and Jamba Juice.

The 2,317 rooms are divided into the most expensive, at Royal Towers; the less costly Coral Towers; and the 'budget' Beach Tower. The Cove ups the ante, with an even more expensive price point and 600 luxury suites. The Cove also has an adults-only pool, a zero-entry pool, and its own beach club.

You will never grow bored at Atlantis. It boasts a huge casino (adults-only), but you can completely avoid it; there is no Vegas-style inundation. For reservations or more information, go to www.atlantis.com.