There is a universal look of contentment on the faces of parents at Club Med.  First-timers add a slightly stunned undertone — they are on vacation, with their kids, and having a great time.
   I don't mean to say we haven't had wonderful family vacations at other kinds of resorts.  But at Club Med, you truly can do whatever you want, with or without your kids.  You don't have to plan anything, you don't have to get on a bus; you basically show up and have a blast.     
   I spent a blissful week with my family at the
Club Med in Punta Cana, Dominican Republic
.  My 9-year-old made a beeline for the mini club (ages 4-10), and we didn't actually see our 14 and 16-year-olds for 24 straight hours at one point.  A new teen program, Passworld, kept them active and free Internet access let them stay connected to their Facebook friends. There are three computers available for everyone else, for a small fee — if you have to check in at work or keep up with your sports team).   
   Club Med Punta Cana is one of three (the others are Sandpiper, Florida, and Ixtapa, Mexico) to offer Petit Club Med, a supervised program (for an extra cost), for kids ages 2 and 3.  A room in the main restaurant, Samana, is set aside for families with kids under age 2; you don't have to eat there, but you can let your kids scream (with happiness, of course, because everyone is in a good mood at Club Med) without disturbing other guests.  There is also the free Club Med Baby Welcome, which provides cribs, changing table, baby bath, high chair and baby food; babysitting is available for an extra fee.  Rooms are set up so one area, with two twin beds, can be closed off from the other when the kids go to sleep.  
   But family vacations aren't just about getting away from your kids, and we were also happy to swim in the pool or at the beach with them, snorkel and Rollerblade.  You can take out a kayak or sailboat, windsurf or snorkel on your own, or take lessons in water sports.  There are 14 tennis courts, some hard court, some clay, with beginner and intermediate group lessons; rackets and balls are provided.  
  Although my (slightly spoiled kids) were a bit disappointed to find no swim-up bar, a pool-side cart offered fruit drinks (alcoholic and non) and G.O.s, Club Med's gregarious staff members, often cruise by with platters of fresh fruit, so you can swim up for a slice of papaya.  Club Med also brings the entertainment and exercise to you; without warning, there might be a pool or beach show, and at scheduled times, there are water aerobics.  There is a fitness center for those addicted to the gym, but even better are the open-air exercise classes at a pavilion next to the beach volleyball court.   
   Every night offers a different dinner theme, from Tex-Mex to a 'gala' buffet with caviar and lobster (there is also a dress code — black, black and white, red and white … but not everyone follows it).  Every meal also offers an over-abundance of choices, with lots of fresh fruit and a salad bar, and pizza, burgers and fries for the less adventuresome.  At breakfast, you are greeted with freshly squeezed OJ, and there is hot milk on the tables for coffee (my dairy-snob girls wouldn't drink the shelf-stable milk, similar to Parmalat, but otherwise loved the food).    
   A huge attraction is the circus, which is open to different age groups including adults, throughout the day.  Kids as young as 4 can try the trapeze. My 14-year-old went every day and learned how to 'fly' from one trapeze to the other.  She was invited to try out for the trapeze show, but just missed the bar and became an audience member like the rest of us.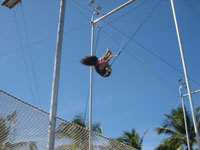 Other activities include archery, petanque (a French bowling game), and dance lessons in merengue and salsa.  One afternoon, a 'slip and slide' was set up at the beach, and after the little kids had their turns, teens and adults got to try.  In addition to sports during the day, teens had a party one night and a dance another; the younger kids had an early show and could attend in a supervised group, if parents wanted an hour or two alone in the evening.   
   Club Med offers such great programming that we never felt the need to leave the resort, even though there are excursions to the capital, Santo Domingo, and catamaran rides.  We were tempted by the horseback riding trip, but it was limited to those over 12.   We didn't exactly experience the Dominican Republic but Club Med brings a bit of local flavor into the resort, with one evening's entertainment featuring local music, and Dominican food at the restaurants, so our entire family embraced a true family vacation.  
    Club Med Punta Cana is undergoing renovations, with new family suites debuting in March.  The resort recently opened a new spa and will open a new restaurant in December.  A week for a family of four starts at $2500 (excluding airfare).  For reservations, go to
www.clubmed.com
.