The Parent Leadership Initiative is a free program that teaches parents how to affect positive change in the community for their children.
Gina Mineo of Huntington is about halfway done with the 15-week Parent Leadership Initiative program her community offers, which means she's close to reaching her goal of becoming a facilitator for support groups geared toward parents who have kids with special needs.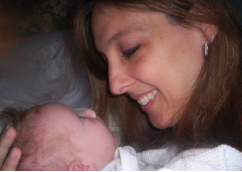 Gina Mineo, who strives to become a support group facilitator for parents of kids with special needs, cradles her newborn daughter, now a 6-year-old who has speech and cognitive delays. Her daughter was the inspiration behind Mineo's decision to enroll in the Parent Leadership Initiative.
The PLI program, established more than 20 years ago and funded by various foundations and donations, is designed to teach parents how to work effectively with local government, media, and civic groups so they can assume leadership positions and affect change in their communities.
"Parents sometimes need more help…than these kids with special needs," says Mineo, who has a 6-year-old daughter with speech and cognitive delays. "It's an extraordinary experience. I'm learning every day about my child. Navigating your way through [the] system, especially when you first start out, is challenging. It's good to have other parents beside you who are going through this too."
With a focus on childcare issues like health, quality schooling, and neighborhood safety, the PLI program is guided by parents who each have a pet cause. Part of the Child Care Council of Suffolk, Inc., it connects local politicians to the parents in the community, with the belief that family is the heart of the community.
"PLI gives parents a voice. It lets them realize the power within them, and [they] are empowered to use their voice the right way—effectively and efficiently for the community," says Denise Quintyne, director of PLI. "Local officials are thankful for the program, too. It's helping them to better serve the community."
Once they complete the course, the graduating class is responsible for guiding the incoming class of parents, ensuring a growing network of proactive parents within each community. PLI is present in Huntington, Southampton, Islip, Babylon, and Brookhaven, and 81 parents are currently enrolled in the program.
As a single mom, Mineo is grateful for the tremendous help provided by her daughter's public school, which offers her peace of mind while she works full time as a massage therapist, specializing in infant massage therapy. And she's dedicated to keeping it this way for future generations. "From early intervention to the school district, the people I have dealt with have been very supportive at every turn, and I have been lucky to have been able to obtain all the services my daughter has needed," Mineo says. "I want to give back to the community, and as a parent, you have to be proactive. I am looking out to ensure that budgets don't cut necessary programs."
To learn more about PLI, visit childcaresuffolk.org and click on "Parent Leadership" under the "Parents" tab.