If you want to think healthy, think squash. Like the carb-filled vegetable that's good for the athletic body, the sport of squash was also ranked number one by Forbes magazine. But perhaps the most important facet for Northeast residents is that squash is a game for all seasons. Played inside, squash can bring families together in any weather, and in any age range.
Richard Millman, director of National Performance for the United States Squash Racquets Association, has teamed up with Rye resident Georgetta Morque, a competitive squash player, sports writer, and daughter of a former national squash champion to bring us the new book, RAISING BIG SMILING SQUASH KIDS, a Complete Roadmap for Every Parent and Coach ($29.95, Mansion Grove House).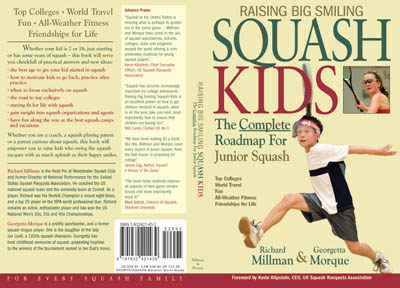 Says Morque: "Through squash, kids will learn to challenge themselves and others, work on decision making and critical thinking, get great exercise while having fun, and learn about sportsmanship and other important life lessons."
This 240-page hardcover starts at the beginning to guide you through the process of getting your child into his/her first class, and discusses the age at which a child can begin learning (3-9 years right into adulthood), how often you should practice, how to keep kids motivated, physical conditioning, teaching winning ways, and measuring true progress.
Because a child should be brought into squash at his own pace, the authors outline exactly how to proceed with the first class — minus the frustration — and later, how much push is too much. Parents learn how to be involved, how to encourage the dream, and how to find a balance with their involvement.
RAISING BIG SMILING SQUASH KIDS also covers camps and resorts, using mind games to play better, and the financials of having a child play competitive squash.
Millman and Morque also give us a peek into squash careers, squash in our community, and squash organizations, sponsorships and marketing.
Children who play squash are encouraged as both individuals and team players.
Undoubtedly, the best place to start off is with this new book. For every question you have, at any level, the book will have answers.
If you're wondering where you can go specifically in Westchester, there are several courts to choose from. A number of private schools and colleges have courts; you can call to find out if they're open to the public. In addition, you'll find private clubs listed on the USSRA website (www.us-squash.org). We've also found these courts in Westchester:
Westchester Squash in Mamaroneck (co-author Richard Millman's club) Hardscrabble Club in Brewster Saw Mill Club in Mt. Kisco White Plains YMCA* Rye YMCA* Squash Alley in Stamford, CT Sportsplex in Old Greenwich Club 800 Squash and Fitness, opening in Rye Brook NY Sports Club in White Plains may be building courts, so check with the facility
*YMCAs sometimes have courts, but don't always offer lessons or programs.