Crosstown rivalries, new stadiums, and access to a wide variety of sports make the greater NY metro area one of the best to places to see live action. Here, the lowdown on local teams, plus parent tips.
Jump to: Basketball, Football, Hockey, Lacrosse, Running, Soccer

BASEBALL
Minor League Baseball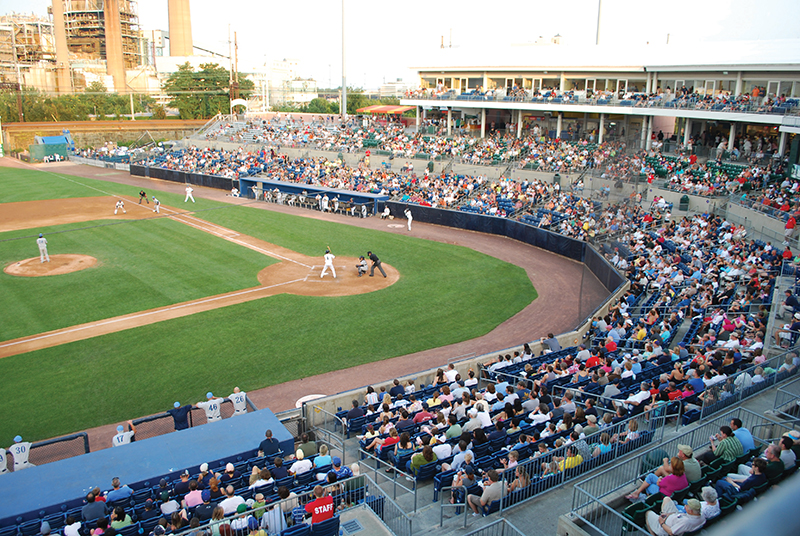 Jonathan Ezor used to take his three children ranging from ages 10 to 17 to minor league Long Island Ducks baseball games. "There are on-field fan activities between most half-innings. If your kids want to participate, be sure to get to the stadium and line up well before the gates open," Ezor says. "Bring Sharpies, too. There are many opportunities to get player autographs before and after the game."
Minor league baseball is a popular family favorite throughout the summer months specifically because of all the on- and off-field antics between plays and the access to players and characters. (We have a complete where-to guide of minor league baseball in our region.)
New York Mets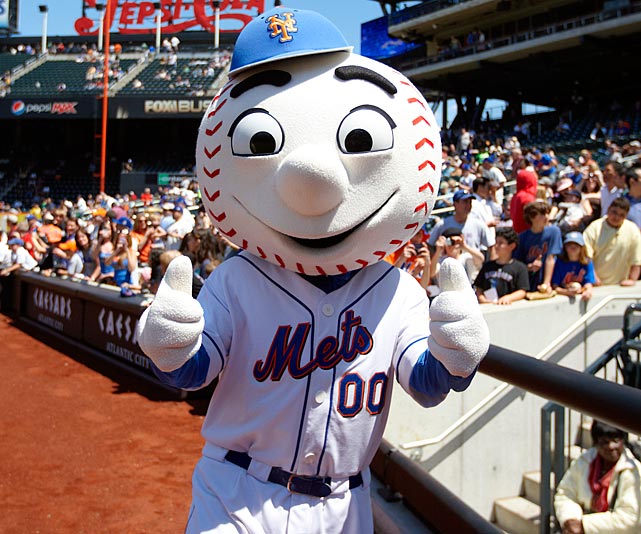 One of two Major League Baseball teams representing New York, the Amazin' Mets play their home games at Citi Field in Queens. The Mets-Phillies rival is one of the hottest in the MLB, so keep a lookout for the matchup in playoff and division games. And, of course, the turnout is always above-average when the Mets play those pinstriped players from the bordering borough.
Home Venue: Citi Field, 12301 Roosevelt Ave., Corona, Queens
Getting There: Take the 7 train to Mets/Willets Point Station. Direct LIRR service to Citi Field is available from Penn Station, Woodside, and all stations on the Port Washington Branch.
Tickets: Individual tickets start at $10; buy at newyork.mets.mlb.com.
Special: Mets' Sunday home games are Family Sundays, when all kids receive a special item (such as a T-shirt or ball cap), meet Mr. Met, and get a chance to run the bases after the game. Mets Family Pack tickets start as low as $24, and each ticket comes with your choice of an entrée, a side of French fries, and a 16-ounce fountain drink.
Parent Tip: Kids can join the Mets' Kids Club (two membership levels, one of which is free) and enjoy tons of perks during the season, such as free tickets and Mets gear. See the Kids Club page for details.
New York Yankees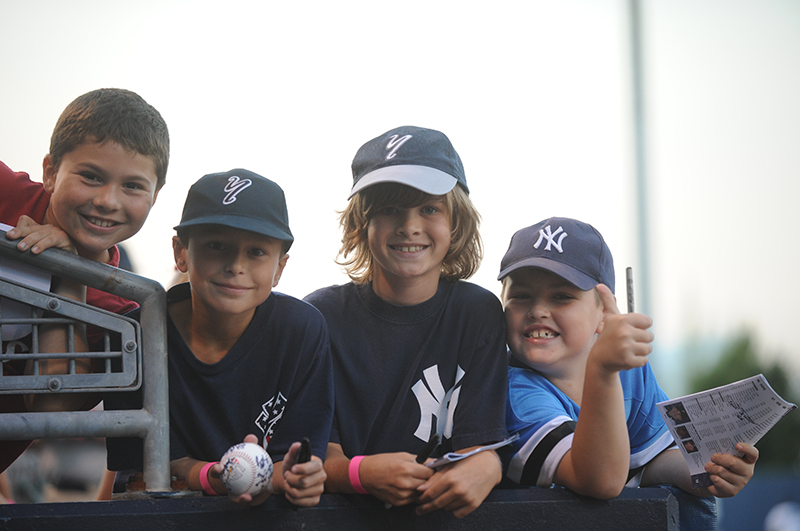 The other MLB team representing New York is, of course, the Bronx Bombers who play at Yankee Stadium. Watch out for when the Red Sox visit and you'll see one of the fiercest sports rivalries in action.
Home Venue: Yankee Stadium, 1 E. 161st St., Bronx
Getting There: The stadium is accessible via the B, D, and 4 subway lines
Tickets: Individual tickets start at $5; buy at newyork.yankees.mlb.com.
Special: All fans 14 and younger, when accompanied by an adult, are eligible for half-price tickets in designated seating locations for Saturday games. Tickets may be purchased only on the day of the game at Yankee Stadium ticket windows, adjacent to Gate 4.
Parent Tip: The Yanks host a baseball camp for kids ages 5-13 in the summer. Get more details here.
Vintage Base Ball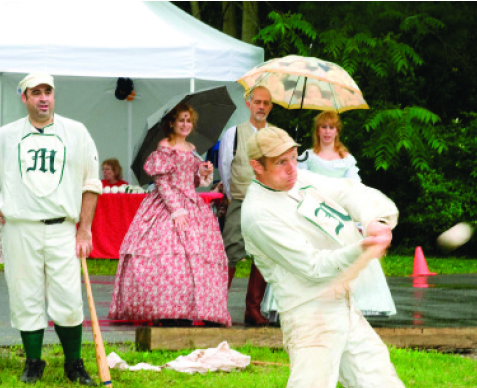 You may know the game of baseball pretty well, but what about base ball? The sport was spelled differently in the 19th century, and it looked a lot different, too. Vintage Base Ball Association clubs across our area re-create base ball games from the 1850s to 1880s by donning traditional uniforms (no mitts, though—most field bare-handed!) and playing by the game's original rules. Clubs in our area include:
Atlantic Base Ball Club: Atlantic Park at Smithtown Historical Society, Smithtown
Gotham Base Ball Club of New York: Governors Island, NY Parade Grounds
Mutual Base Ball Club of New York: Old Bethpage Village Restoration, Old Bethpage
Newtown Sandy Hook Vintage Base Ball Club: McLaughlin Vineyards, Sandy Hook, CT
BASKETBALL

Brooklyn Nets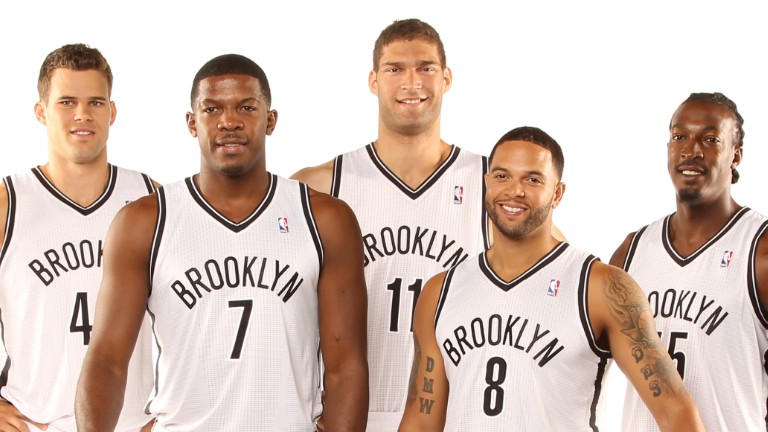 As if New York needed another basketball team, the Brooklyn Nets joined the fold in 2012. The team plays its home games at the Barclays Center, and its season stretches from late fall through the spring.
"There are lots of baseball fans that see the Brooklyn Nets as a legitimate successor to the Brooklyn Dodgers," says NBA commissioner David Stern. "I think that we are going to have a great rivalry."

Home Venue: Barclays Center, 620 Atlantic Ave., Brooklyn
Getting There: Those who want to attend weekday games are in luck. This arena is one of the area's most accessible: Hop off the subway at the Atlantic Avenue-Barclays Center station, Lafayette Avenue, or Fulton Street. Coming from Long Island? Take LIRR to Atlantic Terminal. Eleven different bus lines stop near the arena, too. Plan your trip with the MTA.
Tickets: Ticketmaster.com, nba.com/nets, 877-77-BKTIX, or 855-GROUP-BK for group sales
Special: Your tech-savvy youngsters will love how wired and current the new Brooklyn Nets are! Besides the inevitable Facebook and Twitter, you and your kids can follow the team on Instagram, Socialcam, Tumblr, and via an email newsletter.
Parent Tip: Get in on the rivalry early for memories that will last a lifetime. "There was nothing better than a rivalry between the Giants and Dodgers," recalls Brooklyn native Sheila Cohen, who was 5 years old when her father took her to her first game at Ebbets Field. "We had a two-family house in Coney Island at the time, and come March, people fought to rent out our basement so they could be closer to watch their Dodgers play!" What will the Nets-Knicks legacy become?
Harlem Globetrotters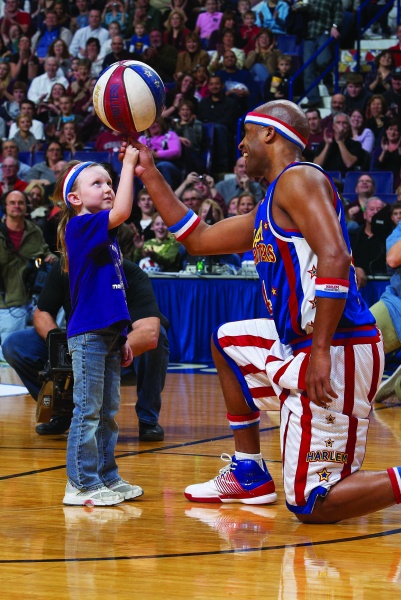 The Harlem Globetrotters have brought their ball-handling wizardry and basketball artistry around the world, playing in more than 24,000 games in 120 countries. Watch them as they pull on their red, white, and blue attire at several venues across the NYC area. The team always features a few fan favorites as well as some exciting rookies.

Home Venue: The globe (the Globetrotters are a barnstorming team)
Getting There: Check the Globetrotters' site for upcoming game locations: harlemglobetrotters.com.
Tickets: Ticketmaster.com or 800-745-3000
Special: Deals for scout troops, kids' teams, and even big families (10 or more people) are available; email [email protected] for group discount information.
Parent Tip: Because the Globetrotters combine athleticism (jumps, dunks, and somersaults) with lots of theater and comedic moments to entertain their fans, youngsters are more likely to make it all the way through a full game. A Globetrotters outing is a perfect first live sports event for toddlers.
New York Knicks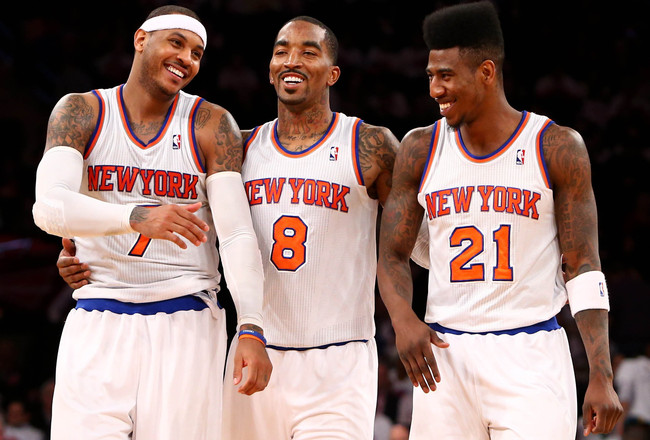 The Knickerbockers are always an exciting team to watch, and especially when they face off against rivals such as the Boston Celtics or Brooklyn Nets. Other good games to look for are when the Knicks play the Chicago Bulls, Miami Heat, or Indiana Pacers.

Home Venue: Madison Square Garden, 4 Pennsylvania Plaza, Manhattan
Getting There: Situated above a major transit hub, the Garden is accessible via NJTransit, Amtrak, and LIRR to Penn Station; NJ PATH trains to 33rd Street; and many subway lines
Tickets: Ticketmaster.com, or in person at the Madison Square Garden box office (tickets available at Ticketmaster exclusively on first day of sales)
Special: If your 7-14-year-old loves to dance, keep a lookout on Facebook for the tryout date for the Knicks City Kids, who dance at all weekend and holiday games during the Knicks' season.
Parent Tip: The Knicks and the Rangers both use Madison Square Garden as their home venue, so be sure to give yourself enough time to get there (and around the Penn Station commuter traffic) during weekday games.
University of Connecticut Basketball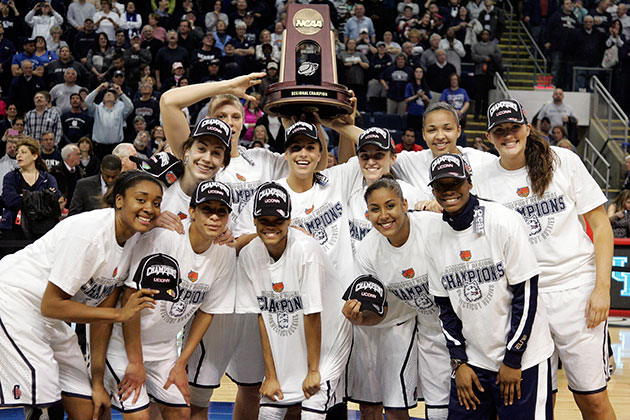 Both the UCONN men's and women's basketball teams play their home games, which start in November, in the Harry A. Gampel Pavilion on the Storrs campus.
Long-time women's head coach Geno Auriemma, who has led the Huskies to seven NCAA titles, coached the United States Olympic team in summer 2012. The men's team has won four NCAA titles, including its most recent in 2014.

Home Venue: Harry A. Gampel Pavilion, 2095 Hillside Road, UConn Storrs Campus
Getting There: The University of Connecticut is approximately a 1.5- to 2-hour drive from New York. Visit uconnhuskies.com for directions.
Tickets: Ticketmaster.com, or in person at University of Connecticut Athletic Ticket Office, 2111 Hillside Road, Unit 3078, Storrs; 1-877-AT-UCONN (1-877-288-2666) or 860-486-2724
Special: The UConn Junior Husky Club, sponsored by Webster Bank, has a $15 membership fee and an array of benefits including invitations to exclusive Junior Husky Days at football and men's and women's basketball games and free regular season admission to other ticketed sports such as men's ice hockey and women's soccer.
Children 13 and younger are eligible to register.
Parent Tip: College sports allow kids to get close to the action and players are much more approachable than their professional counterparts.
FOOTBALL

New York Giants
The four-time Super Bowl champs play the regular season at MetLife Stadium, their home field, September through January. Those looking for the most intense rivalries, though, should plan on stopping by the stadium when the Giants take on conference rivals the Philadelphia Eagles.

Home Venue: MetLife Stadium, 1 MetLife Stadium Drive, East Rutherford, NJ
Getting There: Riders from New York or Connecticut can take select Metro-North trains from the New Haven line to Secaucus Junction (mta.info/mnr or 212-532-4900 for schedules and service locations). Coach USA provides the 351 Meadowlands Express bus service from the Port Authority to MetLife Sports Complex for NFL games and other large events at the stadium beginning two and a half hours prior to the start of a game and continue running until a half-hour after the start of a game (351express.com or 800-877-1888, x3 for information). Obtain driving directions here.
Tickets: Ticketmaster.com, 201-935-8222, or in person at the MetLife Stadium ticket office, located at the West Gate between the Pepsi and Verizon gates.
Special: Go online to download Giants-themed coloring pages and a word search to keep kids busy en route to the game, and access NFLRush games they can play on your smart phone when the game action doesn't hold their attention.
Parent Tip: Preseason training takes place at the Meadowlands Sports Complex in East Rutherford, NJ, and is a great alternative to a regular season game for the younger fans in your family. "I'm waiting until my son gets older to take him to a live NFL game, as they can get rowdy," says Michael Campanile, a New Jersey dad. "Until then, bonding over an occasional TV game—fourth quarter is most exciting—is still fun.
New York Jets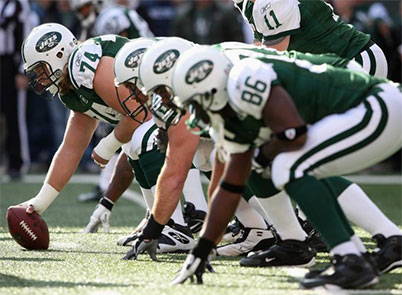 Thanks in part to their close proximity, the Jets have an intense rivalry with the New England Patriots, who they play in the regular season, as well as the Miami Dolphins and the New York Giants, with whom they share a stadium.

Home Venue: MetLife Stadium
Getting There: See New York Giants above for details.
Tickets: Ticketmaster.com, newyorkjets.com, or 800-469-JETS (5387)
Special: The Jets are devoted to boosting educational opportunities in the tri-state area, which parents can get involved in by accessing the team's community page. The team, like the Giants, is also involved in the NFL's Play 60 program that is working to eliminate childhood obesity by asking children to exercise for 60 minutes per day.
HOCKEY
Bridgeport Sound Tigers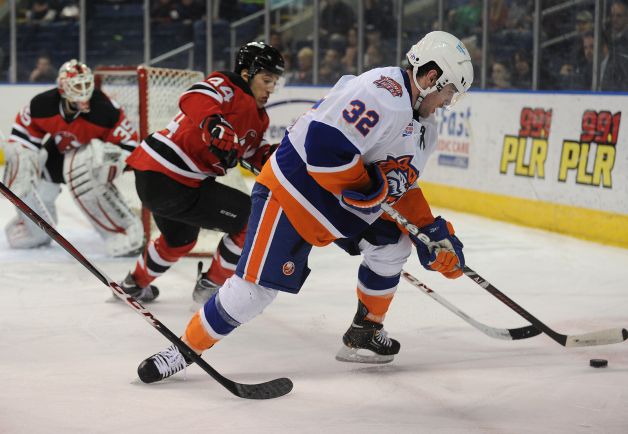 This American Hockey League team, which is affiliated with the New York Islanders, is based in Bridgeport, CT. Home games start in early October and run through April. Throughout the season, the team hosts special promotions and events for various groups. The team celebrated Scout Night and Chanukah Night last year.

Home Venue: Webster Bank Arena at Harbor Yard, 600 Main St., Bridgeport. (Nearby Fairfield University men's basketball team plays its home games there and the women's basketball team schedules select games at the site, too.)
Getting There: The Bridgeport Transportation Center is only a two-block, well-lit walk from Webster Bank Arena. This center is serviced by the Metro North Railroad New Haven line (800-638-7646) and Amtrak (800-872-7245) as well as the Greater Bridgeport Transit Authority (203-333-3031), which provides frequent bus service to the arena.
Tickets: Ticketmaster.com or in person at the Webster Bank Arena at Harbor Yard
Special: Birthday party packages are available including a signed jersey for the birthday guest, food vouchers, group tickets, and depending upon the package level or extras selected, a VIP arena tour and gift bags. Call 203-334-4625 for details. You can enter your child age 6-14 to be the honorary Sound Tigers "Stick Kid"—where he or she can sit on the bench during the pre-game skate and follow it up with amazing seats for the game.
Parent Tip: Looking for an extra special experience? Try catching a game against the Connecticut Whale, a feeder team for the New York Rangers.
New York Islanders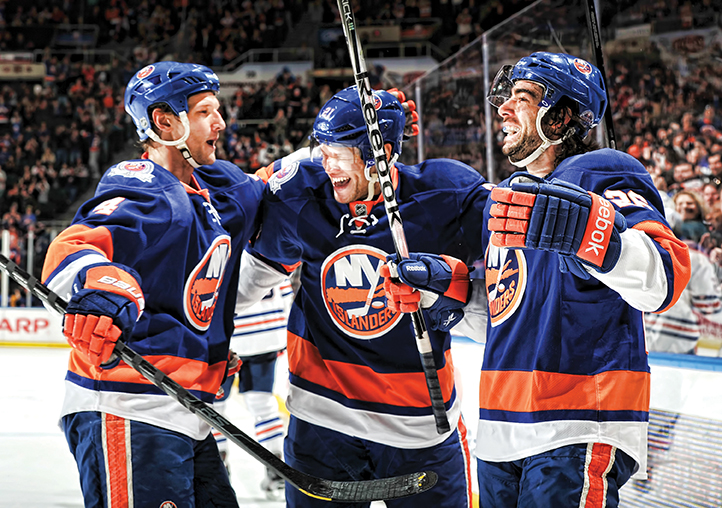 The season starts in October, but check the Islanders' calendar for the team's first game against the New York Rangers. Unlike the football and baseball crosstown rivalries, this one is S-E-R-I-O-U-S. The Islanders and Rangers are in the same conference and division, which means they meet several times each season.

Home Venue: Nassau Veterans Memorial Coliseum, 1255 Hempstead Turnpike, Uniondale
Getting There: Take the LIRR to the Westbury, Garden City, or Hempstead train stations. You'll need a taxi—it's a 10-minute ride—from the first two locales. From the Hempstead station, walk one block to the Hempstead Bus Terminal.
Tickets: Ticketmaster.com, islanders.nhl.com, or 800-745-3000.
Special: New York Islanders birthday party packages (for a minimum of 10 individuals) may include team tees, an autographed puck, special visit from mascot Sparky, scoreboard message, and more. According to team representatives, "From zamboni rides to player high-fives, we can ensure your child has the experience you're looking for." Call 1-800-882-ISLES x3 or email [email protected]
Parent Tip: The Islanders offer three affordable KidZone membership options for children under 14. The Wrist Shot level is free and includes a welcome letter, discounts, and monthly e-blasts with team updates. Get details here.
New York Rangers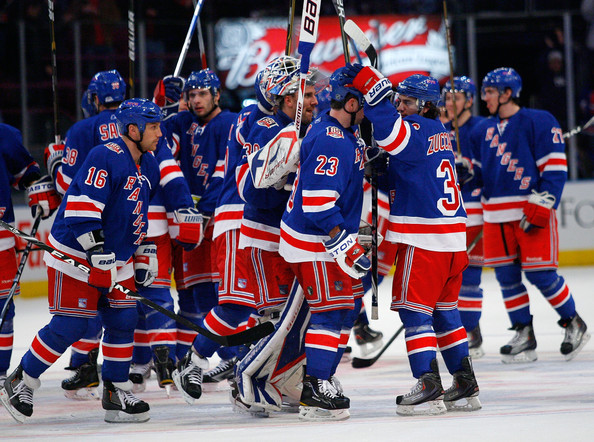 As one of the oldest teams in the NHL, the New York Rangers have developed many rivalries including the New Jersey Devils, Philadelphia Flyers, and Boston Bruins. Madison Square Garden and the Prudential Center in Newark are less than 10 miles apart, which means Devils games are usually packed.
Other popular games are when the Rangers play division rivals the Flyers. The teams have met 10 times in the Stanley Cup Playoffs. Like most Boston and New York City sports rivalries, there will be no love lost when the Rangers play the Bruins--check the Rangers' schedule for game dates.

Home Venue: Madison Square Garden, 4 Pennsylvania Plaza, Manhattan
Getting There: See New York Knicks above.
Tickets: Ticketmaster.com, or in person at the Madison Square Garden box office (tickets available at Ticketmaster exclusively on first day of sales)
Special: The New York Rangers provide support and unique programming to nonprofit youth hockey organizations across the tri-state region that are committed to offering children of all backgrounds and abilities the opportunity to play hockey through Hockey is for Everyone. In support of this initiative, the Rangers partner with Ice Hockey in Harlem, the American Special Hockey Association, and The Wheelchair Sports Federation. Visit rangers.nhl.com for more info on these outreach offerings as well as other special youth programming during the 2012-13 season.
Parent Tip: With so many intense rivalries, each game should be a hit (and likely a tough ticket to get). Try resale sites like Craigslist or StubHub if you and your family would like to attend one specific game. Around the holidays, season ticket holders who travel may sell their tickets at face value to avoid losing money. Go here to register for Text4Tix to receive text alerts on your mobile phone when tickets become available to games of your choice.
LACROSSE
New York Lizards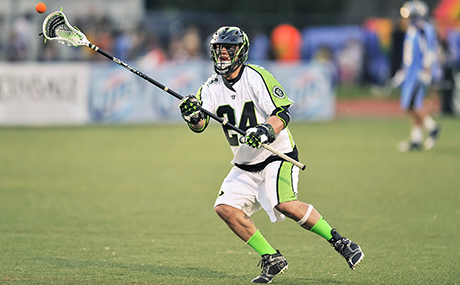 The New York Lizards (formerly the Long Island Lizards), Major League Lacrosse's only NY-area team, plays its home games at Shuart Stadium on the Hofstra University campus on Long Island. The MLL's regular season runs from April through early August, and the Lizards typically have home games scheduled on select Fridays and Saturdays throughout the summer.

Home Venue: James M. Shuart Stadium, 900 Fulton Ave., Hempstead
Getting There: The stadium is about an hour drive from NYC, or you can take the LIRR from Penn Station to Jamaica Station, transfer to the LIRR Hempstead Line and take that to Hempstead (you'll need to take a cab or bus from the station to the stadium).
Tickets: Game tickets start at $7.50; go to nylizards.com.
Special: Family Fun Packs are available for $98 (includes four "silver seating" tickets and four food vouchers); call 855-695-4927 to reserve.
RUNNING
New York City Marathon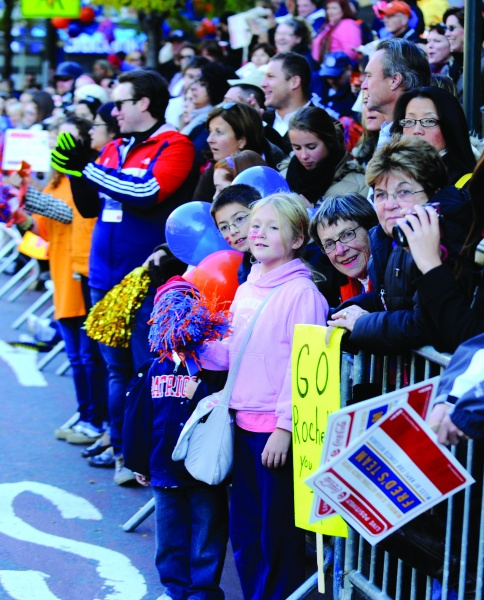 The ING New York City Marathon, one of the five world majors, attracts more than 100,000 applicants annually. About 47,000 race each November.
Getting There: Download a course map here
Special: Marathoners and guests from around the world come together in early November for a spectacular international celebration of the diversity of the ING New York City Marathon, "where the world comes to run," featuring the Parade of Nations. Go here for details on the opening ceremony and other ways spectators can get involved.
Parent Tip: With Halloween typically happening just before race day, more than the usual quirky contingent may run in costumes. Have your kids rate their favorites from along the race path or while watching on television.
SOCCER
New York Cosmos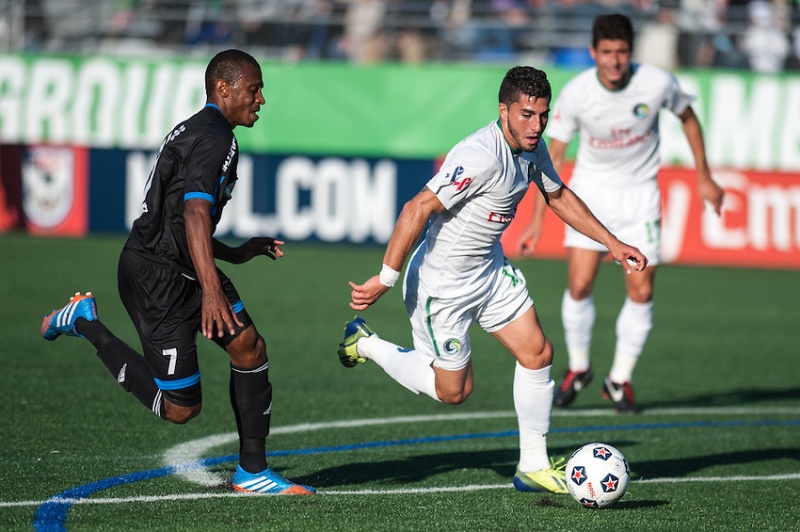 The Cosmos is a world-renowned soccer club based in NYC and a member of the North American Soccer League. The Cosmos have a long season, starting in the spring and stretching through the fall.
Home Venue: James M. Shuart Stadium at Hofstra University, 900 Fulton Ave., Hempstead
Getting There: See the New York Lizards listing above
Tickets: Individual tickets start at $15
Special: The Cosmos offer a family ticket package starting at $68. It includes 4 tickets to a Cosmos home match and $20 in concession credit.
Parent Tip: Kids ages 14 and younger often receive goodies on game days. Birthday party packages are available; each child receives a game ticket, Cosmos T-shirt, and a $10 concession voucher, and the special birthday kid receives a Cosmos Goodie Back Pack filled with swag and a Special Shout Out during halftime. For details or to book your party, call 855-712-6766.
New York Red Bulls
The New York Red Bulls is an American professional soccer team based in Harrison, NJ. The team competes in the Eastern Conference of Major League Soccer and is the only MLS team in the NYC area.
Home Venue: Red Bull Arena, 600 Cape May Street, Harrison, NJ
Getting There: Easily accessible from the Harrison stop on Newark bound PATH trains
Tickets: Individual tickets start at $25; discount packages available
Special: A Friends & Family Four Pack ($88) includes 4 tickets and 4 concession stand vouchers ($5 each). Call 877-RBSOCCER for more information.
Parent Tip: Check newyorkredbulls.com/fanexperience for kid-friendly opportunities