Update your Passover recipe repertoire this year with this delicious dish full of healthy ingredients and kid-pleasing decorations. Plus, see our tips for getting your kids involved in the cooking.

Tiny, Tasty Tuna Boats
These tuna boats make a fun and vegetable filled appetizer or side dish. If you have any leftover tuna salad, cover and chill to use later for lunch or a snack. Makes 12-14.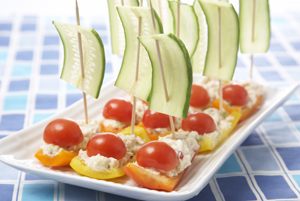 For the Tuna Salad:
6-7 ounces water-packed tuna, drained
1/4 cup diced celery
1/2 teaspoon lemon juice
2-3 tablespoon fat free mayonnaise
Optional add-ins: diced cucumbers, celery or carrots, raisins or dried cranberries, chopped apples
For the Boats:
3 bell peppers (any color)
6-7 cherry tomatoes, halved
1 cucumber (use hothouse or English)
6-inch wooden skewers
1. In a small bowl, flake the tuna with a fork. Add the celery, lemon juice and mayonnaise along with any add-ins you'd like to use, and stir the mixture well. (Cover and chill the salad if you're making the recipe in advance.)
2. To create the pepper boats, core the peppers, scooping out the seeds, then slice off only the very the ends of the peppers, leaving most of the natural curve intact. Cut each pepper lengthwise to create 2-inch wide slices, and place these slices inside up on a platter. You should get about 6 to 7 "boats" out of each medium sized bell pepper.
3. To create the cucumber sails: cut about an inch off one of the cucumber's ends, then measure and cut two 3 ½-inch sections of cucumber. Using a knife or mandoline slicer, cut 12 to 14 long, thin cucumber slices (about 1/8-inch thick). Push a skewer through the top and bottom of each slice to make sails (see photo).
4. To assemble, fill each bell pepper boat with tuna salad. Push the blunt end of each sail into one end of each pepper slice, topping the other end with a halved cherry tomato. Serve immediately.
Kids in the Kitchen:
Make sure an adult chops the vegetables and slices the cucumbers, but let the kids help assemble the "boats" by filling the pepper boats with tuna, helping to push the cucumber sails onto the skewers, and finishing the dish by inserting the "sails" and placing the halved cherry tomatoes.
The skewer sails can be omitted if your children are very young.