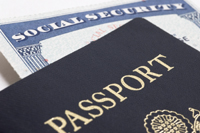 Passport requirements are back.  The Western Hemisphere Travel Initiative requires all U.S. citizens, of any age, traveling by air between the U.S. and Canada, Mexico, Central and South America, the Caribbean, and Bermuda (in addition to all the world's other countries that required a passport prior to this), to reenter the U.S. with a passport.  The relaxation of rules that occurred this past summer when U.S. Passport offices could not keep up with demand expired on September 30.  
   If you're dreaming of a tropical resort getaway this winter, Hawaii, Puerto Rico, St. John, St. Martin and St. Croix are the only nearby islands where American citizens do not need a passport. If you're thinking of a foreign ski trip, drive to Canada, because Americans traveling there by land do not need passports. However, each family member over 17 will need a government-issued photo ID and, for Canada, a notarized permission letter from both guardians if only one parent accompanies the kids.   
   Passport wait times are currently running 6-8 weeks, and application forms are available online at
http://travel.state.gov/passport
or at most post offices. To read more about the great family vacations you'll be able to enjoy, visit www.familytravelforum.com, where you can also find the latest information on required travel documents.
KYLE MCCARTHY had to prop her son up with phonebooks in order to take his first passport picture.  He is now 16.  Kyle is the editor of FamilyTravelForum.com, a leading web resource for those who "Have Kids, Still Travel!"