Dangling 150 feet in the air is probably not the time to confront the fact that you may be developing a fear of heights, but the calm Backroads leader in the next gondola is reassuring. 
Backroads
, a Berkeley, California-based organization which offers 'soft' adventure trips for small groups, including special family-oriented trips, double and triple checks everything, so the gondola is operating smoothly and I know, deep down, that I am perfectly safe.
My gut says differently.  Careening down a steep path on a mountain bike I picture myself — or one of my kids — hurtling over the handlebars.  But the screams they are emitting are ones of joy, and I slightly release the death grip on my handlebars in response.  If my Backroads leaders deem this road safe for family travel, then I have to be fine.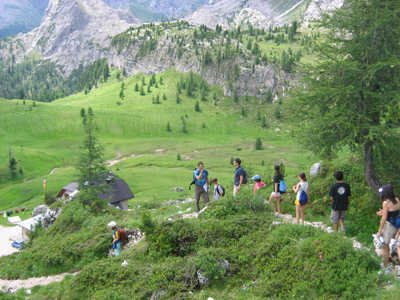 We are on a biking/hiking holiday in the
Dolomites
, in the northwest of Italy; my husband, Rob, and our three girls, Hallie, 14, Sela, 13, and Nora, 8.  Our group of 19 includes fairly active vacationers, all of whom have combined a sightseeing trip to Italy with an adventure to satisfy kids, teens and parents.
This is our second Backroads trip; on one five years ago, in Denmark, Nora rode in a Burley trailer and our older girls biked upwards of 25 miles of flat road daily.  This trip doesn't have the mileage. Our longest distance is 14 miles, but the up and down hills are more frightening — er, challenging.  Backroads provides perfectly tuned mountain bikes, though Nora was too short for the smallest children's model.  She rides a tandem, first with Rob, then with me, and a rental bike the other days.
Setting off, we are the first ones to get to our stopping point — not that it's a competition, but we won — and we decide to do the 'longer' option.  Another boy comes with us — everyone instantly feels so comfortable with one another that the parents let us take their son on a bike ride.  This 'community spirit' prevails throughout the trip; some adults take the kids to swim or for a hike, while others choose another activity.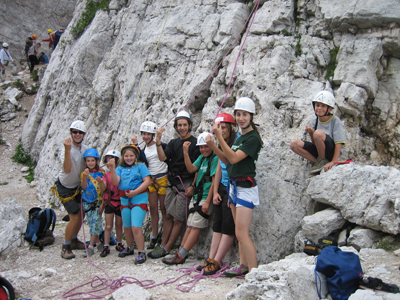 A Backroads trip gives families the perfect combination of alone time, family time and adult- or kid-only time.  Breakfast, included at the hotels, is on your own; you can eat with others if you choose, or sit by yourself.  When you hike or bike, you can stay together as a family, or go along with others; groups would form, split off, and re-form on our Italian trip, and you could spend your day talking to different groups of people.  One dinner is on your own — but we would up eating with others from the trip.   And everyone enjoyed the evening where the kids went to one restaurant with two leaders, and played games, while the adults ate at another restaurant, with the other leader.
There was also an afternoon where the kids rock climb while the adults do a more challenging hike, up a dramatic rock face.  With three leaders, there is always someone running a support van for those who don't want to complete a hike or ride, and two others to check in with everyone else.  The leaders even carry extra snacks, suntan lotion and Band-aids. We are very well taken care of.
We had one 'free' afternoon where we could horseback ride, paraglide or use the hotel spa.  My kids all chose paragliding (which is not included in the trip price – it's another $140 each) and parents have to go, for safety reasons.  Unfortunately for them, it is too windy and the paragliding place is closed.   Rob and I breathe a sigh of relief; this really seems like an activity were we can get hurt!  Instead, we hike with people from the trip.
The Dolomites region, close to the Austrian border, is almost as Germanic as it is Italian.  Signs are written in Italian, German, and Ladine, an ancient language. Our first hike, to the Cinque Torre, named for the five stone spears that jut over the landscape, features an open-air WWI museum.  A local guide offers details on the war, while we examine trenches and bunkers used in the fighting.  We eat up in the mountains, at a
rifugio
or refuge, where there is a surprisingly good restaurant.  At each rifugio we visit, kids can get their Backroads scrapbook stamped with a different commemorative animal stamp.
Although pasta and gelati abound, there is also a preponderance of dumplings and apple strudel.  Backroads makes sure you never go hungry — in the mornings when you have a 'route rap,' you can also pick up trail mix, fruit, and energy bars.  There is also one precious jar of peanut butter; after the trip, we scoured grocery stores for more peanut butter, but our kids had to make do with Nutella, the chocolate hazelnut spread Europeans love, when they wanted a snack.
Backroads provides ample information on trip planning, including hotel suggestions pre- and post- trip.  Our 'casual inn' trip is less expensive than the top tier 'premiere inn' version (there are also camping trips, though not in Europe), and the hotel suggestions reflect that lower price.  For more information, go to
www.backroads.com
.
Photos: Hallie Brown