Recently, when my 23-year-old walked into the Conservatory of Longwood Gardens in Pennsylvania's Brandywine Valley, she gasped: "I remember being here before. I remember the 'Wizard of Oz' topiaries!"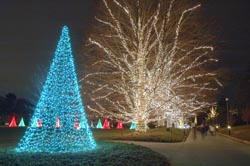 Pretty amazing, given that she must have been 4 or 5 on our previous visit to Longwood, considered the world's premier horticultural display garden. It's not surprising that this majestic place left an impression; it's awe-inspiring at any age, a place of great beauty at any time of year. But it's particularly breathtaking during the holidays.

In fact, this time of year offers an extra treat for kids. Plan your visit to Longwood Gardens for after nightfall, when you can walk among the outdoor gardens lit by 420,000 colorful lights blooming in trees and flowerbeds. There are an incredible 1,000-plus acres to explore at Longwood, and during the holiday season, a simple walk along its paths and trails feels like an adventure in a fantasyland. Trees swathed in fairy lights take on a life of their own, huge starry snowflakes seem to fall from the sky, and in the Open Air Theatre, water fountains come to life, dancing to music and changing color as they rise and fall.

Topiary reindeer frolic along the drive to the Peirce-du Pont House; 100 years ago this year, industrialist Pierre du Pont purchased the Peirce Arboretum to save its trees from being cut for lumber. In the historic Chimes Tower, the carillon with 62 bells plays holiday music every half-hour.

Kids will love peering into the branches of the varied Christmas trees — from the Gardener's Tree with ornaments crafted from garden findings, including gourds, seedpods, and cones, to the edible ornaments tree erected for the Gardens' wildlife residents.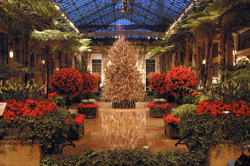 Longwood offers woodlands and meadows to explore, plus 20 outdoor gardens. The Conservatory covers almost four acres of (heated) indoor space. In the holiday season, you can see the 20-foot Music Room tree decked with red and ivory ornaments and shimmering white lights, and the towering 25-foot East Conservatory tree with its dazzling array of white cyclamen, dichondra silver falls and silver ornaments. Inside, in fact, there is holiday décor galore, with swags of exotic plants, living wreaths, and decorated trees and plants. And you can rest up and warm up with a hot chocolate in the Terrace Restaurant, which also offers Kids' Value Meals, and Breakfast with Santa.

Info:
This year, Christmas blooms at Longwood Gardens from November 23 through January 7, 2007.
The outdoor gardens and Conservatory open at 9am and extend hours till 9pm during the holiday season. Through January 1, admission is $15 adults; $6 ages 16-20; $2 ages 6-15; and free ages 5 and under.
For more information, call 1-800-737-5500, or visit www.longwoodgardens.org.



The Brandywine Valley offers several other attractions to make for an extended family weekend getaway.

—The Brandywine River Museum, on the banks of the Brandywine River in Chadds Ford, is housed in a converted 19th-century gristmill and is known for its extensive collection of works by the internationally acclaimed Wyeth family. Kids will enjoy seeing the original oil illustrations N.C. Wyeth did for such books as Treasure Island, Kidnapped, and The Last of the Mohicans. Son Andrew, known for his wistful landscapes, barns and windows, painted throughout this area; much of his work was centered on the historic Kuerner Farm, and tours are available. The Museum also houses works by Andrew's son, Jamie; kids will get a kick out of Jamie's large scale Portrait of Pig. www.brandywinemuseum.org.

—Nearby is the Brandywine Battlefield — 50 acres of rolling park and woodlands — that contains the headquarters of both Washington (the Ring House) and Lafayette (Gideon Gilpin's farm house). Uniforms, weapons and artifacts found on the battleground are on display, and in September, the battle is re-enacted. www.ushistory.org/Brandywine.

—Named "Best scientific outing for kids" by Aviation History magazine, and "Best science museum for children" by Philadelphia magazine, the American Helicopter Museum has over 10,000 items dedicated to the aviation industry, and celebrating the "whirlybird" and its history. Visitors can actually get into an aircraft and operate the controls. In nearby West Chester, PA. Open Wednesday-Sunday. www.helicoptermuseum.org.

—Also in West Chester is a chance for kids to observe the art of high-quality glassblowing up close. The Simon Pearce company, originating in Vermont, opened up a second facility in 2000 on the banks of the Brandywine. Housed in an historic inn building are glassblowing and pottery works, and a store and restaurant. Artisans educate while they work, answering questions and explaining their techniques. Kids can see the delicate manufacturing process as pieces are still blown by mouth and fired in the oven; in the shop, they can see the cooled items, ready for sale. www.SimonPearce.com.

Where to stay
The Brandywine River Hotel, in Chadds Ford, is in a great central location. It has a cozy, inn-like ambience, with all hotel amenities. Complimentary afternoon tea is served daily. www.brandywineriverhotel.com

Where to eat
There's a P.F. Chang's China Bistro in Chadds Ford — it has great Pan Asian food, well priced. And kids will get a kick out of '50s diner, Ruby's, with all-American fare, and retro flair!

Info:
For driving directions, and more info on attractions in the Brandywine Valley, go to:
www.brandywinevalley.com.