When you consider that Elton John and Tim Rice began the tradition of Brits on Broadway, at least as far as Disney musicals are concerned, it would seem that fellow Englishman Phil Collins is continuing the trend. Collins has written the music and lyrics for Disney's newest Broadway spectacular, Tarzan.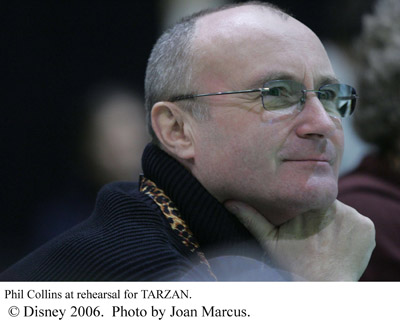 But Disney has actually been somewhat of a tradition in Collins' own family.

His older sister skated in the "Princess shows" — Sleeping Beauty, Cinderella and Snow White. The family even had the skater who played Dopey living with them during the show! Disney, says Collins, "was a huge part of my upbringing."

While Tarzan came to Broadway just recently, Collins wrote the songs for the animated Disney movie version in 1999. These efforts resulted in an Academy Award and Golden Globe for Best Song, and he was nominated for a Grammy for "You'll Be In My Heart" from the show. He also wrote songs for Disney's movie, Brother Bear, and composed the score for Tarzan II.

"You'll Be In My Heart" was written with his daughter, Lily, in mind; Lily, now 17, considers it "her song". In a bit of sibling rivalry, however, son Nicholas, now 5, says it is, in fact, his song. Collins says he definitely uses his five children as inspiration when writing music; the song "Come with Me", on the album Testify, was written for Nicholas. Collins also has a son, Matthew, who was born last December, as well as a grownup duo, Simon, 29, and Joely, 33.

Phil Collins has been playing drums since he was 5. He grew up listening to music that his older brothers and sister played — Neil Sedaka and Country & Western. Five-year-old Nicholas takes after Dad. He plays drums, and is "quite taken with the Wiggles," but, adds Dad, with a laugh: "I'm trying to wean him off it!"

Collins says he watches Disney movies with his kids, adding that his two youngest, who live with their mom in Switzerland (he divides his time between there and an apartment in New York) watch Disney movies in French.

You can catch the music and jungle effects of Tarzan by swinging over to the Richard Rodgers Theater. Go to www.tarzanonbroadway.com for more information.