Related: Pilates, exercise, pregnancy, strength, technique, Madonna, Kirsten Dunst,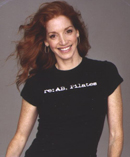 After training for more than a decade under Joseph Pilates' protégé, Romana Kryzanowska, Pilates guru Brooke Siler opened her renowned studio, re: AB®, in Manhattan. She also became a New York Times bestselling author, and a trainer for such celebrities as Madonna, Kirsten Dunst, Liv Tyler, and Rachel Weisz. And last fall, she released her first DVD, Pilates Weight Loss for Beginners. Here, Brooke explains what an authentic Pilates program really is and why it's a great workout for pregnant women and new moms, and shares her tips and tricks for a svelte new you!

What exactly is the Pilates method?
There are many diluted forms of the method circulating today, but Pilates should be a system of athletic exercises designed to stretch, strengthen, and balance the body with control, while increasing cardio endurance. Pilates, originally called Contrology, was developed by Joseph Hubertus Pilates in the early 1900s to improve health and vitality.

What are the proven health and fitness benefits?
Pilates is known for its 'feel good' results: relief from back pain, strengthened abdominal muscles, stronger joints, and longer, more flexible muscles. Because of its gentle yet athletic nature, anyone can start a Pilates program; there's no age restriction and every body type can benefit from its proper use.

What are the differences between apparatus work and mat work?
The apparatus work uses up to 100 pounds of spring resistance on its main piece, which is called the Universal Reformer. The spring resistance alone has been proven to increase bone density. Other apparatus include The Cadillac, The Wunda Chair, The Electric Chair, The Arm Chair, The Guillotine, The Ladder Barrel, The Spine Corrector, The Small Barrel, and The Mat. Each piece is designed to increase strength and flexibility so that the mat work can be performed with ease and control. The mat work is a series of exercises that uses only the body's weight and gravity in order to achieve results. It is often more challenging than the apparatus.

How should someone who has never taken a Pilates class start?
I always recommend beginning with private sessions to become familiar with your own body since Pilates was designed to be tailored for the individual. If you are always trying to fit into the group class format without knowing how to address your own strengths and weaknesses, you may end up with unwanted results.

What precautions should be taken?
Since Pilates is a form of exercise therapy, you should always make sure you're working with an authentic, experienced teacher. A teacher's certification should consist of a minimum of 600 hours working on the system as a whole without breaking down the technique into the individual apparatus. Another thing to look for is faulty or incorrectly proportioned equipment since it's ineffective and dangerous.

Can you explain the visualization technique you use with your clients and how does this benefit the experience?
I call my technique "Metaforming." By creating an image to focus on, you're working to recreate the action rather than over-thinking the instruction. For example, I can say, "Contract your abdominal muscles as you lengthen your waist and round forward," or I can say "Round forward as if leaning over barbed wire." Chances are you'll automatically lift your abs and lengthen your waist to get out of the way of the barbed wire. This visualization technique inspires a mind-body connection.

Why is Pilates great for moms and pregnant women?
Pilates works the deep, core musculature of the body so it re-tones the abdominal and pelvic regions and brings the relationship of the joints back into a strong and stable position post-pregnancy. During pregnancy, Pilates keeps the abdominal muscles toned and helps maintain postural endurance and balance. It can relieve sciatica, leg cramps, and more.

How frequently would you recommend taking classes?
A minimum of three times a week to start out will get you up to speed within a few months. Once Pilates becomes a part of your lifestyle, you'll find that muscle tone becomes your natural state and not a goal you're chasing after with endless workouts.

---
Get Your FREE Indoor Activity eGuide!
---
More Women's Health Articles
Wanderlust Yoga In The City Offers a One-Day Yoga, Music, and Community Event in NYC
New York City Mom is First Winner of Tasti D-Lite's Healthy Habit Search
Easy Tips To Help You De-Stress
Stay Healthy And Comfortable During Pregnancy
A Parents' Guide to Raising Healthy Kids

Be a good fellow parent and share this with a friend who would be interested
Local Women's Health Sponsors
See Our Women's Health Directory