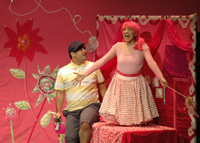 A Little Girl With a Colorful Obsession
Chances are you know, love, and indulge a Pinkalicious young lady - a 2- to 8-year-old who has embraced pink as her signature fashion statement, if not lifestyle. Perhaps, you even had a bit of the Pinkalicious gene when you were growing up.
Happily - gloriously - a couple of years ago writers Elizabeth and Victoria Kahn put their sisterly heads together and created Pinkalicious, a clever and timely children's book illustrated by Victoria that tells the tale of a little girl whose pink cupcake eat-a-thon turned her the color of raspberry sorbet.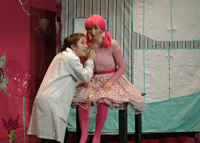 But wait - it gets even better! The authors went on to team up with composer John Gregor to create a perfectly pink, deliriously delicious stage production called Pinkalicious, The Musical, currently playing through Jan. 3 at the Vital Theatre Company in SoHo.
And if you want to know whether or not it's winning over its target audience, just stop by the show's website, www.pinkaliciousthemusical.com/newyorkcity, hit "video" and watch as the camera zooms in on a trio of smitten young ladies who declare (more or less in unison), "I love Pinkalicious!"
For the record, the easy-to-navigate Web site features one of Victoria's charming illustrations from the book as well as filmed clips from the show, but trust me, the real fun comes with watching your own little pink-o-phile get caught up in the performance amidst a sea of like-minded contemporaries. The musical's story line follows Ms. Pinkalicious Pinkerton, who is totally enthralled with her favorite "certain special color like no other." In one anthem-inspired number she sings:
"Let there be pink from s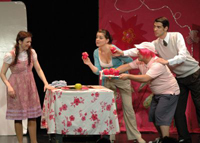 ea to shining sea
You can have your blue and gray
I'll take pink any day
Pink in perfect harmony!"
However, when she falls under the overindulgent spell of way too many pink-frosted cupcakes - and pays the head-to-toe transformation to bright pink price - well, there are lessons to be learned that affect not only our young heroine, but also her mom, dad, brother Peter, and best friend Alison. As it states in the script, the show has a message about "learning the power of self-control and the importance of moderation."
Still, this is a musical - and a delightful one at that - with catchy songs (yes, you and the kids will be doing some serious post-show humming), clever dialogue, and lots of hilarious visual humor and dancing. As they sing at the end of the show:
"Pink is Joy
Pink is Laughter
Pink helps you happily live ever after..."
Pinkalicious, The Musical plays Saturdays at 1pm and 4pm, and Sundays at 1pm at the Bleecker Street Theatre, 45 Bleecker Street (just east of Lafayette Street). For reservations, call 212-579-0528 or visit www.vitaltheatre.org.
Why Not A Pinkalicious Birthday Bash?
If there's a birthday on the horizon, you might want to consider personalizing the occasion Vital Theatre-style. Simply alert Vital Theatre to the child's name, age, and the date you'll be attending the show. The cast will announce the birthday and sing following the performance. And if you'd like, you can even use one of the tables in the lobby to set up a mini celebration. NOTE: Tables are available on a first come, first served basis, so it is recommended you arrive an hour before curtain time to ensure your place, as tables cannot be reserved. Be sure to bring your own "staff," set-up, and party goodies. Your group will also be responsible for cleaning up afterwards. Birthday Bonus: 10 or more qualifies for a group discount ($25 each instead of $29.50). Call 212-579-0528 to arrange.
Vital's New Season
Vital Theatre Company commissions four to five new musicals for children each season. Since its founding in 1999, Vital has been honored with two Awards for Excellence by the Off-Off Broadway Review. The shows are performed by adults. The 2009-2010 season includes:
The Bully (September 12-October 12)
Book by David L. Williams; music and lyrics by John Gregor (the musical mastermind behind Pinkalicious). Vital's perennial favorite kicks off the season. When a bus mix-up strands Lenny, the nerd, and Steve, the bully, at the wrong school, they both get picked on for being "the new kids." The boys have to work together to get back to their school and begin to learn that they might not be so different after all.
Matthew Takes Mannahatta(October 17-November 29)
Book by Aurin Squire; lyrics by Sammy Buck; music by Daniel S. Acquisto. Matthew and his sister Piper take a magical adventure back in time, where they discover that the Manhattan of the past held a very different Thanksgiving from the one we know today.
Uncle Pirate (January 16-February 28)
Book by Ben H. Winters; music and lyrics by Drew Fornarola. Based on the book by Douglas Rees. Wilson is your average kid. Then one day he finds out his uncle is a real, live pirate - with a talking penguin. With their help, maybe, just maybe, Wilson can survive the fourth grade.
More information at www.vitaltheatre.org.