Look up the definition of 'lullaby' and you will see it refers to a song that lulls a child to sleep. However, if you ask Mamaroneck resident and acclaimed guitarist, Alan Goodman, his definition would be much more comprehensive. "After all, what is a lullaby . . . but just a term for a particular type of music," he comments, explaining that the melodies can be traditionally deep and passionate as well as playful. Besides, what adult hasn't also felt the need to "quiet down" after a particularly stressful day?
Therein lies some of the thought behind his latest CD, Under the Bed. The album is a collection of 13 original and traditional songs for kids which he produced, arranged and recorded on his own and released through Cancoll Music, the label he created with his wife (and business partner), Michelle. The songs are instrumental and represent the flamenco style for which Goodman is known. He prefers instrumental music because "the moment isn't as clearly defined. The music allows you to use your imagination." Is it for children, adults, or both? "You decide what it is. I'm not going to define it. There is a lot of depth to the CD and you can get what you want out of it. Flamenco is joyful."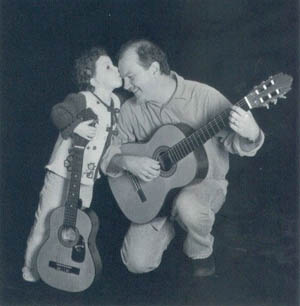 Under the Bed consists of songs he played to his wife's belly when she was pregnant and to his daughter Zoe after she was born. "When I wrote 'Zoe's Room', she would bounce to it. As she became more vocal, she would say, 'Daddy, play for me!'"
After the birth of their daughter, Alan and Michelle recognized a void in children's music. Since Alan loves melodies, they thought a CD would be a great way to expose children, and adults, to the possibilities offered by guitar. "I figured that there was a way to do it that would make it fun for me to play and for them to listen," he explains.
Goodman began like many of us who played air guitar to Beatles tunes in the backyard. He loved the guitar from an early age and always knew that music was what he wanted to do. He explored all kinds in his early years. "I really appreciate the honesty in music. I don't care what genre it is!" he says. As a journeyman musician, he became immersed in progressive jazz, traveling throughout this country and in Europe. It was in Spain that he truly felt his work was appreciated and he was drawn to flamenco.
On his return to the U.S., Goodman quit playing because, as he explains it, "I kind of lost what I loved about the guitar by trying to make a living out of it." He moved to L.A., got a day job, and met his wife. Michelle. A relocation to the East Coast and parenthood changed everything!
Goodman started playing guitar again because he had all these sounds in his head. "My kids are directly responsible for the music that came out when I started playing again. They were totally the inspiration. They are the reason for this business, this career, this music."
With his wife's encouragement, he began to again explore the business of the music. As he says, "Michelle and I discussed what kind of example we wanted to set for our kids. We wanted to show them that anything is possible. They've seen the struggles, but they also see that we try to make it work."
It certainly appears that Goodman has been able to successfully embrace his two loves — family and music. And the marketplace has embraced him as well. Under the Bed has already garnered three major awards, including the 2005 Parents' Choice Gold Award for music. He recognizes that such national endorsement gives validation to the work. "I would have been happy with any level of the award, but to receive the Gold . . . well, I was screaming!"
As Goodman sums it up, "Kids are naturally drawn to music. I'd like them to know that there are lots of alternatives out there. They should always be accumulating all kinds of music rather than discarding."
A new Goodman CD, tentatively titled The Family Guitar, will hopefully be out by Labor Day. This CD will be a bit more up tempo and lighthearted, but the depth of the music will also be there. Since he considers himself a recording artist, you won't see Alan Goodman out promoting his music; it simply would take too much time away from his wife and daughter Zoe, now 4, and son Noah, age 2. If you're lucky, though, you can catch him at Café Mozart in Mamaroneck every third Friday of the month. Under the Bed can be purchased on cdbaby.com, bigkids.com and amazon.com.
For more information, visit www.alangoodmanguitar.com.