Active parents realize that talking to kids early and often about not smoking will help their children make good choices throughout their youth. Use this pledge program to encourage your child not to smoke!
The Tobacco-Free Me pledge:

I want to have strong white teeth, fresh breath, and healthy lungs.
I want to make choices that don't lead to illness.
I want to be the friend others can count on to say, "No, thanks!"
And when I run, I want my heart to be strong and steady.
And because of the things I want for me, I pledge to be
Tobacco-free ME!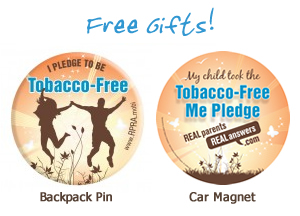 Take the pledge!
Print out the pledge certificate
Have your child read the pledge and sign their name
Post in your child's room as a reminder to live a healthy life, tobacco-free.
Order your free Tobacco-Free ME gifts!