PLUSH ANIMAL MASKS LAST LONG BEYOND HALLOWEEN
Related:
Halloween masks
,
animal masks
,
trick-or-treat
,
trick or treating
,
Halloween costume
,
plush animal mask
,
animal
,
baby costume
,
toddler costume
,
child costume
,
Lakeshore Learning
,
dress up masks
,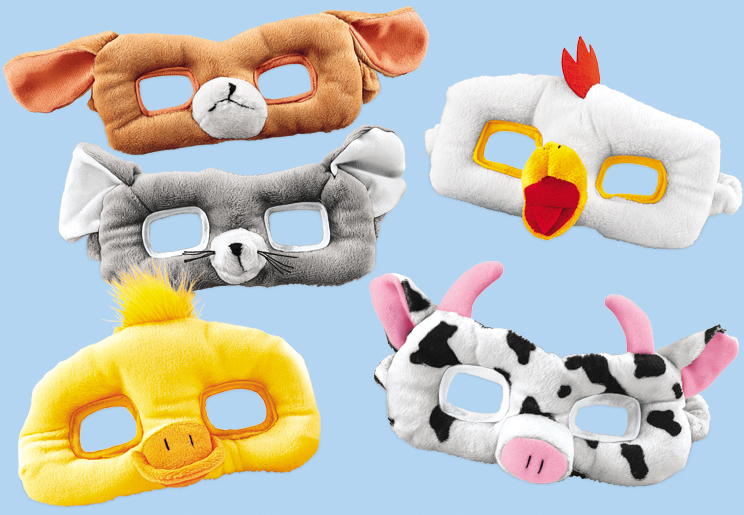 These colorful and cute plush animal masks from Lakeshore Learning can be a great accent for handmade Halloween costumes, but they make for great fun at any time of year.
If you're smart and you've got an imaginative kid on your hands, you'll create a dress-up play box to store old Halloween costumes or accessories so they can engage in pretend play all year 'round (think hats dad no longer wears, an old gypsy skirt you wore in college but looks like a costume to you now, and siblings' Halloween hand-me-downs).
For even easier year-round make-believe fun, stock up on these adorable plush masks for kids from Lakeshore Learning. Each animal mask features a fabric-covered elastic band that lets children slip them on and off in a jiffy -- and they're machine-washable. The animal masks are designed to fit children ages 2-5 years old, and come in a set of eight animals ($29.95; www.lakeshorelearning.com) We love the elephant mask -- what's your fave?
We've even got a special offer on tap (25% off any one nonsale item!) from the fabulous folks at Lakeshore Learning:
25% OFF any single nonsale item
Coupon Code: 90519
Offer valid through 12/24/11. 25% off any single nonsale item. Valid on in-store and online purchases only. Not valid by fax or phone. Limit one coupon per customer. Offer excludes sales tax & shipping charges. Valid on in-stock items only. No special orders. Not to be used toward the purchase of gift cards or in conjunction with any other offers, prior purchases, sale items or Great Buys. Limit one item per coupon per transaction. No cash value. Must present coupon code at time of purchase for all in-store transactions. Offer void where prohibited.
More PRODUCTS Articles
Holiday Fashions for Boys and Girls
Photographer Behind Humans of New York Releases Children's Book
New Book Encourages Kids to Give Up Halloween Candy
Runnin' Wild Kids Shoes Owner Opens Toy Store
Top 10 Audiobooks for Halloween Season