Wondering where to go sledding in the New York City area? Look no further. Be prepared for snow day fun with our roundup of local sledding hills in Manhattan, Brooklyn, Queens, Long Island, Westchester County, and Fairfield County, CT. We've done the hard work so you can go have some fun. Grab your Flexible Flyer and have at it!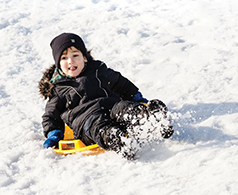 Kids take their snowstorms very seriously, because snow means sledding! Whether your child is hitting the hills for the first time or if they're an aspiring winter daredevil, we've compiled a great list of sledding hills to keep the kids entertained all winter long.
New York City
A list of the 6 best hills for sledding in Manhattan, including three on the Upper East Side, two on the Upper West Side, and one in Hamilton Heights.
This guide to official sledding locations in Brooklyn includes NYC parks that allow sledding and snow tubing in Bay Ridge, Brooklyn Heights, Brownsville, Clinton Hill, Crown Heights, Cypress Hills, Fort Greene, Prospect Park, and Sunset Park.
Choose from 7 sledding spots in Queens, including official sledding locations in parks across Astoria, Cypress Hills, Flushing, Forest Hills, Fresh Meadows, Kew Gardens, Little Neck, Middle Village, and Woodhaven.
Long Island & the Suburbs



Check out these 9 great sledding spots in Nassau County and Suffolk County, including hills in state parks as well as those near local schools.

Fairfield has parks gallore, a few "secret" neighborhood hills, and a ski spot or two.
If you're looking for the best place in Westchester to slide down that perfect hill, try one of these 8 "official" county sledding locations.
Also see:
Where to Ski and Snowboard in the Northeast
Indoor and Outdoor Ice Skating Rinks in the NYC Area