Related: portledge school, long island, safe hearts club, CPR, senior class, students, high school, teens, locust valley, new york, ny, american heart month,




In Locust Valley, NY, Portledge School's Safe Hearts Club certified its senior class of students in CPR for the second year in a row.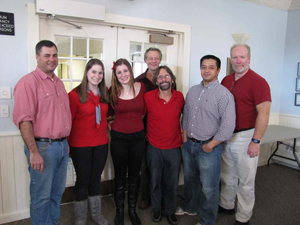 The Safe Hearts Club at Portledge School in Locust Valley, NY, certified the senior class in CPR for the second year in a row. The event was held on Valentine's Day to coincide with American Heart Month.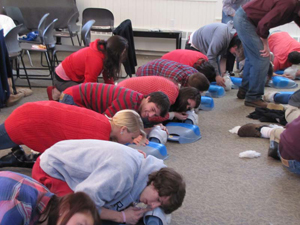 Started last year by sophomores Samantha Kravietz of Melville, NY, and Eve Shapiro of Glen Cove, NY, the mission of the Safe Hearts Club is threefold: have every senior CPR certified, raise funds to purchase Automated External Defibrillators (AEDs) for Portledge School, and raise awareness among fellow students. Brendan O'Rourke, health and physical education teacher, is the club advisor.

Forty-seven students attended the CPR training course led by Dr. Chris Byron of Nationwide Instruction for Cardiovascular Education (N.I.C.E.) and a Red Cross certified instructor. Every student received a "First Aid/CPR/AED" workbook. Dr. Byron reviewed the workbook and shared videos with the students. In the afternoon, students put what they learned about CPR and AEDs to use and conducted hands-on practice on a mannequin named "Annie." According to the American Red Cross, "CPR may be the most valuable lesson a student can learn: How to save the life of a loved one, teacher, or friend by performing the simple steps of CPR."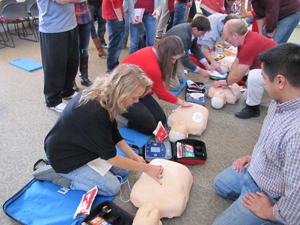 Samantha and Eve, who have been friends since they were 2 years old, created this club based on personal reasons. Both Samantha and her mom live with heart disease. Samantha said, "Portledge students participate in a wide variety of sports. We have heard many stories of young athletes collapsing while playing sports. Unfortunately, in an otherwise healthy teen, there often are no outward symptoms to signal that a sudden cardiac arrest is at hand." It is important to both of them to educate their fellow classmates and friends about the importance of saving a life. One long-term goals for Samantha, who is president of the club, is to encourage other private schools to follow suit and certify their students.

The Safe Hearts Club raises money through fundraisers such as bake sales and selling "Safe Hearts" red rubber bracelets. Samantha also conducted a letter writing campaign this year to family and friends. All funds raised go towards certifying the senior class and this year they will be able to purchase a second portable AED to take outside to the sports fields. To date, the club has raised more than $7,500.
More Local News - Nassau County, Long Island Articles
South Shore Ballet Academy Opens in Amityville
Marion K. Salomon and Associates Joins HASC
Kidville Opens in Wantagh, Offers Preschool Alternative Class
Academic and Creative Preschool Relocates to West Hempstead
Variety Child Learning Center Opens Second Location

Be a good fellow parent and share this with a friend who would be interested
Local Local News - Nassau County, Long Island Sponsors
See Our Local News - Nassau County, Long Island Directory