Related: children, kids, New York City, Museum, George Washington, ,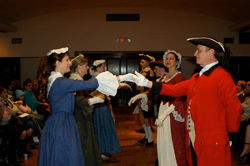 Families can step back in time on George Washington's birthday and celebrate as Washington and other New Yorkers would have done in the early 19th century. The Mount Vernon Hotel Museum & Garden is holding a Washington's Birthday Ball, where families can feel like they are partying with our founding fathers.Munch on snacks that were served back then, and kick up your heels and learn English country-dances by a period dance ensemble. A Washington-themed story time reading will also be offered. Ages 4 and up. $12; $8 ages 12 and under. February 22. 1-4pm. Mount Vernon Hotel Museum & Garden, 421 East 61st Street. 212-838-6878. www.mvhm.org.
---
Get Your FREE Indoor Activity eGuide!
---
More Recreation/Outings Articles
2010 Nassau Coliseum Fair in Uniondale, NY
DanceAfrica 2011 at BAM: Viva Cuba!
Brooklyn May Calendar Highlights: Family Activities
Spring 2011 Bird Watching Events in Westchester County, NY
Westchester County, NY, May Calendar Highlights: Activities for Families

Be a good fellow parent and share this with a friend who would be interested
Local Recreation/Outings Sponsors
See Our Recreation/Outings Directory