Make fishing a family affair this summer: Check out the best spots to fish throughout the New York City area - including in the city, on Long Island, and in the suburbs. And before you pack up your poles, make sure to brush up on the local fishing rules and regulations.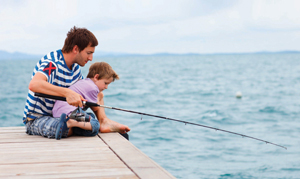 You've unburied your pole from the farthest reaches of the closet and psyched your kids up for digging up some worms. Now it's time to pick your perfect watering hole. Read on for state fishing regulations and prime spots throughout our region, and get ready to reel 'em in.
Where to Cast Your Line?
Depending upon how far from home you want to venture, here are some highlights from around the New York City area (and don't rule out the unique joys of city fishing!).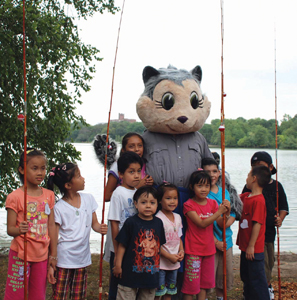 New York City
Brooklyn
Check out Prospect Park for waters brimming with largemouth bass. According to the Department of Environmental Conservation (DEC), the lake boasts the largest concentration of these fish in the entire state. Prospect Park's fishing policy is "catch and release," so anyone looking for a grilled bass dinner might want to choose a different spot. For the non-fisherfolks in the group, hiking trails, baseball fields, and paddleboat rentals available from Wollman Rink supply alternate means of fun. Future fishing pros ages 15 and under can cast off competitively in the annual Macy's Fishing Contest July 14-18.
Queens
If you're looking for bluegill sunfish, black crappie, or giant carp, Kissena Lake might be your watering hole of choice. Kids looking to take home a new addition to the family fish tank will have to search for another spot - this one's catch-and-release only. Don't be too surprised if someone reels in a turtle - the lake hosts a large population of the sea creatures, and they're infamous for taking almost any bait on the line. Cycling tracks, bocce courts, and a golf course are also an option if the fish just aren't biting.
Manhattan
Finding great fishing in the Big Apple seems unlikely, but the Harlem Meer offers an intimate setting for parent-child bonding at the north end of Central Park. Other than the usual carp and largemouth bass, "The Meer" also houses chain pickerel, golden shiner, and redbreasted sunfish. If you have a valid ID, but no fishing pole or supplies, a limited number of free bamboo poles are given out daily, along with corn kennels or dough balls for bait. Throughout the summer live music performed on the plaza affords fishermen and women the opportunity to listen to a concert while they fish.
Long Island
Nassau
One of Long Island's most popular beaches doubles as one of it's best fishing destinations. Jones Beach State Park not only has an area for surf fishing located on its West End, but it also boasts a bait shop, multiple saltwater fishing piers, and stations designed to organize fishing tours complete with boats and equipment. Although you should anticipate a possible fee to fish on top of the $8-$10 "vehicle entrance fee" in the summer, off-season fishing is free. Species at Jones Beach include flounder, striped bass, fluke, weakfish, porgy, sea bass, and blackfish. Before or after the fishing fun ends, stroll the beach and boardwalk, play a round of miniature golf and shuffleboard, or cool off with a hot fudge sundae at the ice cream parlor.
Suffolk
For a day of fishing that spans sunrise to sunset, visit Blydenburgh County Park's Stump Pond. Freshwater species such as pumpkinseed sunfish, largemouth bass, and perch populate the water, and rowboat rentals are also available from mid-May to Labor Day. The fishing follows the New York State standards so keeping the catch of the day is not an option. Picnicking areas, a playground, and hiking break up the day or provide entertainment for family members who lack the patience required for successful fishing.
Suburbs
Want the up-to-the-minute scoop on where the fish are biting and what types of fish you'll find where? Check out the DEC's fishing hotline.
Rockland
For outdoorsy adventures mixed with a plethora of flora and fauna, make the trip to Piermont Pier and Marsh on the Hudson River. Although the river's striped bass tend to congregate more in the spring, visitors love to fish off the pier in the summer too. Boats, canoes, and kayaks can be rented if anyone wants to laze along the river while waiting for bites. With plenty of benches throughout, the path presents an ideal spot for relaxing as well as biking, walking, and jogging.
Westchester
If trout fishing tickles your fancy, head over to the Cross River Reservoir. Among the yellow perch, chain pickerel, and large and small mouth bass, the reservoir offers prime brown trout fishing. Although boating constitutes the only other activity available at this site, the area boasts lush vegetation along the shoreline and remains a perfect spot for families looking to lay back and enjoy a quiet afternoon on the river.
According to the Connecticut DEP, more than half the year's trout are stocked prior to opening day of fishing season. Take a look at some trout stocking maps created by the Inland Fisheries Division, including maps for the Norwalk River in Redding, Byrum River in Greenwich, Ball Pond Brook in New Fairfield, Mill River in Fairfield, and many more.
Drop a line in one of the largest manmade lakes in the United States. Candlewood Lake, which is surrounded by Brookfield, New Milford, Sherman, New Fairfield, and the city of Danbury, houses a large variety of fish including walleye, rainbow trout, and brown bullhead for the taking. If you opt not to release the fish you've caught, be sure that you are not in violation of Connecticut's marine recreational fishing regulations. While anglers can take up to ten of certain species including bluefish and scup, they are not permitted to take any pollock or haddock. The regulations for some species have changed in 2011, so be aware of the new numbers for each fish (visit www.ct.gov/dep). After a long day of fishing, head to Down the Hatch, the lake's popular waterfront bar and restaurant to refuel and share fish tales with the locals.
New York State Fishing Licenses
Saltwater Anglers: Due to legislation enacted earlier this spring, a recreational marine fishing license is no longer needed in New York; this license is being replaced with a free registry, which should be available in early June (www.dec.ny.gov). In the interim, saltwater anglers may fish without a marine license and without registering with DEC.
Freshwater Anglers: You'll still need a sporting license for freshwater fishing if you're over 16 years of age. Cost for NY residents ranges from $5 for one day of fishing to $29 for the year; lifetime licenses are $460.
For frequently asked questions and regularly updated info about fishing conditions, visit the New York State Department of Environmental Conservation (DEC) website at www.dec.ny.gov.
Connecticut Fishing Licenses
For fishing in Connecticut, two different licenses exist depending upon location (both are a must for any anglers 16 or older). Purchase an inland license if you'll be dropping a line in the Inland District; opt for a marine waters fishing license if you're casting from the shore or off a boat in the Marine District (this license also covers those "landing marine fish or bait species in Connecticut from offshore waters"). Prices range from $5 for a one-day marine waters license to $28 for a resident inland fishing (annual) license. An all-waters fishing license costs $32. For more information, visit Connecticut's Department of Environmental Protection at www.ct.gov/dep.
Also see: Fishing and the Sun: Reduce Your Risk of Skin Cancer
A Parent's Guide to Summer in the NYC Area