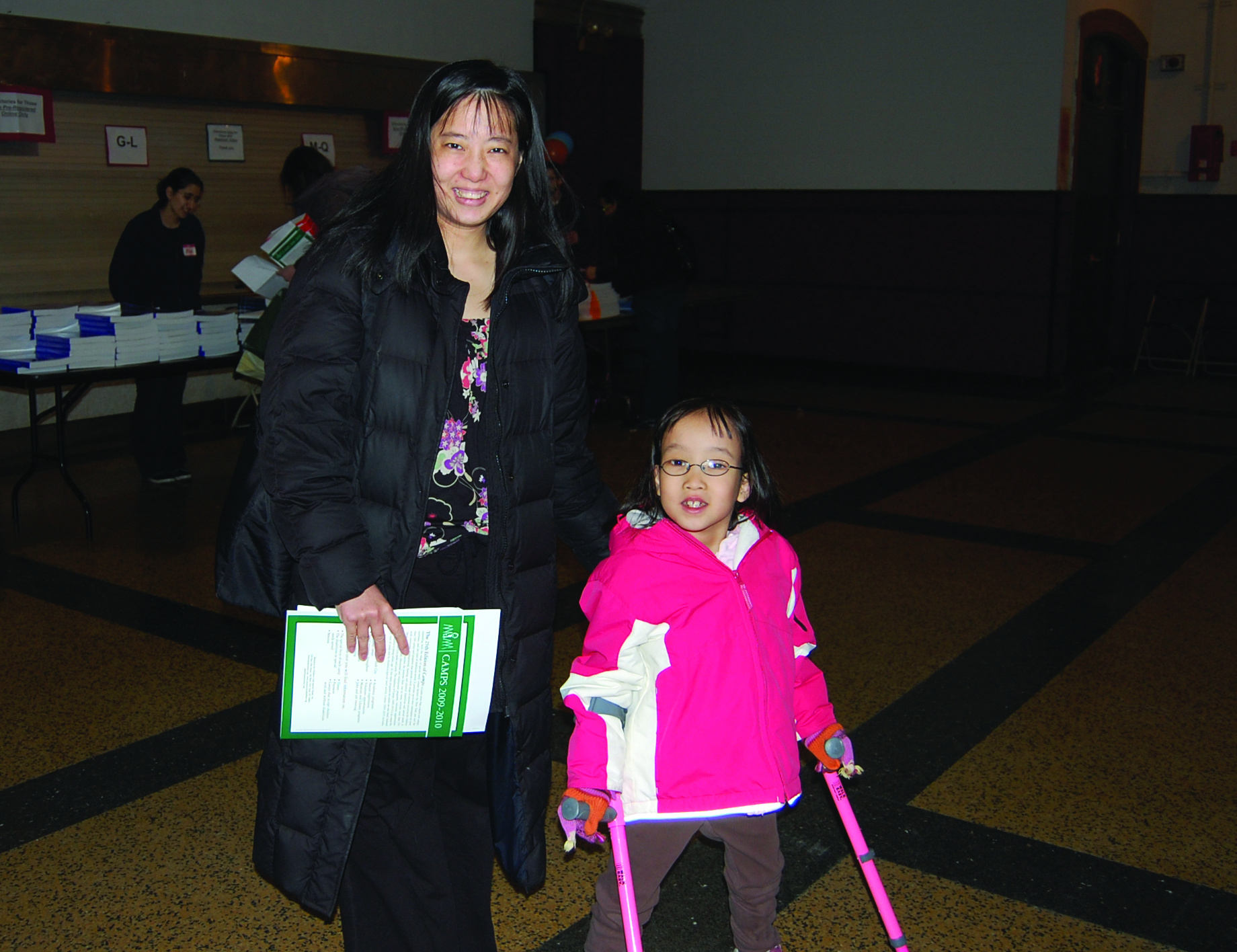 Children with special needs can make great gains playing sports, whether in programs just for them or on integrated teams. "You are looking at a population of athletes not with disabilities, but with different levels of ability," says Danny Bernstein, who runs the Backyard Sports program for children with disabilities in Westchester. "With this mindset, a coach can easily and successfully work with inclusive teams of both typical and special need learners."
Here, some places to keep your kids active:
ROCKLAND

Camp Venture
266 Rockland Lake Road, Valley Cottage
(845) 624-3860
www.campventure.org
Camp Venture is a summer day camp for children (ages 5-12) with and without developmental disabilities. While on the seven-acre campground, children can swim in one of two pools, ride horses or play on a playground.
Orangetown Mighty Midgets Athletic Association
30 Van Wyck Road, Blauvelt
(845) 398-1900
www.ommsoccer.org; www.buddyballsports.org
Offers a Buddy Ball program for children with developmental disabilities. Volunteer buddies help guide the registered children through the sports activities with as much or as little assistance as is needed. Seasonal sports include soccer, basketball, and tennis.
Ride Kind Therapeutic Horseback Riding
220 Spook Rock Road, Montebello
(845) 356-1464
www.ridekind.com
Equine-oriented activities that help special needs students reach developmental milestones, both physical and psychological. Therapeutic riding helps increase range of motion, muscle tone, motor skills, balance, posture, and coordination.
Rockland County Challenger Little League
Various playing fields throughout Rockland are listed on website.
(845) 709-4352
www.rcchallengerll.org
The District 18 Challenger Division travels to all Little Leagues in the county on weekends. Individuals with special needs, aged 4-22, are eligible to play; "buddies" are provided for those that need them.

Tumble-Bee Gymnastics
401 Nanuet Mall South, Nanuet
(845) 623-2553
www.tumble-beegymnastics.com
Offers a limited-size gymnastics class designed for children ages 5-12 with mild-to-moderate physical disabilities and/or developmental delays. (Children must be evaluated before joining, and may be accompanied by a "shadow" caregiver during class.)

WESTCHESTER & PUTNAM
Backyard Sports
75 South Broadway, White Plains
(914) 304-4052
[email protected]
Basketball and soccer for boys and girls ages 5-15 with special needs. Programs are held at SUNY Purchase.
Creative Yogashine
7-11 Legion Drive, Valhalla
(914) 769-8745
www.yogashine.com
Yoga for children ages 3 and up with emotional, developmental, and physical disabilities.
Greenburgh Special Education Recreation
11 Olympic Lane, Ardsley
(914) 693-8985 ext. 128
Activities for children with disabilities include horseback riding, karate, and swim classes.
HERO, Inc.
2975 Westchester Avenue, Suite 410, Purchase
(914) 761-2130
www.hero-ny.org
Adapted tennis and dance therapy are among this organization's many offerings for children with developmental, physical, and emotional disabilities.
Jumpin' Jeepers
926 Route 6, Mahopac
(845) 621-4922; www.jumpin-jeepers.com
Offers structured play and classes for kids with learning and developmental disabilities. Social story can be created to help your child attend a playdate or party.
The Miracle League of Westchester
30 Glenn Street, Suite 307, White Plains
(914) 813-8007
www.mlwny.org
A modified baseball program for children of all ages with disabilities, including a field specifically designed for wheelchair use.
Moving Wheels and Heels
Steffi Nossen Central Studios at the Music Conservatory of Westchester
216 Central Avenue, White Plains
(914) 328-1900
www.steffinossen.org
Dance classes for wheelchair-bound adults and children combine technique, improvisation, and movement to help increase strength and range of motion.
North East Westchester Special Recreation, Inc.
63 Bradhurst Avenue, Hawthorne
(914) 347-4409
www.northeastspecialrec.org
Offers aquatics, Special Olympics training, and other activities for children with developmental disabilities.
Pegasus
Pleasantville, Bedford Hills, North Salem
(203) 356-9504
www.pegasustr.org
Therapeutic horseback riding for children with special needs
Southeast Consortium for Special Services
740 West Boston Post Road, Mamaroneck
(914) 698-5232
Among the programs offered are Kids in Motion, fitness, exercise, and movement for youths and teens; Partners in Sports, which includes sports development and cooperative skill training; aquatics; bowling; and Special Olympics training and competition.
UMAC (United Martial Arts Centers)
450 North State Road, Briarcliff Manor
(914) 945-7100
www.umaccenters.com
United Martial Arts Center offers Taekwondo for children with special needs, helping kids develop physically, mentally, and socially.
WeeZee World of "Yes, I Can!"
Chappaqua Crossing (the old Reader's Digest headquarters),
480 Bedford Road, Chappaqua
(888) 840-5653
[email protected]
www.weezeeworld.com
Opening in November with a grand opening celebration in early December (stay tuned on their website for details), this indoor sensory play space aims to create a world of sensory adventures that improves academic performance, develops athletic acumen, and enhances social relationships for children of all ages. Staff are trained assistants in helping children who have social, emotional, and physiological effects of central nervous system processing disorders, including those on the autism spectrum, using Sensory Integration, a facet of occupational therapy (OT).
FAIRFIELD COUNTY, CT
BounceU
305 Hathaway Drive, Stratford
(203) 375-2700;
[email protected]
Sensory Bounces work on balance, auditory and tactile sensitivity, strength building, motor coordination, and cooperative play; siblings can participate.
Dynamic Martial Arts
606 Post Road East, Westport
(203) 454-7766
www.westportkarate.com
Hosts year-round classes for children with disabilities led by black belt instructors.
Fairfield Parks & Recreation
75 Mill Plain Road, Fairfield
(203) 256-3191
www.fairfieldrecreation.com
Offers youth leagues for children of all ages, including basketball, soccer, football, baseball and softball. The Challenger Division in various sports caters specifically to children with disabilities.
High Hopes Therapeutic Riding, Inc.
36 Town Woods Road, Old Lyme
(860) 434-1974
www.highhopestr.org
Accredited by the North American Riding for the Handicapped Association, the year-round program has served people with physical, emotional, and developmental disabilities for more than a quarter of a century.
Special Olympics
999 Oronoque Lane, Stratford
(203) 380-9990
www.soct.org
Their mission is to provide year-round athletic training and competition in a variety of Olympic-type sports for children and adults with intellectual disabilities.