QUIDDITCH ROBE COSTUME IS PERFECT FOR POTTER FANS
Related:
quidditch robe costume
,
harry potter costume for kids
,
quidditch robes
,
Harry Potter Halloween costume for kids
,
Chasing Fireflies
,
This Quidditch Robe Costume for kids looks like its straight out of the Harry Potter series. Your little witch or wizard will feel like part of the Gryffindor team when they sport the crimson and gold robe and complete the look with Quidditch accessories.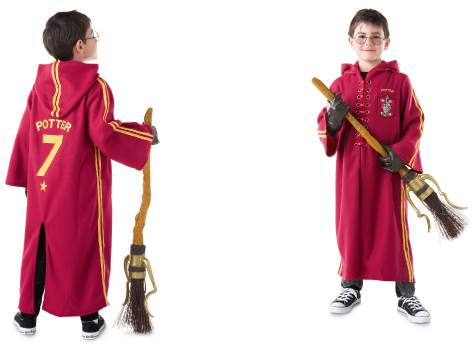 If the words "Quidditch," "Gryffindor," and "Hogwarts" don't sound like a foreign language to you, chances are you have a little Harry Potter fan in your household (or maybe you're the fan -- we're not judging!). Either way, the idea of a sport played by wizards on broomsticks (see: Quidditch) is pretty awesome and definitely qualifies as worthy inspiration for a Halloween costume.
That's why we love this Quidditch Robe Costume ($38) for kids from Chasing Fireflies. The long, hooded robe comes in Gryffindor colors (crimson and gold, that is), complete with the Hogwarts crest on the front and the name "Potter" emblazoned on the back. For the full effect, nab the outfit's accessories (sold separately), including a Harry Potter broom ($18) and a Golden Snitch ($5). While your little Muggle won't really be able to fly around the Quidditch field, he'll have a blast running around the neighborhood in his Hogwarts-worthy gear.
More Potter Fun
Have a true Harry Potter Halloween: Check out these recipes inspired by the series and serve them to little witches and wizards at your own Halloween Feast!
More Halloween Articles Articles
7 Tips for Trick-or-Treating with Your Toddler
New Book Encourages Kids to Give Up Halloween Candy
Halloween Activities in Bucks County, PA
DIY Alien Monster Egg Halloween Decoration
Toddler-Friendly Halloween Events in Fairfield County, CT