On TV, in movies, and in person, Rhea Perlman conveys a great sense of fun. Now she is bringing her trademark spunkiness to the page, in a book series for kids, Otto Undercover. The Otto books are heavy on wordplay — which Perlman loves. Otto Pillip (a double palindrome) drives a racecar (yet another palindrome). Author Perlman also uses puns and anagrams to engage young readers, ages 7-11.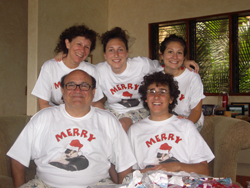 In town in October to participate in The New York Times' 'Great Read in the Park', Perlman, 58, and a mother of three, said she used make up lots of stories for her children, and that her husband, Danny DeVito, read "every picture book" to their kids. A particularly favorite author was Roald Dahl. In fact, DeVito was inspired to make the movie Matilda because that book was their daughter Lucie's "absolute favorite".

The Otto books — a series of six is planned — are based on stories Perlman used to tell their son, Jake. She explained that she has purposely included some very short chapters because when Jake learned to read, he immediately wanted to move on to chapter books, but was frustrated by long chapters. Perlman believes kids feel a sense of accomplishment when they can read a whole chapter. So Otto Undercover: Born to Drive (Harper Collins, $3.99) includes a page-long "Chapter minus 1"; and Chapter 0's entire text reads: "There is none." Chapter regular 1 reads: "His name was Otto…and he was born to drive." Subsequent chapters vary in length, and the story is funny and engaging.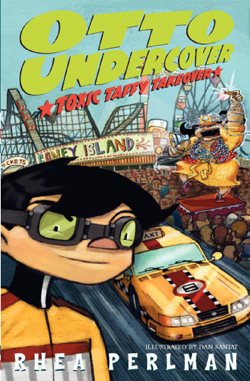 As a girl, Perlman was a huge Nancy Drew fan; she also envisioned herself as Jo from Little Women. "I always sat on a precarious window sill eating an apple," she recalls. Though Perlman took an extended detour on her way to becoming an author, she says the stories she told her kids demanded to be written down.

Perlman was born in Coney Island and grew up in Bensonhurst; she majored in drama at Hunter College. Though she has lived in Los Angeles for 30 years, the family has made frequent trips to New York over the years and they recently purchased an apartment in the city. With Lucie, the oldest, out of college, and Grace, a college senior, and Jake, a freshman, at Eastern schools, Perlman and DeVito wanted to spend more time in New York.

The two met on the set of the TV sitcom, Taxi. Then, as the oft-pregnant barmaid Carla Tortelli on Cheers (a role for which she won four Emmys), Perlman's pregnancies were written into the show. Both of her girls were born when the show was on hiatus, so she had a few months off. But Jake was born in October. One week later, Perlman was back on the set.

But she had company as an actress-mom. Perlman says there were so many people involved with the show who were having babies, that she, DeVito and Gary David Goldberg (who produced Family Ties) started a day care center on the Paramount lot. The day care center is still open today.

Perlman jokes that her parenting rules were 'no rules', but noted that by not making TV or video games a big deal, they were not a big deal in her house. Apparently, when you can visit your mom on the set of her TV show, watching television loses some of its appeal.